If you feel like your home does not give you the room you need to get around or live comfortably, investing in a home addition is a worthy consideration.
There are several benefits to a home addition. Physically expanding the size of your house in Phoenix is an opportunity to create more space for an extra bedroom for your growing family, a functional multipurpose room for work and play, or much-needed storage space. With proper planning and execution, expanding your house or adding an extra room can change how you use—and see—your residence and allow your family to live comfortably and enjoy your home for years.
Home Addition Cost Estimates in Phoenix, AZ
Since physically extending the size of your home tends to be a more substantial investment than many other home improvement projects, the first place to start is to assess the cost and value of a Central Arizona room addition.
If you're designing and building a custom addition, you won't know the exact cost of your project until you've finished identifying your main project priorities, developed a layout and selected the various features, fixtures and finishes you want to include in the room. However, that doesn't mean you must go into the project blindly.
Researching the average home addition costs of similar residential improvement projects in the Phoenix area can give you a general idea of what you should expect to spend on the addition. Keep in mind that there are many factors that contribute to the cost of any project, including size, scope, type of space and quality of materials.
To help you start a preliminary budget with reasonably accurate numbers for your Phoenix home addition, here is a look at what you should know in terms of cost, as well as some averages for similar projects around the region.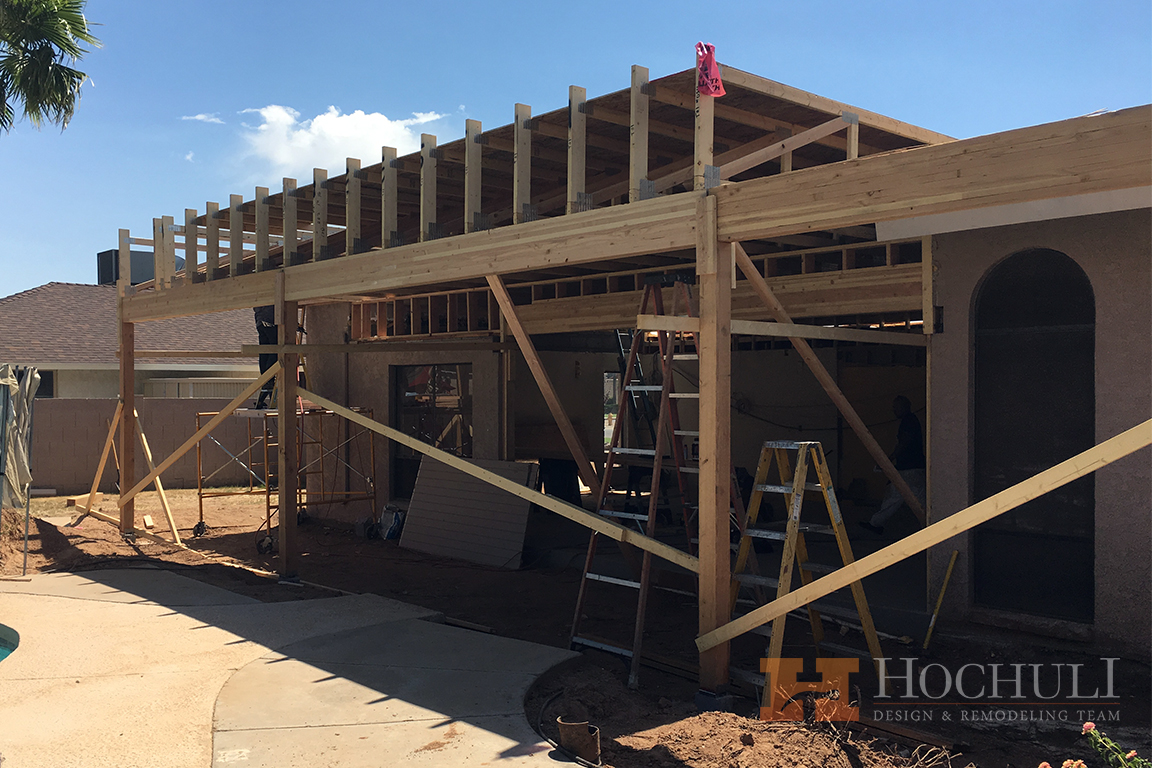 Midrange vs. Upscale Home Additions: Knowing the Difference
As you look at cost estimates for home additions or remodeling projects, you will often see references to terms like "midrange" or "upscale." It is important to understand what these terms mean because they tie directly into the design of the room, as well as the total cost. Knowing the difference between midrange and upscale will also allow you to define the project that will give you the space you need and help you save money.
In the case of a home addition, the difference usually relates to the total square footage of space included in the expansion. For example, a midrange bathroom addition measures about 50 square feet for the interior space. By comparison, an upscale bathroom addition is more than double the size. A midrange master suite addition is almost 400 square feet, which is spacious but much less grand than an upscale master suite addition's range of 650 square feet.
Additionally, these terms also encompass different levels of fit and finish. While midrange refers to the baseline or standard version of various materials and finishes, upscale is the higher-end option for each component. For example, you will often find that economy-grade kitchen appliances, a laminate island countertop and stock cabinetry fall into the midrange category, while custom wood cabinets, handcrafted tiles and imported stone countertops are all upscale options. According to Remodeling's 2022 Cost vs. Value Report, selecting higher-end features and finishes can quickly add up, often doubling the price difference between midrange and upscale home additions in Phoenix.
Master Suite Addition Costs in Phoenix
Adding a midrange master suite in Phoenix costs between $175,000 to $250,000, and you can expect roughly 54% return on investment (ROI) in potential resale value.
A midrange master suite addition involves adding a 24-by-16-foot master bedroom suite that includes a walk-in closet or dressing area, freestanding soaker tub, double-bowl vanity with a solid-surface countertop, and a separate ceramic tile shower. Common flooring materials for a midrange addition include carpet for the bedroom and tile in the bathroom. Finally, the project includes the installation of general and spot lighting and a new exhaust fan, as well as giving the walls, ceiling and trim a fresh coat of paint.
For about $300,000 to $400,000, you can create a more expansive and upscale master suite addition with all the extras. This is a significant home improvement, which means it is ideal for a main-floor addition or for a property that contains ample extra space on which to expand the main floor's footprint.
An upscale master suite addition includes:
plenty of room to rest and relax, with space for a large bed and a sitting room with built-in bookcases.

a walk-in closet built for two; and

a four-piece bathroom with all high-end components and materials, like a stone-walled dual shower, soaker tub and double sink.
For a little extra beyond the ordinary, a hospitality center with a bar-height counter and sink, and a built-in refrigerator and microwave underneath can be added to this upscale remodeling project.
Bathroom Addition Costs in Phoenix
Another common type of home addition for families in Phoenix is creating an extra bathroom. For a midrange bathroom addition, you should budget about $150,000 to $200,000. At that price, you can typically add a 6-by-8-foot bathroom that includes standard features, such as a white fiberglass bathtub/shower with ceramic tile surround, a white low-profile toilet and a cultured-stone vanity top with a molded sink. Additionally, the bathroom remodel will include general and spot lighting, ceramic tile flooring and a linen storage closet or cabinet for keeping your essential bathroom supplies and cleaning equipment.
The cost for an upscale bathroom addition in Phoenix begins at $200,000 and goes up from there depending on the upgrades you choose. This remodeling project involves a 10-by-10-foot space, which is enough room for a single enclosed shower and a freestanding tub. The bathroom design allows for a separate toilet to be inside a water closet for added privacy, and twin sinks that make it easier for two or more people to get ready quickly and efficiently in the morning. At this price point, you are not getting a lot of extras that some people might consider standard. If you really want a bathtub large enough for two, a spacious linen closet or a built-in sauna, you should plan to invest more.
[Related: How Much Does a Bathroom Remodel Cost in Phoenix?]
Comparing Costs of Room Additions to Other Home Improvement Projects
If you compare a home addition to a similar remodeling project, you can see a big difference in price. For example, you will pay about $150,000 to $200,000 for a midrange bathroom remodel, but you can expect to spend an extra $20,000 to $30,000 if the project involves adding a room.
What's the difference? The home addition creates an entirely new structure from the ground up, in an area where nothing currently exists, which is comparable to building an entirely new structure. This can involve leveling the ground on your property, excavation and foundation work to safely add onto your house in Phoenix without undermining its structural integrity. The process often includes hiring an architect, an engineer, and tradespeople to extend your electrical, plumbing and other mechanical systems, especially if you're expanding a kitchen or adding a bathroom.
A larger addition usually comes at a noticeably higher cost simply because you need more materials, such as exterior and interior walls and flooring, to shape the new structure. You're also covering the cost of additional labor, including electrical work and plumbing (to name a few).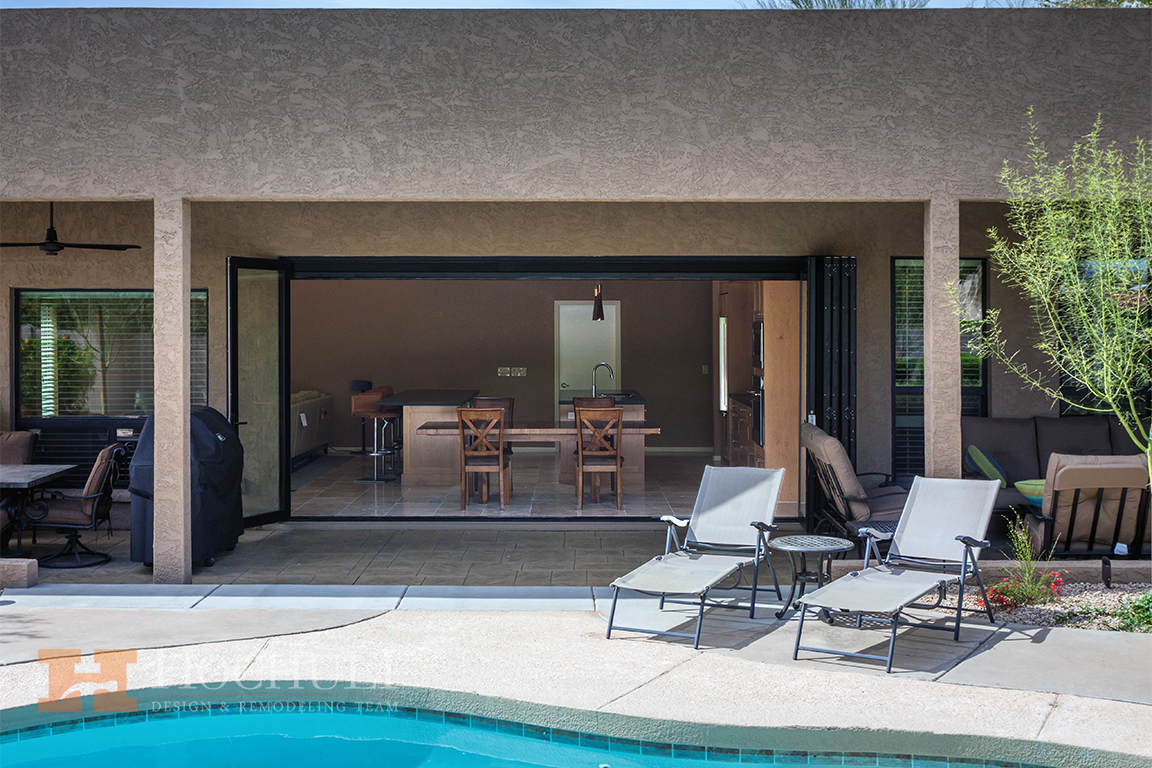 What's the ROI on a Home Addition in Phoenix?
Although many reports put an actual number on the increase in resale value you get from completing a home addition, the truth for your home may be a little less clear. As a rule, you can expect to get somewhere between a 50% to 70% ROI for the cost of this type of home improvement project. For a smaller addition like a deck, the anticipated ROI is typically closer to 80%.
It is important to remember that the ROI ties directly to the need for the addition and how it makes your home fit into the rest of the neighborhood. If a master suite or bathroom addition dramatically adds to your square footage or makes your home more competitive with other properties in the area, you can likely expect a better ROI.
However, investing in a home addition often pays dividends in other ways by giving your family the space you need to reside comfortably with one another without having to move to a new home or completely uproot your routine. You can stay in the neighborhood or community where you've set down roots while still enhancing the quality of life for everyone in your household.
How Much Will I Pay for My Home Addition in Central Arizona?
While it's helpful to have a general idea about the costs of adding to your home in Phoenix, you won't be able to set a definitive budget or know the total cost until the design phase is underway.
To get a true estimate for your home addition, start by reaching out to the home remodeling experts at Hochuli Design & Remodeling Team. We will discuss your home's location, the anticipated scope of work for your project and desired timeline of completion to help gauge the level of investment you should expect to make on your home addition.
Editor's Note: This post was originally published in May 2020 and has been updated for accuracy based on what it costs to remodel in the Pheonix area in 2022.
Design-Build Remodeling, Home Addition, Finance & Taxes