Bathrooms are often called restrooms. If your bathroom is not providing you much in the way of rest, much less relaxation, it is time to rethink it. Since fixtures wear out and styles change regularly, you should plan to remodel your bathroom at least once every 10 to 15 years. With this information, you'll have the basic data you need to determine the total cost of the project.
What Are the Average Estimates for a Bathroom Remodel?
Figuring out how much you will pay for a bathroom remodel in Phoenix requires some analysis of existing projects. You might read ranges from sites like Houzz or HomeAdvisor that quote averages around $7,000 to $11,000, but it's not always clear what was included in those prices. If you swap out a toilet and put in new flooring, that's a remodeling project, although not a major one. The 2020 Cost vs. Value Report compiles data from projects based on average bathroom standards nationally, but also by region and in metropolitan areas like Phoenix. Using this and the 2019 Houzz Bathroom Trends Survey, here are costs for a few bathroom projects.
Upscale Bathroom Remodel
An upscale bathroom remodel costs $60,000 to $65,000+. This takes an existing 5' x 7' bathroom and expands it to 100 square feet without actually adding onto the house. Prices may vary significantly depending on what you have to move to make it work. For example, if you are finishing an unfinished part of the basement, you may have less work to do than if you have to redesign your closet or consolidate an existing bedroom. This project has all the basic features you'd expect from a larger bathroom, like a ceramic tile shower with a glass enclosure, a large soaker tub, twin sinks with a stone countertop and radiant heating underneath.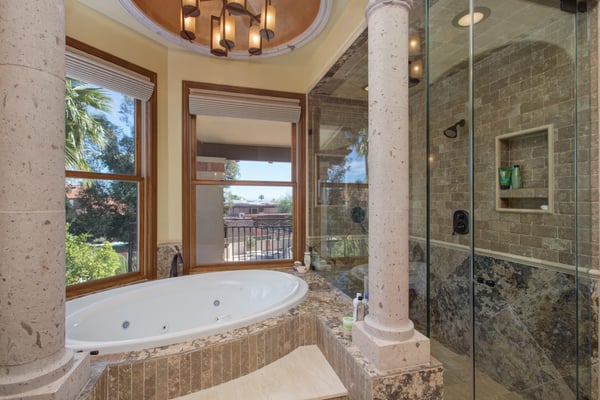 Upscale Bathroom Addition
Creating a bathroom from scratch by adding onto the home costs about $80,000 to $100,000+, which is around $20,000 to $30,000 more than converting an existing bathroom. This project is ideal as part of a major remodel of the master bedroom. You get all the finishes you see in the upscale bathroom remodel, like the separated space for the toilet, custom cabinetry and full-body shower fixtures. The primary difference in the cost concerns the addition of walls, wiring for electricity and lighting, new plumbing and extension of the HVAC system.
Upscale vs. Midrange
For the bathroom, the biggest difference between an upscale and a midrange remodel or addition is the size. The midrange dimensions assume that you will create a space that ranges from 35 to 48 square feet. Upscale takes that to 100 square feet, not including a walk-in closet. For that increase, you will pay about $30,000 to $40,000 more for an upscale remodel than a midrange one. Since the smaller space cannot realistically accommodate a four-piece bathroom, midrange usually includes a fiberglass tub and shower combination. By comparison, you get a separate water closet for the upscale version.
Universal Design Bath Remodel
A universal design bathroom remodel costs $30,000 to $35,000. This is much less than the other projects discussed here, because it focuses on features that make the bathroom accessible for people with limited mobility. Although most of aspects of a universal design bathroom remodel aren't exactly upscale, they merit a mention. In many cases, homeowners who are hoping to age in place or make room for older parents to move in might want to add some of these features. For example, this project involves a replacement of a tub-shower combination with a curbless walk-in shower that has a door that opens in both directions. The entry door expands to a 36" width accessible for wheelchair users, with a room layout designed for maximum mobility.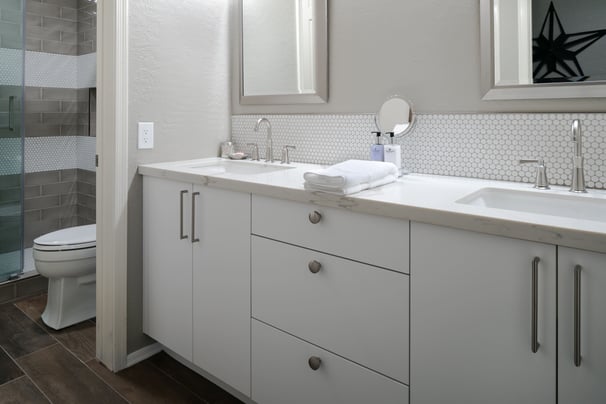 Return on Investment
Although the increase in resale value tends to be lower for projects that cost more, that isn't necessarily the case for bathrooms. For example, an upscale bathroom addition in Phoenix could net you a 68 percent increase in resale value, compared to 64 percent for a midrange addition. If you are remodeling an existing space, you'll get about 68 percent for the midrange upgrade and 64 percent for the upscale one. Universal design upgrades net the lowest, at about 62 percent.
Keep in mind that your actual ROI depends on factors other than size and materials. For example, if you're adding a bathroom so that your home matches other houses in the neighborhood, the value may be higher. A major remodeling project may be more worthwhile if your bathroom is particularly dated, as well.
Ways to Customize
If you're looking at the features for the upscale remodel and thinking that they are fairly basic, you are not alone. Stone tile or slab in walk-in showers has been a common feature of high-end bathrooms for most of this century, so you might imagine something a little more luxurious. Consider these popular features for your perfect bathroom remodel:
Relaxation Space: Many homeowners use the master bathroom for rest, so think about adding comfortable seating or even a nook to relax away from your busy life.
Expanded Shower: Create a spa-themed bathroom with a large shower space and seating for more than one. Built-in sauna functions let you soothe tired muscles without getting cold.
Splurge on the Toilet: Instead of going for a basic toilet, pick one with features like a bidet, automatic flushing or control from your smartphone.
You'll spend at least an hour a day in this space. You deserve to get the perfect look.
What's My Estimate?
Once you add in all the extras, you might get a significantly different estimate from these ranges. Still, they are helpful to give you a sense for what to expect. When you are ready to hire a professional design and remodeling team, make a list of everything you want your bathroom to become. Include colors, textures and materials. This will help you get the most accurate estimate on the project.
A bathroom remodel is a project with a great return on investment and solid long-term enjoyment, if you bring an expert in to take care of it for you. To find out more about our services, contact Hochuli Design & Remodeling team.
(The figures above are taken from the Remodeling 2020 Cost vs. Value Report [www.costvsvalue.com] for the Phoenix, AZ, area. © 2020 Hanley Wood Media Inc. You can download the complete data from the Remodeling 2020 Cost vs. Value Report free of charge at www.costvsvalue.com.)
Bathroom Remodeling, Design-Build Remodeling