When people decide it's time to update or personalize their home with a remodel, it is not uncommon for them to begin in the kitchen.  After all, for many families, the kitchen is the centerpiece of their home and is the spot where they spend the most time talking, eating, and entertaining.  In addition, because the kitchen is such a heavily used space, a kitchen remodel can also be a suitable place to start home renovations, as you can make the space more functional while giving it a face-lift. 
Remodeling a kitchen will often have the greatest return on investment, making it an attractive place to start your home improvement.  According to the 2022 Cost vs. Value Report, the return on investment for a major kitchen remodel in Pheonix is 55%.
Once you decide to remodel your kitchen, you may soon find yourself overwhelmed by everything that must be taken care of, as there will be many things to think about and many choices you will have to make during the process. To help start this process, here are three questions you'll want to answer before beginning the remodeling process.
What is your budget for the kitchen remodel?
Before consulting a home remodeling contractor, interior designer, or space planning your new kitchen in any way, you will need to consider how much you are willing to invest in your kitchen remodeling project.
Start your planning by researching how much it costs to remodel in your area. We've put together a guide to help: Cost of a Kitchen Remodel in Pheonix.
The other budget question you should ask is, what is the ideal amount of money you would like to spend? Furthermore, what is the maximum you have to spend on this kitchen remodel if the contractors encounter something unexpected along the way? Considering the figures will help you understand what you can accomplish during your remodel (for your budget) and allow you to prioritize where you would like to spend your money.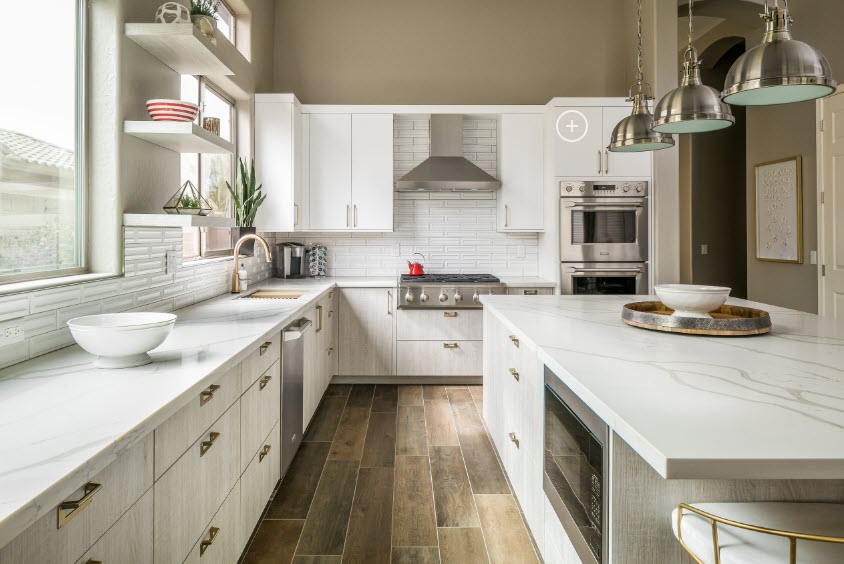 What are your wants vs. needs for your kitchen?
For kitchen remodeling contractors, this is often referred to as the "must-have" vs. "like-to-haves."  Part of the prioritization process will require you to weigh your wants and needs.  For most people, their budget is not infinite, which requires them to consider which upgrades are necessary and which desires they can afford.  This will require you to think about what is most important to you in a kitchen.
What existing features of your kitchen do you want to keep?

Do you want a kitchen island, or if you have one, do you want to expand your kitchen island?

How much counter and storage space do you need?

What types of kitchen appliances do you want in your kitchen?

Do you prefer high-end kitchen cabinets, or would semi-custom cabinets do?
What type of kitchen countertop and other kitchen fixtures do you want?

Are there other spaces of your home adjacent to your kitchen that it makes sense to remodel now, such as an entryway, outdoor living space or powder room?
Taking the time to plan how to allocate your money will help you to make decisions later.
What is your ideal kitchen layout?
You will also want to take some time to consider the layout of your kitchen.  A full design-build kitchen remodel allows you to personalize the space and make it work as you need it to. Also, as you think about your kitchen renovation, don't feel trapped by your kitchen's current layout; instead, take this opportunity to make your kitchen space more efficient. Think about how you use your kitchen, and note the little issues, such as appliance doors bumping into each other or how the area feels as you cook, bake and use the space (can the flow be improved?). These details can be addressed during the design phase of your kitchen remodel project.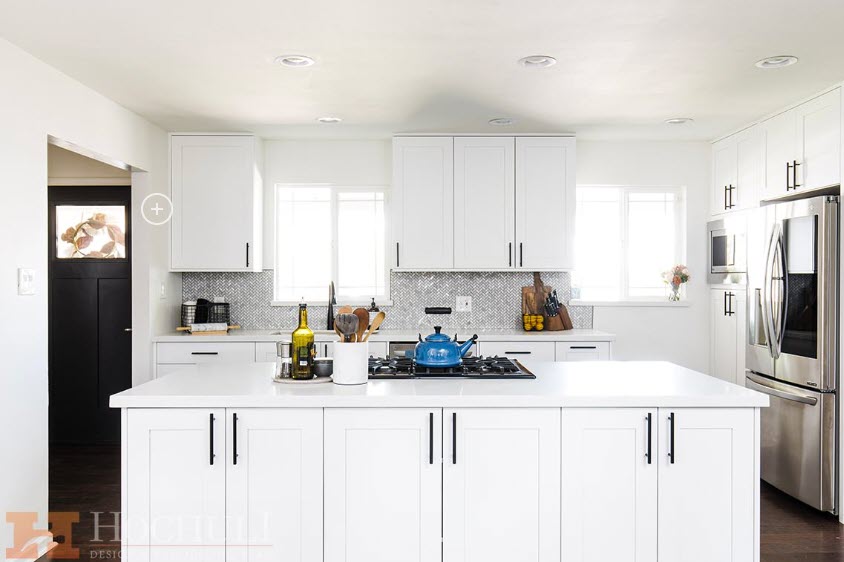 Kitchen Design Elements Allow for Personalization
Perhaps the most important thing to consider during your kitchen remodel is what design elements you really want. Naturally, this goes back to wants vs. needs, but remember this is your chance to personalize your kitchen and change how the room functions. Think about what design elements you see in other kitchens and love and determine if you can work them into your new kitchen.  Personalizing your remodel will ensure that you love the result and that your kitchen does not feel bland or cookie-cutter.  This is your chance to make your kitchen as unique as you are.  
These are just three of the many questions you'll need to answer during the kitchen remodeling process, and if you attempt to remodel your kitchen alone, you may find yourself quickly in over your head.
Contact us to learn how we can help make your kitchen remodel stress-free.
Our team believes a kitchen remodeling project should be an exciting and enjoyable experience and are here to help navigate you through the process.  Take a look at our gallery of completed kitchen remodels, and before/after remodeling pictures, for inspiration for your project.
Kitchen Remodeling