Does your kitchen spark joy? Do you wish you could thank it for its service, get rid of it and start over? Although this seems like a rash decision, most homeowners need to seriously overhaul their kitchens at least once every 20 years or so. While this can be a great decision for your home life and your investment, it is wise to start with some information about cost. Here are some numbers and other factors to consider as you start the planning process.
Where Do These Estimates Come From?
Everyone's kitchen is a little different and all remodeling projects are unique in various ways. As such, it may be hard to imagine that there could be a way to determine an average total cost. Yet, there are organizations that compile this information based on location and a few set standards, like dimensions and the type of upgrades. Our goal is to give you a range that you can use to help set a budget or determine where you want to splurge. With information from the 2020 Cost vs. Value Report and a few details from the 2020 Houzz Kitchen Trends Study, we are happy to show you what to expect for an upscale kitchen remodel in Phoenix.
What Does a Kitchen Remodel Cost?
An upscale kitchen remodeling project costs about $125,000 to $150,000+. Prices for the Phoenix area tend to run a little lower than the national average, but they track pretty closely with estimates for the Mountain region of the country. Compared to other projects, this level of remodel trends more expensive. As a place where you and the family may spend a lot of time cooking, eating and enjoying time together, that makes sense. Kitchen remodeling is typically one of the most expensive home improvement projects you can do, putting it on par with smaller home additions. This is because you're gutting and redefining the space to suit your own needs.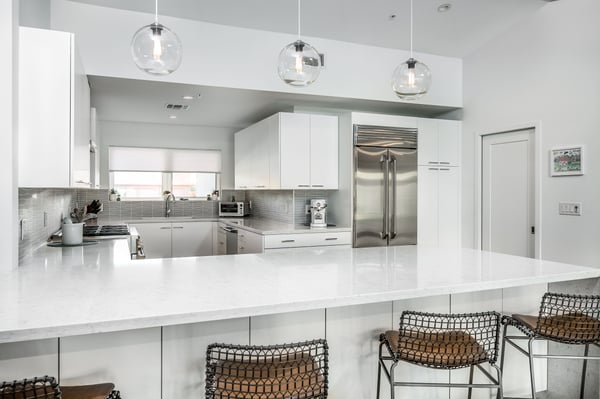 What Does an Upscale Kitchen Remodel Include?
Now that you have the rough numbers, let's talk about what that includes. Remodeling Magazine takes 200 square feet for all of its kitchen estimates. Everything in the existing kitchen comes out so that you start completely fresh. That gives you 30 linear feet of countertops, which for an upscale kitchen would be at least 25" deep. Current countertop options like quartz, granite or a moderately-priced marble pave the way at this price point. The undermount sink has automatic filtration and high-end faucets. You'll get all new cabinetry in the highest quality, with all the convenience features like sliding shelves. All the appliances are built-in and meant for use, from the refrigerator to the wall oven and cooktop. It's finished with tile or wood-look flooring.
What's the Difference Between Midrange and Upscale?
If this is upscale, you might be wondering what counts as midrange. For a price about $60,000 to $75,000, which is around half the cost, you'll notice a few substitutions immediately. The dimensions and even the layout may be similar, but the features cost less. Specifically, you will see a few cookie-cutter cabinet options underneath laminate countertops. Instead of the standard tile flooring for kitchens, you get resilient flooring like luxury vinyl plank. The appliances are new and efficient but they aren't flashy or designed for someone who loves to spend all of their free time cooking or baking. In short, it's a complete overhaul but some of the elements would be considered basic by homebuyers.
What Can I Expect for Return on Investment?
Although you can usually get an average ROI for projects like this, it's a little tricky to figure out what that means for your home specifically. In Phoenix, a major kitchen remodel should net you about 60.5 percent in an increased resale value, whether it's midrange or upscale. In other parts of the country, upscale kitchen remodels get more like 50 to 55 percent. Of course, it's important to keep in mind that these are averages that don't factor in the unique aspects of your project. For example, these factors may increase the overall value of the project:
The existing kitchen is more than 15 years old.

The rest of the home has had recent updates or upgrades.

Material selections are selected to appeal to homebuyers.

The neighborhood sets a standard for luxury kitchens.
Ultimately, most homeowners aren't looking to upgrade their kitchens just to sell it. So it's important to remember to factor in your enjoyment and use of the space, too.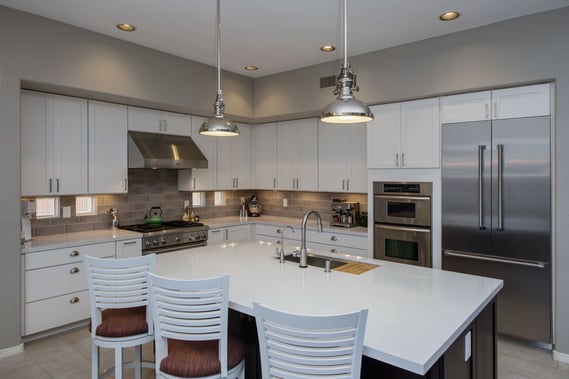 How Can I Take This Kitchen Remodel to the Next Level?
While these are listed as upscale kitchen remodels, that's not necessarily the case in every way. If you are going to invest at least $125,000 into your kitchen, you might want to add a little more to make it unique. Here are a few trends that you might want to put on your wish list:
Mixing Textures and Patterns: Match up a texture wood cabinet finish, with a smooth tile backsplash in a unique pattern. Or vice-versa, a smooth cabinet door can look great with a textured tile backsplash.
Hardwood Flooring: While many homeowners would never think of hardwood for a humid room like the kitchen, it's actually the top choice right now.
Full-Wall Backsplash: Love subway tile? Extend it all the way to the ceiling. This is also a perfect place for that Calacatta marble slab to add interest.
3-Dimensional Backsplash: The backsplash is minimal square footage, so make a dramatic statement with a 3D look tile.
Mixing Metals: It's perfectly okay to mix metal tones. Don't be afraid to have Stainless cabinet handles and a Gold faucet.
Gold Tones: Gold has been making a strong comeback over the last 5 years, and won't be going away any time soon.
Fun Lighting: Make a dramatic 'wow' statement with unique pendant light fixtures
There are tons of ways you can customize it. An expert design remodeling team can help you get almost anything you want.
What Can I Expect from My Upscale Kitchen Remodel?
In order to get the kitchen of your dreams, you need to find a remodeler with the experience to take your existing space and reimagine it in a way that's perfect for you to use. This means that while you can use these figures as a way to help you get started, you'll probably get an estimate that is different, depending mostly on the size and the features you select.
An upscale kitchen remodel is just the ticket to make a new decade just for you. To learn more about the benefits of our design remodeling team or discuss your project, contact us today.
(The figures above are taken from the Remodeling 2020 Cost vs. Value Report [www.costvsvalue.com] for the Phoenix, AZ, area. © 2020 Hanley Wood Media Inc. You can download the complete data from the Remodeling 2020 Cost vs. Value Report free of charge at www.costvsvalue.com.)
Kitchen Remodeling