The kitchen is the heart of the home, and the best kitchen features look beautiful and provide the functionality you want. As you begin to plan your kitchen upgrade, think about how to make your kitchen serve you better by maximizing storage, adding comfortable seating, and providing ample space to cook and prepare your meals. Kitchen trends will change over the years, but these 16 timeless essentials will last, and you'll be happy you included them in your kitchen remodel.
Make Your Kitchen Beautiful with These Must-Have Kitchen Features
A beautiful and functional kitchen can make all the difference in a home, which is why a kitchen renovation is always top on the list of home improvements homeowners in Phoenix want to make. As you plan your kitchen remodel, here is our list of must-haves to consider.
1. A Kitchen Island
No kitchen is complete without a kitchen island, so homeowners almost always request a kitchen island as part of their remodeling scope. Islands serve many purposes, including a place for food preparation and a spot for informal seating. While kitchen islands require a lot of room, there are many alternative design ideas to fit (nearly) any space. Whether you like a waterfall edge or a more traditional countertop, there is a design that's right for your home.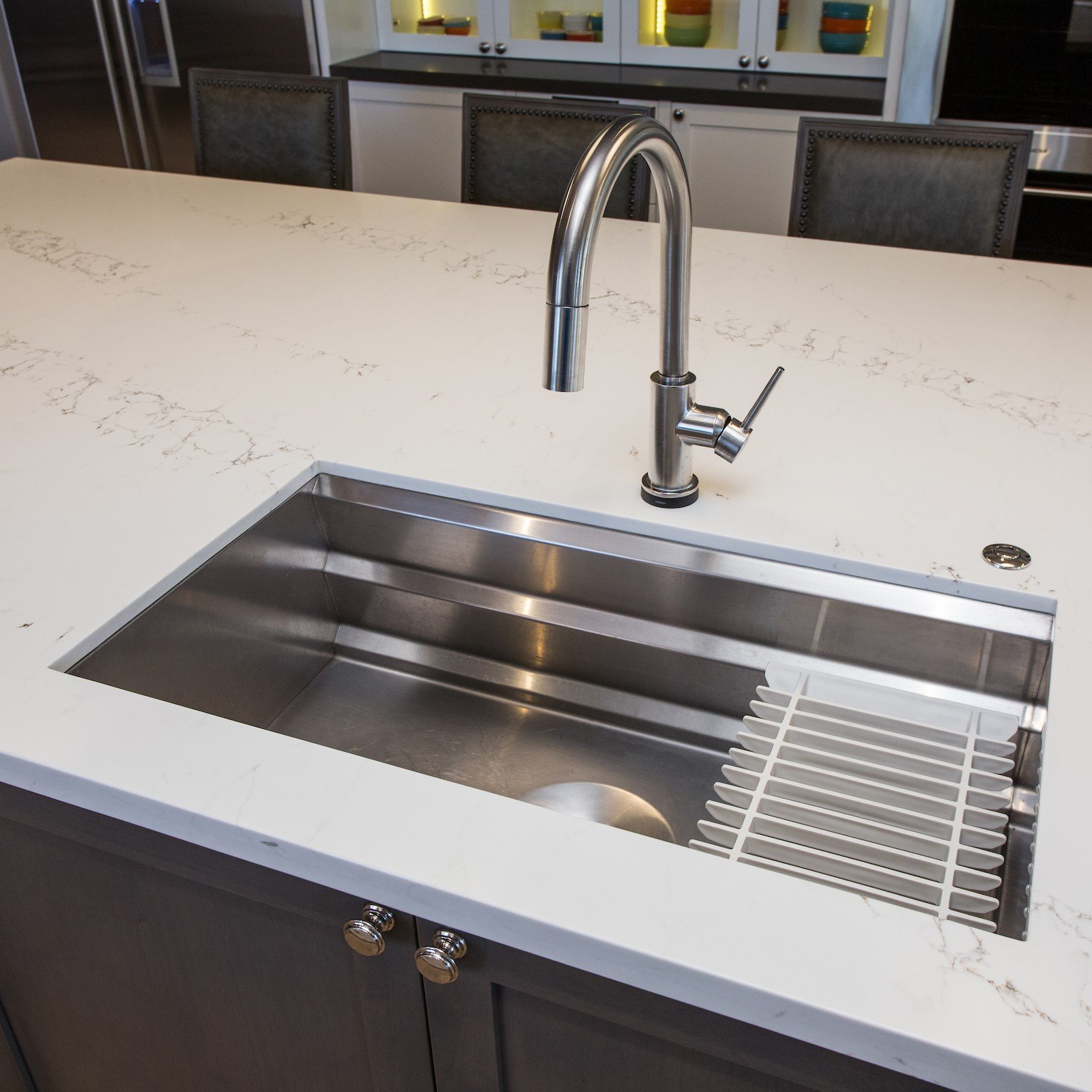 2. Bigger & Workstation Sink
Double sinks are great for homeowners who still wash dishes by hand, but many are now opting for a large single-basin farmhouse sink in their new kitchen. At 30 to 33 inches wide, single-basin sinks make washing large pots and pans a breeze. If you prefer to take it up a notch, opt for a multifunctional workstation sink. They are becoming increasingly popular in modern kitchen designs due to their versatility and convenience. With a multifunctional workstation sink, you can prep, cook, and clean all in one place. These sinks are large (about 42" wide) and typically come with built-in cutting boards, colanders, drying racks, and other useful features that make cooking and cleaning easy.
3. Commercial-Style Range
If you're an aspiring home chef, you may want to opt for a commercial-style range. They offer much higher BTU output than traditional gas ranges, making creating delicious meals for a crowd easier. Your commercial-style range will also elevate the look of your contemporary kitchen. But if you want something different, look at induction ranges. They use electromagnetic energy to heat up the cooking vessel directly, rather than heating up the air or surface beneath the vessel like a traditional gas or electric range. They are faster, more energy efficient and safer because they don't generate heat directly and only heat up when a magnetic pot or pan is placed on the cooking surface.
4. Layered Lighting
Incorporate different lighting options in your kitchen to create a brightly lit space that's equal parts inviting and functional. Allow natural light to flow through large windows, and install recessed ceiling fixtures to illuminate the entire room. Focal point light fixtures over the breakfast nook and pendant lights over the island add a stylish element over your kitchen island or sink, and task lights can be incorporated in a number of areas. Place them under the cabinets to ensure that the countertops are brightly lit, so you can easily chop and prepare meals.
5. Smart Storage
An organized kitchen is a perfect kitchen. You'll want to ensure that every nook and cranny in your kitchen is accounted for so there isn't any wasted storage space. A variety of smart storage solutions can be incorporated into your kitchen design to make the most of the space available. Here are a few examples:
Pull-out or roll-out shelves: These shelves are on rails or sliders and can be pulled out to make items stored in the back of the cabinet easily accessible.

Customized drawer dividers: Drawer dividers can be customized to fit the items that will be stored in the drawer, making organization easier and more efficient.

Lazy Susan corner cabinet: A corner cabinet can be outfitted with a lazy Susan, which rotates so that items in the back of the cabinet can be easily reached.

Cabinet organizers: There are a variety of organizers available for cabinets that can help keep everything in its place, including spice racks, pot lid holders, and pull-out trash cans.

Vertical storage: Cabinets or drawers with vertical dividers can store baking sheets, cutting boards, and other flat items to save space and make them easier to access.

Open Shelves: Open shelving is ideal when a space is not wide enough for cabinetry, and homeowners often use them to display interesting dishware or photos.
By incorporating these smart storage solutions into kitchen cabinets and drawers, it's possible to create a fun and functional kitchen space tailored to the household's specific needs. Your kitchen designer (Lorrie) is full of ideas and will help you determine which storage solutions work best for your space.
6. Appliance Garage
An appliance garage is a type of storage cabinet installed on your countertop or under the upper cabinets in your kitchen. It is designed to keep small appliances out of sight but easily accessible. It features a door that lifts up or slides to the side, allowing you to open it and use the appliances inside. It keeps the kitchen looking clean and organized by hiding your most-used appliances behind closed doors. It is perfect for appliances that take up a lot of counter space, such as coffee makers, blenders, and toasters. This frees up valuable counter space that can be used for food preparation or other tasks.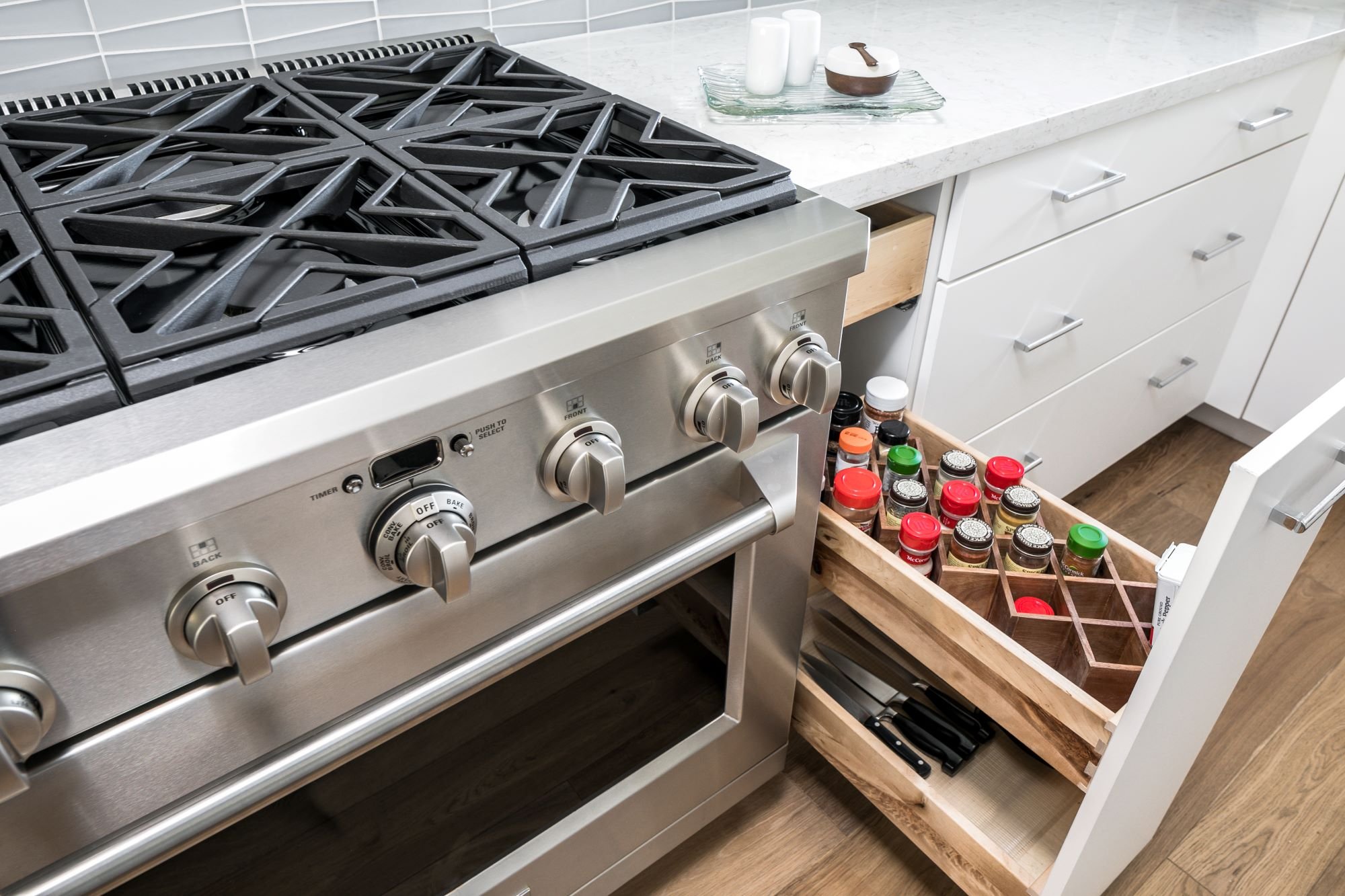 7. A Narrow Pull-Out Drawer
A narrow pull-out drawer is perfect for taking advantage of narrow spaces between cabinets and appliances, like a dishwasher. They're equipped with shelves to store your spices or utensils, so they're handy but out of sight.
8. Cabinet Pantry
If you don't have space for a walk-in pantry, incorporate a cabinet pantry in your kitchen remodel. The adjustable roll-outs make it easy to access every item inside, and the full extension drawers hold an impressive number of kitchen supplies.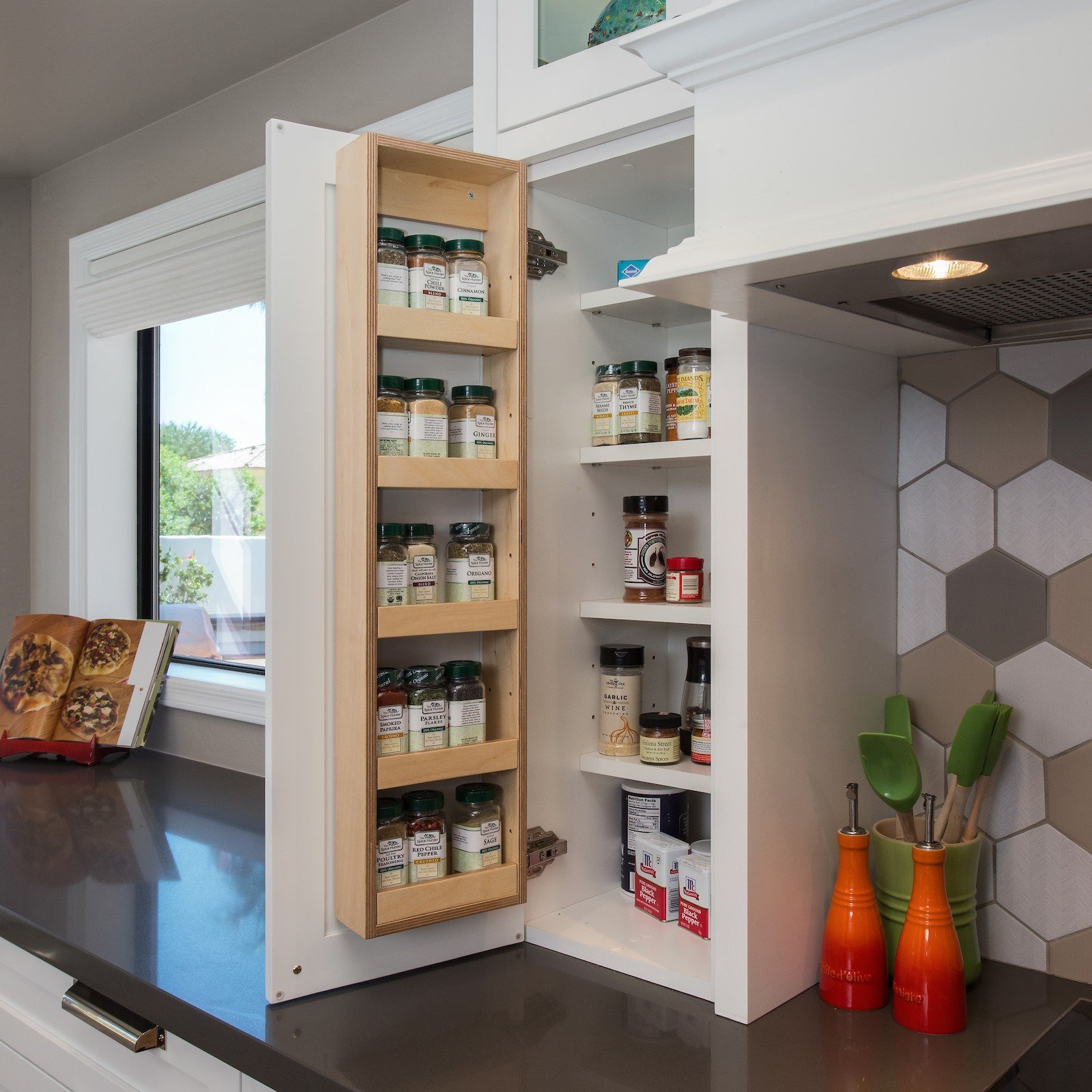 9. Spice Storage
There are several methods for storing spices, and you'll need to decide which makes the most sense in your kitchen remodel. Your design team can help you choose from pullout storage, spice storage accessories in your cabinet drawers or spice shelves inside your pantry door.
10. Utensil Storage
A vertical utensil storage drawer can be installed near the cooktop so your wooden spoons and spatulas are within easy reach. Alternatively, install a utensil rack under the cabinet or along the wall near your cooktop.
11. Trash/Recycling Drawer
An under-the-sink pull-out drawer is a great way to separate waste, recyclables, and compost in a discreet but accessible spot. Depending on your kitchen layout, you can also choose to have it installed under the kitchen island or inside the pantry.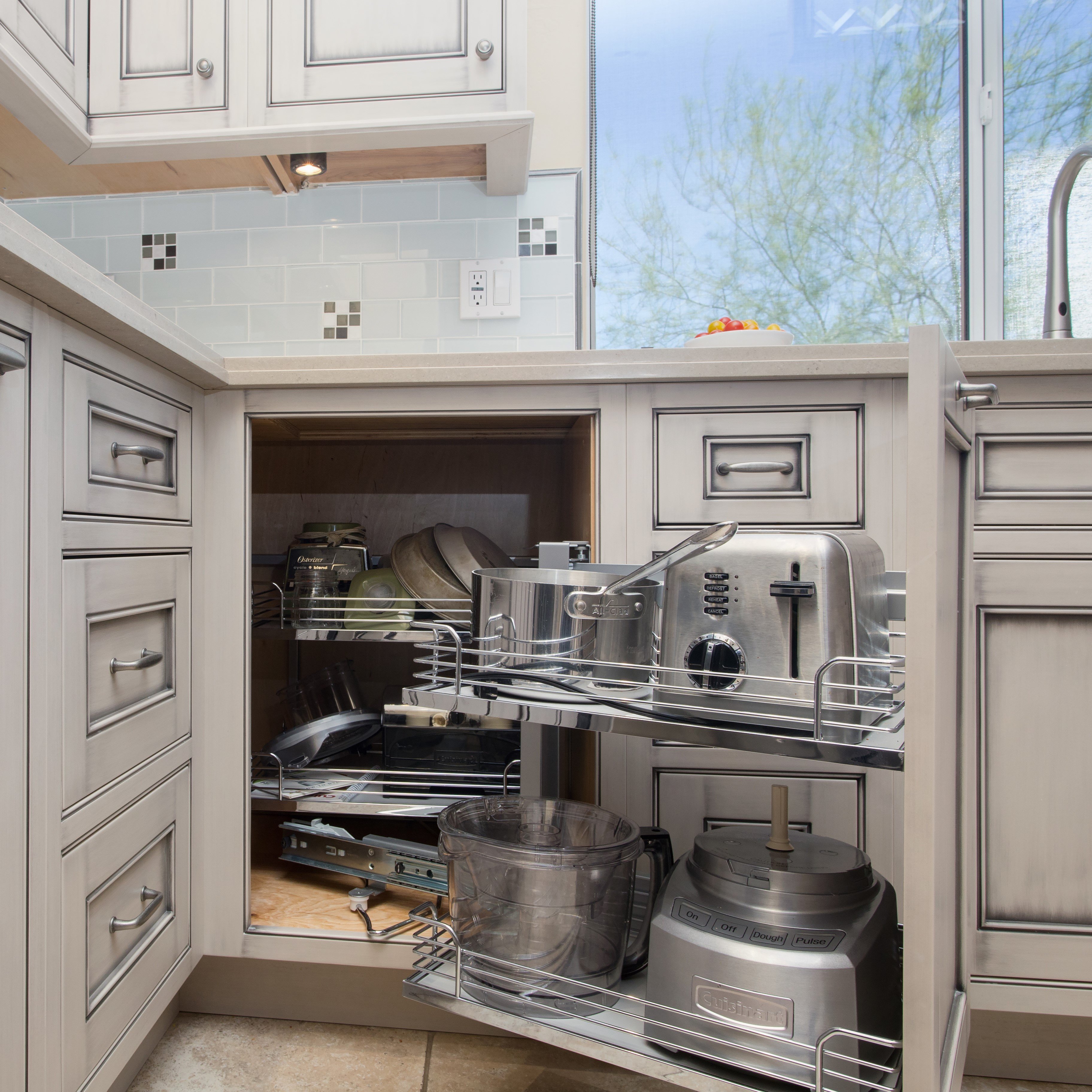 12. Corner Storage
Two types of corner storage work well in today's kitchen: the Lazy Susan and cabinet pullouts. The Lazy Susan is a rotating tray that fits into a corner cabinet. It allows you to easily access items stored in the back of the cabinet by rotating the tray. Lazy Susans come in different shapes and sizes to fit into corner cabinets of various dimensions. Cabinet pullouts are shelves that slide out of the corner cabinet, providing access to items in the back of the cabinet. Pullouts can be designed with multiple shelves or adjustable shelving to maximize storage space. They can also be combined with other pullouts to create a custom storage solution. Both Lazy Susans and cabinet pullouts are convenient and efficient storage solutions for corner cabinets in the kitchen. They make it easy to access items stored in the back of the cabinet and maximize storage space.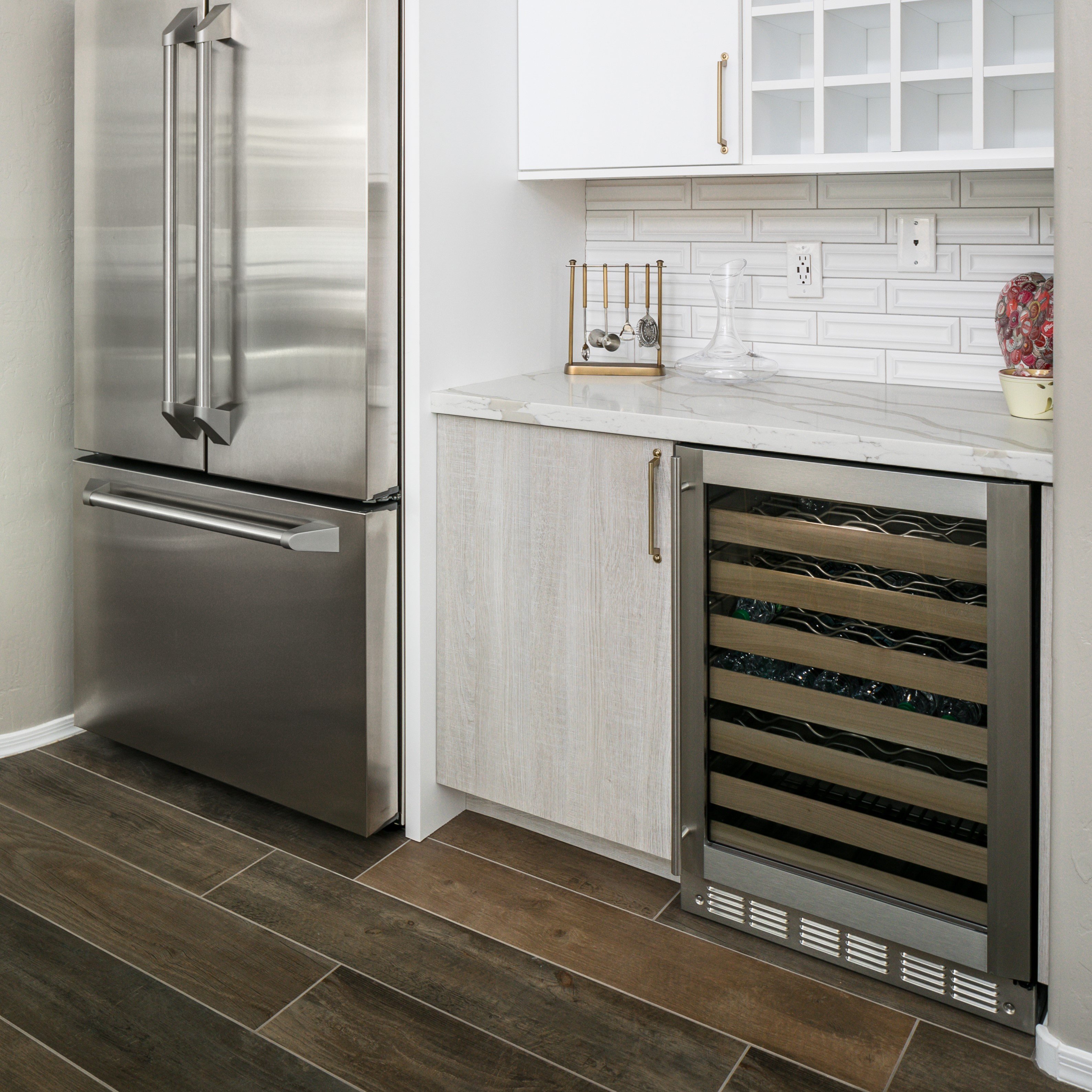 13. Wine Fridge
Even if you aren't a wine enthusiast, a small drink refrigerator can be a practical and upscale addition to your kitchen. This appliance ensures that your drinks remain at the ideal temperature, and if you keep them stocked, you'll always have a cold drink to grab and go as you shuttle kids to after-school activities.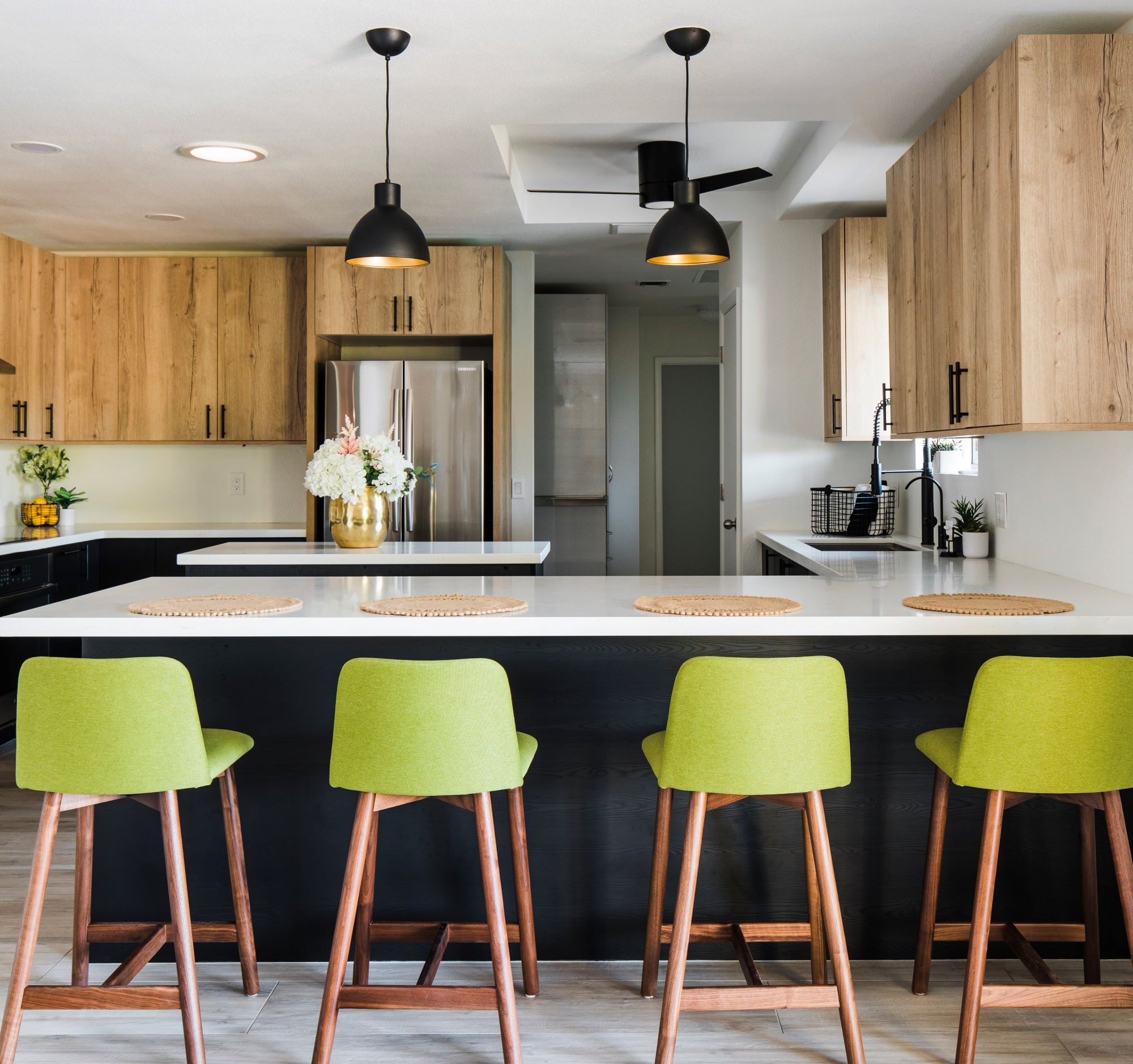 14. Kitchen Dining
Many homeowners incorporate a kitchen dining area, even if they already have a formal dining room. This is because a kitchen dining area, such as a breakfast nook or island seating, provides a more casual and intimate space for everyday meals and gatherings. In contrast, the formal dining room is reserved for special occasions and entertaining guests. This layout also promotes family togetherness and encourages communication and connection while cooking and eating.
15. Beverage and Coffee Bar
What's a kitchen without a coffee station? Create a designated space for all your coffee supplies, including your drip coffee maker, espresso machine, coffee grounds, and mugs. It's a practical and contemporary addition that you'll be happy you included in your dream kitchen.
16. Tray Storage Cabinet
This long, narrow cabinet is designed for storing your cookie sheets, pizza pans, and cutting boards so they remain organized and accessible. Vertical dividers keep everything where it belongs without taking up a lot of space.
If you're ready to create your dream kitchen? Contact us. We'd love to help you create a kitchen with the best features that make life easier and entertaining a breeze.
Kitchen Remodeling