When it comes to kitchen flooring, the variety of options available can be overwhelming for Phoenix homeowners. With aesthetics and functionality in mind, choosing a floor that suits your lifestyle and design preferences is essential. In this article, we'll discuss a few popular kitchen flooring choices and share the benefits (and disadvantages) of each.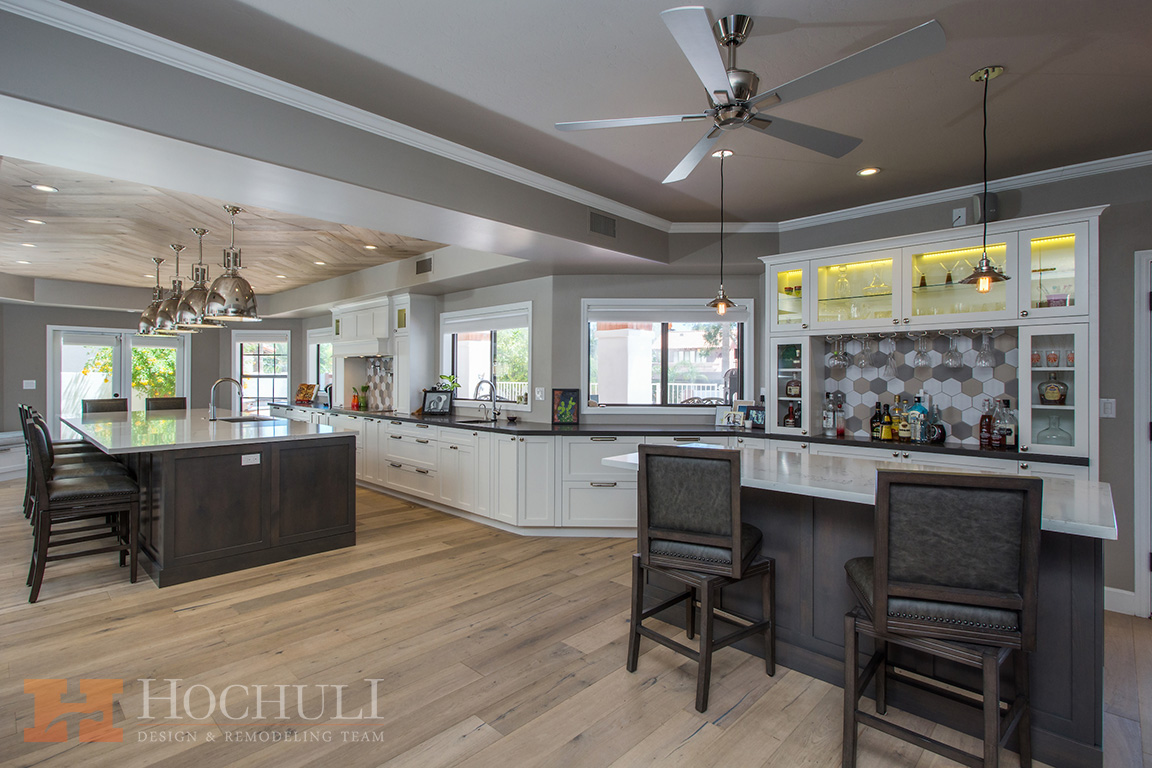 Hardwood Flooring
Hardwood floors offer an authentic wood look with a timeless appeal but may require extra care around heavy appliances or moisture-prone areas, like the kitchen. Hardwood flooring is durable, can be stained to match any decor and is easy to clean. As one of the most popular kitchen flooring options, hardwood floors provide an elegant touch that complements various design styles.
Pros:
Durability:

With proper care, hardwood flooring can last for decades, making it an excellent long-term investment for your kitchen.

Variety:

Available in numerous species, colors, and finishes, you can easily find a hardwood floor that matches your personal style.

Going green:

An increasing number of homeowners are becoming eco-conscious and opting for wood over synthetic materials. Wood, a natural material, is derived from renewable resources and is thus an environmentally friendly choice for those who care about sustainability.

Adds value:

Installing authentic wood floors often increases the resale value of your home due to their high demand among buyers.
Cons:
Prone to damage:

Because they are more susceptible to water, damage often comes from spills, leaks and standing water. Water can cause warping, cupping or buckling of the wood. They are also prone to get scratched or dented by kitchen appliances and furniture.

Higher maintenance:

Wood flooring needs consistent resealing and refinishing.
💡 Takeaway: Hardwood floors are a classic, long-lasting and eco-friendly choice for kitchen renovations that can increase your home's worth. While hardwood flooring is an excellent choice for many kitchens, it's essential to consider factors like maintenance requirements and potential damage from heavy appliances or water spills. When deciding on hardwood flooring, evaluating the type of wood and finish is essential for maximum benefit.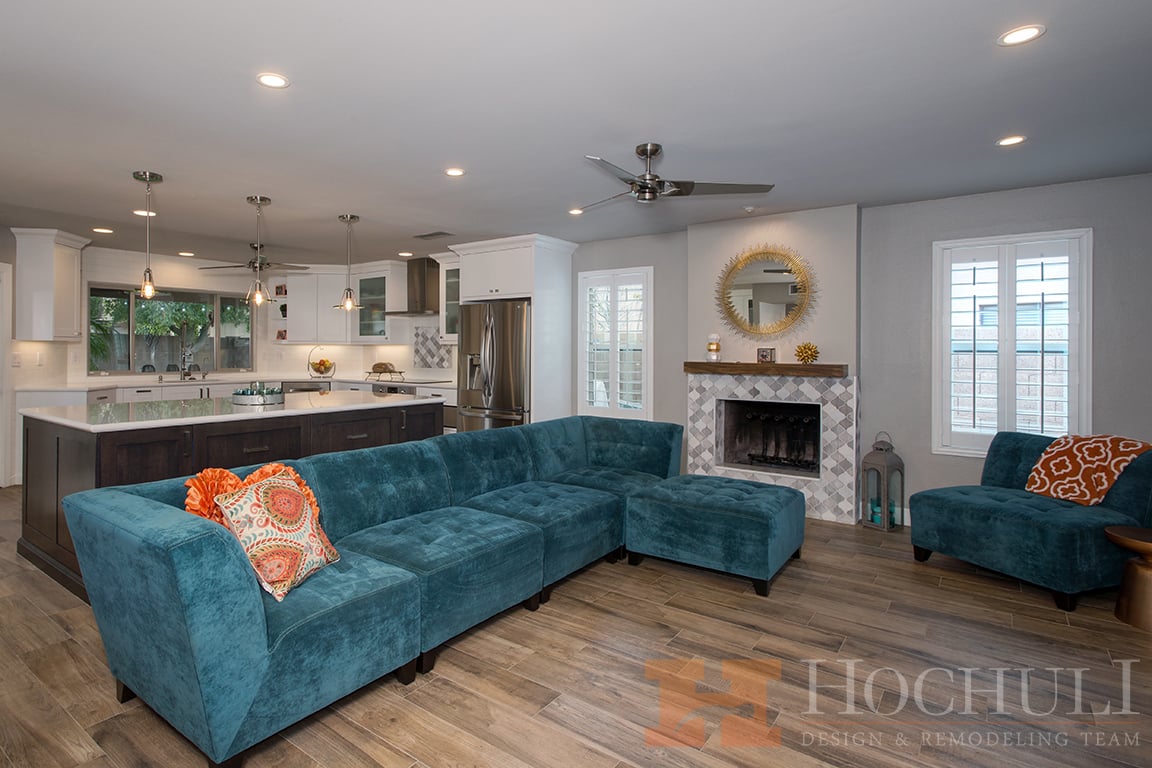 Tile Flooring
Tile flooring is another popular choice for kitchens due to its durability and water resistance; however, the floors can feel cold underfoot without proper insulation (which can often be a benefit living in a desert climate like Phoenix). Creating a unique look for your kitchen is easy with the wide range of colors, styles, and sizes available in tile flooring. Tile flooring options include ceramic, porcelain, and natural stone tiles, each offering unique benefits.
Ceramic Tiles
Ceramic tiles are made from clay fired at high temperatures to create a durable surface. They come in both glazed and unglazed varieties; glazed ceramic tiles have a protective layer that makes them more resistant to stains and moisture while offering additional design options through various patterns or colors.
Pros:
Cost-effective:

Ceramic tiles are affordable when compared to other tile materials.
Durability:

They are durable enough to withstand moving heavy appliances and foot traffic.

Customizable:

They come in a variety of colors.

Easy maintenance

: Maintenance is relatively simple, with regular cleaning.
Cons:
Damage prone

: Susceptible to chipping or cracking if not properly installed or maintained.
Unforgiving:

If you drop a plate or glass on the floor, it will break.
Porcelain Tiles
Porcelain tiles are made from finer clays and fired at higher temperatures than ceramic tiles. They provide increased durability and greater resistance against water absorption, making them an excellent choice for kitchens.
Pros:
Durable:

Highly durable and water-resistant.
Low maintenance:

They only require regular cleaning to maintain their appearance.

Many choices:

Various design options are available, including realistic wood-look and stone-look tiles.
Cons:
More expensive:

Slightly more expensive than traditional ceramic tiles due to the manufacturing process.

Damage prone

: Just like ceramic tiles, they, too, are susceptible to chipping or cracking if not properly installed or maintained.
Unforgiving:

If you drop a plate or glass on the floor, it will break.

Natural Stone Tiles
If you're looking for natural material in your kitchen flooring, consider using natural stone tiles, such as slate, granite or marble. These materials provide a unique look that other tiles can't replicate.
Pros:
Durable:

They can withstand heavy appliances and foot traffic.
Eco-friendly:

Many homeowners appreciate that stone is a natural material.

Luxurious:

Adds value to your home with its elegant appearance.
Cons:
Porous:

The porousness of natural stone tile increases the likelihood of staining from food and liquid spills.

Higher maintenance:

This requires cleaning and resealing to prevent dirt and grime from penetrating the porous surface.
Increased slipping:

They are slippery, especially when wet, which can pose a risk of slip and fall accidents.
💡 Takeaway: Tile flooring can be an excellent choice for those wanting to revamp their kitchen floors, with its vast selection of colors and textures.
Luxury Vinyl Plank
One of the most popular kitchen flooring options in 2023 is luxury vinyl plank (LVP). LVP has become a favored choice due to its cost-effectiveness, robustness and simple setup. LVP closely mimics the look and feel of authentic wood while providing additional benefits such as water resistance and low maintenance.
Pros:
Durability:

LVP is designed to withstand heavy foot traffic, making it an ideal choice for busy kitchens. Its scratch-resistant surface can also handle large appliances without damage.

Water resistance:

Unlike hardwood flooring, luxury vinyl planks are highly moisture resistant. This makes them a great option for areas prone to spills and splashes, like kitchens.

Affordability:

Compared to other kitchen floors like hardwood or tile, luxury vinyl plank offers a more budget-friendly alternative without sacrificing style or quality.
Cons:
Not eco-friendly:

This is a synthetic, non-biodegradable product.
Can fade:

LVP can withstand daily wear and tear, but its vibrant appearance may diminish gradually, leaving you with a pricey outdated floor to revamp.

Prone to scratches:

Some LVPs can get scratched by furniture, sharp objects and pet nails.
💡 Takeaway: Luxury vinyl plank (LVP) is the perfect choice for an elegant and durable flooring option, with its water-resistant and low-maintenance features. With an array of styles, colors and patterns available, LVP has quickly become the go-to flooring option for homeowners craving a stunning and personalized look in their kitchens.
Frequently Asked Questions About Kitchen Flooring
What type of flooring should be in a kitchen?
Keep in mind the ideal kitchen flooring depends on your preferences and needs. Each has its benefits and drawbacks; consider factors like durability, water resistance, maintenance requirements, aesthetics, and budget when deciding.
Why is the right flooring important in a kitchen?
Kitchen flooring plays an essential role in both functionality and aesthetics. It must withstand heavy foot traffic as well as spills or dropped items while providing comfort underfoot. Additionally, good-quality floor materials can enhance the overall look of your space by complementing other design elements, such as cabinetry or countertops.
What is the current kitchen flooring trend?
Current trends lean towards natural-looking materials like wood or stone-effect tiles that provide warmth without sacrificing practicality. Large-format tiles are popular for creating seamless designs with minimal grout lines, and textured finishes add visual interest while improving slip resistance.
No matter the kitchen flooring you decide on, opting for something stylish and long-lasting is vital. Ensure that whatever kind of kitchen flooring you choose suits your lifestyle and design style so you can relish its elegance for years to come.
Let Hochuli Design & Remodeling Team design your kitchen remodeling project and help you select the perfect kitchen flooring for your home.
Kitchen Remodeling