With the new year comes surprising changes to the kitchen trends that shaped the 2010s. As homeowners revisit the colors and styles of the past, they see plenty of reasons to transform beyond neutral shades and simple lines. You'll notice colors and designs from previous decades coming into prominence this year and for several years to come. These 15 trends keep ideal kitchen function as king, but you may be surprised by how much personality comes through.
1. Blue Hues
Although the all-white kitchen retains a high level of appeal, you'll see blue hues emerge as the latest cool choice. From navy blue cabinets to turquoise and aquamarine in countertops and backsplashes, this color takes the viewer by surprise. Blue's clean, polished shades evoke a sense of sea glass or the crystal waters of a Caribbean island resort.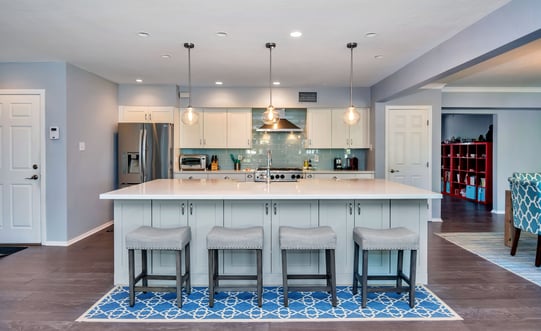 2. Bold Backsplashes
If 2021 is the year for anything, it shows that the backsplash no longer sits on the sidelines. Instead of waiting for visitors to view it, it demands attention with color and patterns that cannot be ignored. Stone slabs, glass tiles and even brick allow you to showcase an amazing design without compromising on the function of the kitchen. The result makes it easy to unify your kitchen layout from top to bottom.
3. Custom Range Hoods
As the kitchen continually centers itself as the focal point of the home, ideal use of the kitchen becomes more important. Gone are the range hoods that provided minimal venting. In their place, you have custom range hoods in a variety of sizes, shapes and colors. This gives you all the ventilation you need for your latest culinary creations. The large size allows you to make the hood into a bold statement, a way to contrast with the cabinetry.
4. Innovative Island Designs
Islands continue to be an excellent upgrade to improve the function of the kitchen. Today, you'll get everything you want and more. Homeowners are breaking away from tradition by building two islands: one for food preparation and another for seating and serving. Innovations in island design allows you to defy gravity by extending the countertop far beyond the cabinetry underneath, making more seating space or a larger work surface.
5. Appliances in Bright Shades
Over the decades, appliance colors have narrowed down to a few choices, with black stainless steel as the most recent preferred option. This year blows open the doors for color selections you might not have seen in years. No need to search for a vintage 1950s range or refrigerator with the bright pink or turquoise shade. You've got high-end appliances with all the latest features, plus a color that catches the eye.
6. Handmade Tilework
If the 2010s helped you appreciate the convenience of uniform tiles with clean lines and a flat surface, 2021 is about to make you see the elegance of the old school. Building custom flooring from tumbled stone or handmade bricks gives you a workable, kitchen-ready surface with a completely unique appearance. Modern upgrades like colored concrete allow you to show off your creativity while retaining elements that make the flooring or backsplash easy to maintain.
7. Natural Wood Grain
Although utilitarian cabinet designs continue to increase in popularity, there are a few elements from decades past that are starting to come back. The 1980s faux wood trend cannot help but look dated, so designers are thinking outside that box. Adding just enough color turns solid wood cabinetry into a focal point without eliminating the appealing texture of the grain. Instead of neutral stains, homeowners keep some of the fresh color preferences of the 2000s and 2010s with a bit more character.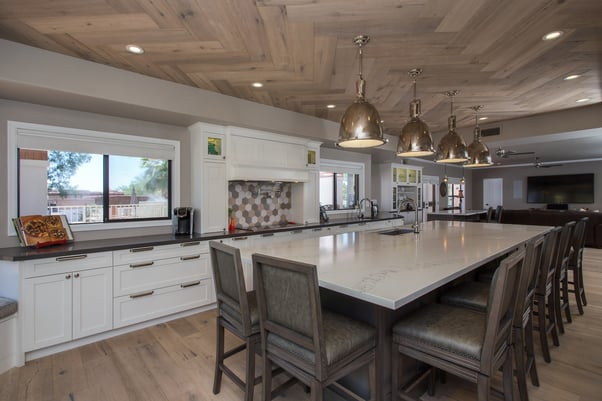 8. Clean Lines in Cabinetry
For many people, the 2010s were an excellent opportunity to take away their old, ornate cabinetry in favor of something simpler. The year 2021 continues this trend with a progressively larger focus on minimalism. Even Shaker kitchen cabinets look a little outspoken compared to panels with completely flat fronts and hidden pulls. The result is a kitchen layout where nothing distracts the eye from strategically-placed pops of color.
9. High-End Countertops
Slab countertops have reigned supreme in kitchens for the whole of the 21st Century, so homeowners look for ways to set themselves apart from the predictable granite and quartz. Marble is a little more difficult to maintain but the color varieties are striking. Calacatta marble, the highest-quality solid marble, features fantastic designs contrasting white with black, gray and gold tones. This choice is perfect to match almost any trending kitchen design, suitable for a throwback to Mid-Century Modern or the latest navy blue cabinetry.
10. Brassy Tones
Metallic shades and textures have been popular as accents for years, but you'll see a new color coming back in big ways. Brass brings balance to dark cabinetry and flooring. It can carry cool tones and avoid clashing with them the way copper can. This durable material also provides a useful surface that is generally easy to clean and maintain. Brass on fixtures, pulls and backsplashes warms the space gently without going overboard.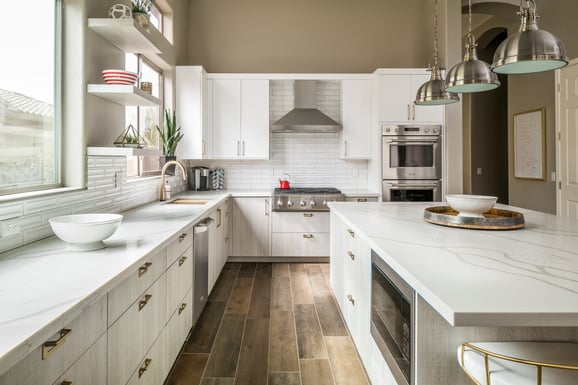 11. Fresh Design Combinations
While the past decade encouraged you to focus on a cohesive design, 2021 prompts you to get creative. This means that you can combine elements of different styles into a custom kitchen that delights you from ceiling to floor. For example, you'll see attractively ornate glass chandeliers to provide gentle lighting for a white kitchen with lots of clean lines. Reclaimed wood or brick contrasts with sleek marble or quartz for a balance of rustic and refined.
12. Warm Color Palettes
Cool colors have been in fashion for a long time. There isn't kitchen remodeling magazine that hasn't featured at least one gray and white kitchen in recent years. That said, the overwhelming prevalence of these cool neutrals is starting to make warm color palettes look fantastically unique.
Many people associate warm color palettes with 70s kitchen decor. While the wrong warm colors can look dated, the right color palette can make your kitchen look new, fresh, and inviting.
Deeply stained oak cabinets, gold stone countertops, copper fixtures and warm wood flooring make your kitchen the most inviting room in the house. These warm color palettes show which room truly is the heart of the home.
13. Woven Light Fixtures
Woven light fixtures make kitchens look exotic, like you've just stepped into a kitchen from island nation. Woven light fixtures pair perfectly with large windows that allow plenty of natural light into the kitchen, and presence of some natural decor, like a few plants on open shelves. Woven light fixtures also create a nice contrast in kitchens with natural stone countertops, cool stone flooring and minimalist home decor.
14. Textured Backsplashes, Unusual Tile Shapes
Backsplashes are like the canvas of an artist. Investing in unique and unusual backsplashes creates a surface where you can focus attention when cooking or washing dishes. Look for tiles of unusual shapes and put them together in formations that make pictures or beautiful patterns.
Textured backsplashes add pizzazz to your kitchen, but take care to ensure that the tiles you choose aren't too difficult to clean. Texture can make cleaning backsplashes a little challenging. Avoid tiles that have irregular cracks and crevices.
15. Fashionable Faucets
Homeowners buying their faucet often focus more on practicality than on beauty or style. This makes kitchen faucets a kind of missed opportunity. You can have both fashion and practical functionality! Fashionable faucets serve a practical need while also adding beautiful lines and interesting form to the kitchen. When you're shopping for your kitchen faucet, look for a fixture made of an unusual material, or a faucet with a unique design. You won't regret it.
If you listen carefully enough, 2021 has an important message for you. Your style matters, and you deserve a kitchen that reflects it. You've got tons of flexibility to make it truly yours. To discover how your next kitchen remodel can bridge the gap between trendy and timeless, contact us to get started.
Kitchen Remodeling, Design-Build Remodeling