If you already know to maximize the space of your home, you might want consider looking at your yard. Sometimes, the best solution to a home space that isn't meeting your needs is to literally think outside the box. With months of great weather in Phoenix, an outdoor kitchen can dramatically increase your usable living space and take advantage of a hot new trend. Here's what you should consider.
Layout
The first place to start is the layout. You don't want the cooking site to be too close to the home, for adequate ventilation and to avoid increasing the heat inside. You also don't want it to be too far away, especially if you plan to bring prepared food and serving dishes from your home. Think about how you want to use the space. Do you plan to primarily cook in the outdoor kitchen, or do you want more room for entertaining? If you intend to eat meals or host parties outside, you will need additional seating, lighting and other features.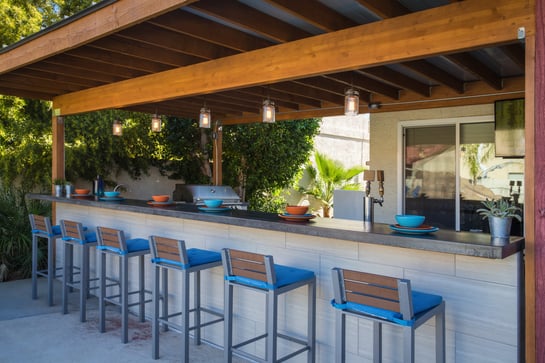 Cooking Tools
Once you have a sense for what you want to do with the outdoor kitchen, you can start to target options that let you achieve it. Let your mind wander in a big way, because your only boundary is the space you have. Do you dream of a large grill that allows you to cook and serve for a party of 50? Are you ready to become the neighbor with the high-end wood-fired oven? You can have it all. Make sure to add space for a countertop and a sink. This makes food preparation and cleanup easier, especially on a busy night.
Fuel Source
Ultimately, you will need fuel to cook the food. Most people use wood, charcoal or some kind of petroleum product. If you are willing to dig deep, you can get a steady source of energy that is protected from the elements and hidden from your guests. For example, ditch the five-gallon propane tank in favor of an underground tank that will last much longer, or a natural gas line that runs straight to your grill.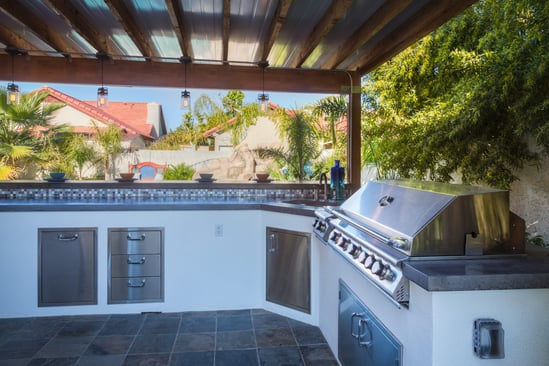 Lighting and Power
Although you can do an outdoor kitchen without running electricity, it's not ideal. Adding wiring so that you have adequate lighting at night and a little extra ambience for your guests isn't too complicated. Be sure to factor in all your appliance needs for the kitchen, as well. If you want to blend drinks or keep an outdoor refrigerator, you'll need to add a circuit to provide power.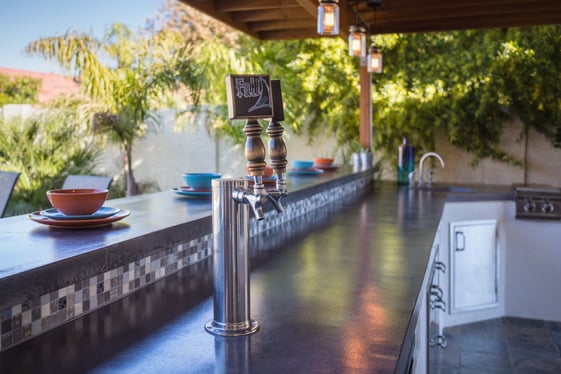 Seating
Once you are done making an excellent meal, the last thing you have to do is enjoy it. For this, you may need a variety of seating options. Allow enough space on the deck or patio for a dining table and chairs, but you don't have to stop there. You can surround the kitchen with a bar that makes serving and eating space-efficient and quick. Bar stools let family members and guests try a bit of your latest creation and chat with you while you work.
Hoping to take your backyard to the next level? Add an outdoor kitchen for more fun and function. To explore more home addition ideas and opportunities for your home in the Phoenix or Tempe area, click here.
---
[Related] The Hochuli Team is honored to have a picture of a past project featured in an article on Houzz
Design-Build Remodeling, Home Addition, Finance & Taxes