When you bought your house, you bought it because it included the space you needed in addition to a great kitchen. However, with the growth of your family or the desire to entertain with friends and family, somehow the kitchen just isn't right anymore. Have you taken a look around your kitchen lately to assess its use and the quality of its functionality? If you want to find the love again, consider hiring a design-build kitchen remodel contractor.
What You Don't Need
Most homeowners think that for a kitchen remodel they'll need to hire an architect, a kitchen remodeling contractor as well as an interior designer. Most homeowners aren't builders or contractors of any type, so most don't know where to begin. This often has the effect of squelching the whole idea because a kitchen remodeling project may seem like an over-whelming task to organize.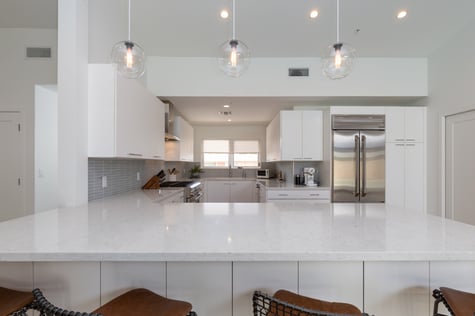 When homeowners do contact someone about the home remodel, they are inundated with picture books or CDs of the remodeling contractors completed home remodeling projects. If one of the ideas appeals to the homeowner, all is well and good. However, many homeowners have a vague picture in their minds regarding their own dream kitchen, but they might not be well versed in expressing themselves. They often choose a picture that's close to what they want, and figure they'll fill in the details later. What they end up with is dissatisfaction.
Remodel time also means budgeting time. To give them credit, good contractors have open discussions with homeowners up front about what the kitchen remodel may actually cost; somewhat of a reality check for many homeowners. Would you feel most comfortable working with a contractor whose association with you will feel more like a friendship, or a collaboration towards a common goal, someone you can trust instead of a cold business transaction that you can't wait to end?
Why the Design Approach Matters
There are many different approaches for home remodeling and renovations. Choosing the right one makes a big difference in the way that your project rolls out. It depends on the process that you prefer and what your contractors are able to carry out. But what if you don't know which approach to choose? Here's why we think you'll agree that design-build is the right option for you.
When you hire professionals to remodel your home, you're probably going to get one of two approaches: design-bid-build or design-build. The first one you might be more familiar with, because it was the norm for all kinds of construction projects for decades. With a design-bid-build approach, you hire someone to design the project for you. This person is often an architect. They get your input, consider all the factors of the existing space and draw up blueprints. This step alone might take weeks or even months, depending on the architect or designer's time limitations.
Once you've got a plan under design-bid-build, you'll need to get bids for contractors who will work on the project. You might also need to hire a general contractor who will oversee it. You get several bids, then you choose the one you like best. Then, and only then, will you start to see progress on the project.
If you're thinking that design-bid-build seems like a shocking amount of time spent for a home remodeling project, you're not alone. This is a terribly inefficient process. There are so many problems with it that the majority of the industry has switched to design-build instead. And it's easy to see why. With design-bid-build, you're hiring so many professionals and spending tens of thousands of dollars before you see any workers show up to begin the project. The designer or architect knows your vision. But by the time it's been filtered down through several different companies providing the work, it might not be what you asked for, or even a resemblance of it.
To avoid this kind of hassle, sometimes homeowners try to do the design or management work themselves. If you choose a remodeling contractor without any design experience, you're probably going to get a cookie-cutter job that doesn't necessarily meet all of your requirements. You might even end up with a result that has so many issues you end up having to scrap it and start over.
The design-build process is completely different. In this approach, you have a team that is qualified to design the project based on your specifications and be in charge of the renovation. Because we are working together to give you what you want, we can outline all the aspects you'll need to consider before you sign off on a final design. That minimizes the likelihood of abrupt changes later in the project. And you'll never have to worry about finding another professional for the job or tracking down new contact information. Your design-build team is your primary point of contact from start to finish.
Now, About that Love
When a kitchen outgrows its usefulness or the quality of its functionality dips, the family suffers. Stress comes from trying to accomplish the simplest of meals using appliances no longer feasible. For example, while the meat is cooking in the oven and the veggies on the stove top, the homemade macaroni and cheese must wait until the meat is done. Only after that can the bread go in the oven to bake. In the end, something will be cold and/or the family waits longer to eat.
This situation is made even more uncomfortable when the need for entertainment of business guests or family arises. This could be due to the aesthetic appearance of the kitchen in addition to its failing usefulness. Either way, if you decide to cater the event instead of wowing them yourself, it's time for a kitchen remodel.
Additionally, your situation might have changed. Perhaps you're taking up canning and preserving. Perhaps your workmates or friends boast of their chef-like cooking skills. You might want to try some of the meals you see TV chefs prepare. Your senior parents might have moved in with you and need special foods or foods prepared in a certain way. The kids might be attempting their own lessons in the culinary arts. Write these things down in preparation for your sit-down with the design/build kitchen remodeling contractor.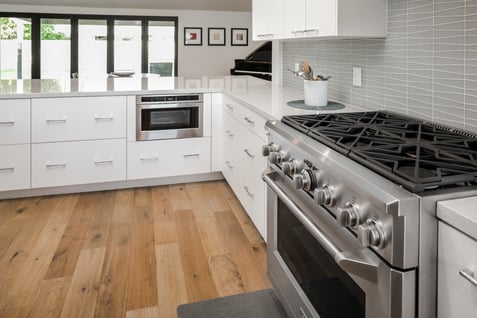 Why a Design-Build Remodel Team is What You Need
The first requirement is to look closely at your lifestyle. Does your family zip into the kitchen for a quick smoothie before hitting the gym? Do your friends gather around the kitchen table for coffee and doughnuts after the kids are at school and hubby off to work? Does your partner bring the boss or an associate home for dinner very often? What about you: do you work and take something out of the freezer to thaw for supper? Do you make everything from the pasta to the bread from scratch? Prep space will be an important consideration of your lifestyle.
Lighting is important. Do the kids work on their homework at the kitchen table or at the island? Do you do your own home business work from the same place? Does the family gather in the kitchen while you cook to discuss their day or make plans for the evening or the weekend? Task lighting and ambient lighting will be vital to these activities.
Cabinetry and storage are a necessary part of any kitchen remodel. Do you have enough space for all that goes into a kitchen? Could you use a pantry or even a butler's kitchen for your canning? Do the small appliances have enough room on the counters to be useful? Would you benefit from adding a beverage refrigerator drawer dedicated to kids drinks?
These considerations and more go into the design and space planning process. Your design-build contractor will sit down with you to discover how your kitchen will not only look but function when it's done. Budgetary considerations, aesthetics, storage space and functionality will all go into the design process. Only when your clearest idea of appearances and use are decided will the build process begin. No more dissatisfaction. No more embarrassment. No more stress.
Wanting to love your kitchen is just natural. Wanting to work with someone who actually listens to you and formulates a plan you can live with is just as natural. Browse through our pictures of completed kitchen remodel projects for inspiration for your project.
Kitchen Remodeling, Project Planning, Interior Design, Design-Build Remodeling