Many people buy a home with the intention of moving out in the future to accommodate the family they intend on having or just to upgrade into a nicer home. However, when you want something more than what you are getting from your current home, you do not have to actually buy another home.Investing in a home addition is a great alternative that many times is easier and more cost-effective, which also creates added equity and value for your home.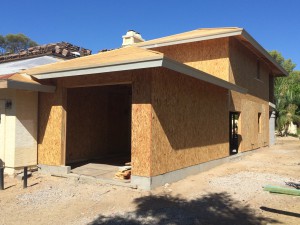 Expanded Kitchen Addition
If you do not like the size of your kitchen, whether the reason is because your family has grown since you bought the home, the kitchen was small to begin with, or you enjoy cooking more than you did in the past, your home addition can be an expanded kitchen to accommodate your kitchen-related demands.
Bathroom Addition
A family home with only one or two bathrooms can be problematic, especially when you have multiple people who need to get ready at the same time of the day. Adding a new bathroom can be just what you need to put your bathroom problems to rest and start enjoying your home again.
Bedroom Addition
Planning for another child and not having a spare bedroom to use is a popular reason for homeowners to consider selling their current home and look for a new, larger, one. However, while this is one solution, another solution is to expand your home with a room addition and get a new bedroom to satisfy your bedroom necessities.
Home Office Addition
If you have a job that involves working at home, whether it is part-time or full-time, not having a dedicated office can lead to a major decrease in your productivity, which is just what you want to avoid. Fortunately, you can add a home office that is secluded from the main living areas.
Design/Build Space Planning
Are you hesitant to get started with the planning for your home addition project because you want to be sure you're "covering all of your bases"? Working with a design-build contractor can help with the space planning and layout for your addition project, by maximizing the useful space in your home and available space on your lot.
If these additions or another type of home addition is what you need in your home, review our gallery of home addition projects.

Home Additions, Project Planning