Design/Build Bathroom Remodeling
The dream bathroom combines luxury and comfort with purpose and efficiency. Since bathroom size varies, achieving the right measurement for the ideal bathroom is a case-by-case basis. Luckily, our design/build bathroom remodeling team is here to help. Our Team will examine the space and give quality solutions to install everything you need while making it feel spacious and luxurious. Our job becomes easier when homeowners think about some of the key considerations to perfection. Browse our bathroom picture gallery for inspiring ideas.
Storage
Are you short on storage, and plan to add more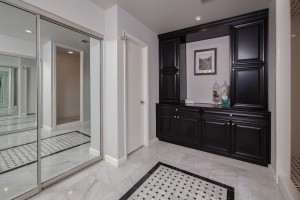 cabinets in the bathroom? Make room for this vital component by knowing exactly how long, how tall, and how deep it should become. Since bathroom storage can touch the floor, determine how much of the floor space should be designated for the new storage. Consider a tower on top of the vanity counter for additional storage, or add a cabinet above the toilet in the water closet for the extra needed storage space.
Sinks
Begin by considering a vanity or pedestal sink.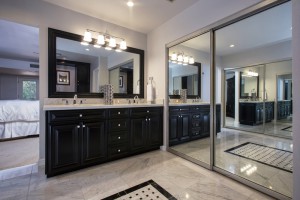 Vanities take up more space; however compensates for the large space by offering storage room. Pedestals save on space, and give the illusion of a roomier bathroom due to its skinny frame. Next, consider sinks based on the type and length; there are two traditional types. Most sinks are installed at or below countertop level, also known as drop-in or Undermount sinks. Sinks mounted above-counter are called vessel sinks, and looks similar to a bowl on top of your countertop space. In terms of sink length, that depends on whether one or two sinks are going to be needed in the bathroom. A good sized vanity sink is 20"-22" and is installed in cabinet. Considering the amount of countertop space you'll need in the bathroom, it's not recommended to install dual sinks in a cabinet space less than 60" long.
Tubs & Shower Doors
A traditional bathtub is 60" long, while larger tubs may be 72"+. The 2 main installation types for bathtubs are drop-in and freestanding; while many people may suggest selecting a type before considering size and space, our Professional Designers have found it a more successful proposition to consider the space available and preferred design aesthetic before selecting the bathtub type.
Are you seeking a Jetted-type bathtub? Consider whether or not the bathroom has electrical capabilities for the jet pump, as adding the additional electrical components will effect the overall cost of the bathroom remodel project.
For shower doors, make sure to leave 12" of room between shower doors and the ceiling; if you plan to go closer to the ceiling, consider installing tile or another type of water-proofing to the ceiling to compensate for the additional moisture build up due to the decreased ventilation.
Plumbing Fixtures
There are thousands of plumbing fixtures on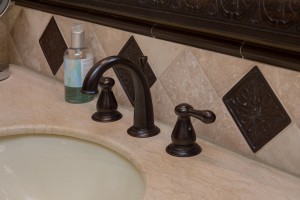 the market to choose from. While you may consider re-using existing plumbing fixtures; many times these fixtures require significant re-building of the interior components that it becomes cost prohibitive. We always recommend replacing the shower valve when remodeling a shower space, as you can never predict when a problem may occur. Doesn't it make sense to replace it when the wall is opened-up for the shower remodel anyway? Opt for quality plumbing faucets and fixtures to minimize the possibility for headaches.
Creating the perfect bathroom escape comes with a lot technical detail, and dozens of considerations before construction actually begins? This information is vital to customizing the space the way you envisioned it. For more information on bathroom remodeling,


Project Planning