From an interior design perspective, stairways are places of great potential, yet many homeowners think little of their staircase. Taking steps to beautify your home's staircase is one way to make a relatively low-cost, high-value home improvement in the coming year. If you're seeking a home improvement that requires relatively little financial investment and a great opportunity to get creative, don't miss this home improvement opportunity.
1. Beautify with Dark Paint
Dark paint makes an impression, especially when it's rising into the air on a staircase. There are multiple ways that you can dress up your staircase with some well-chosen dark paint. Either, paint the entire staircase, including stair railing, in the same shade of dark gray, dark blue, dark brown or black. Alternatively, some homeowners choose to paint their stair railing or the vertical part of the stair (called the riser) in a lighter shade.
Use floor paint for durability. Paint samples on the staircase before choosing the best shade for your stairs. This is important! It's tempting to choose a color based on the swatch alone, but the color you select for your staircase will likely be there for a long time, so take your time and choose wisely.
2. Under the Stairs Pantry
An under the stairs pantry is a charming storage addition to any home. Get a licensed contractor to do this work, as cutting through your stairs should not be done without some thoughtful consideration to the structure and appearance of your stairs. Some tips:
Ask your contractor to build in shelves or a cabinet into the space under the stairs, to make it more functional.
Put a door on your pantry to hide the clutter and keep your staircase looking its best.
It doesn't have to be a pantry! Your under the stairs closet can contain anything you want, including toys, pet accessories or seasonal decorations. In some staircases, you can even put a

wine cellar inside! Decide in advance what your closet will hold, then plan the shelving and cabinetry accordingly.
3. Rugged and Rustic
We like the "rugged and rustic" look for staircases, but there are lots of different directions you can go with this style. Stairs made from reclaimed wood have a natural appeal, and since reclaimed wood typically has all of the scars, scratches and stains from its previous existence.
For other homeowners, the "rugged" and "rustic" look comes from bare wood and visible natural wood grain. If your old staircase has been previously painted, get help from a contractor to strip the paint off the staircase and then refinish.
4. Nothing but Neutrals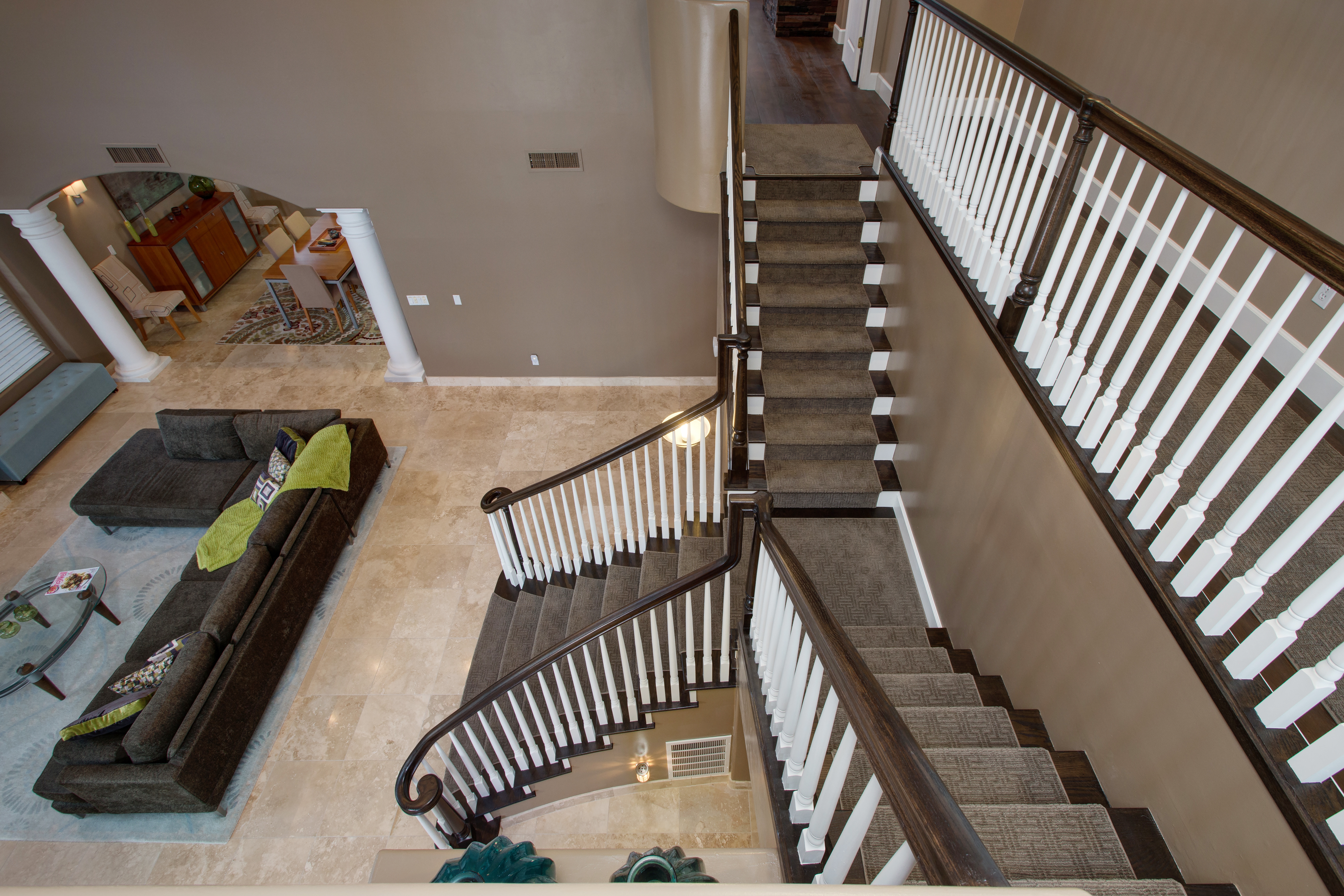 Neutral colors like cream, white, gray and brown have been stylish for many years now - especially tones of gray and white. White helps lighten the space, while gray keeps it grounded. Lighter grays are appropriate for spaces without a lot of natural light, while darker grays can add an attractive accent color in spaces.
Want to dress up your staircase with neutrals? Try painting a staircase runner. Consider either painting a single stripe down the middle of your wood stairs, or a single wide stripe coupled with a more narrow stripe highlighting the middle of the runner. Use shades of gray, or cream, or cream and beige to paint your stairs.
5. Light Up Your Entryway
So, maybe your stairs are as beautiful as they can be, but they need more light to ensure they're safe to use. We recommend installing a classic pendant light fixture to hang down over the first landing or entryway. Look for a light fixture that is ornamental as well as beautiful. You have many options, from a glass globe light to a crystal chandelier.
We recommend shopping around when trying to choose the right light fixture, just because there are so many choices. It would be a shame to pass up the perfect light fixture! The design team with Hochuli can help you pick by talking to you about your preferences and narrowing the choices based on your own tastes and personal style.
When it's time to install your pendant light, use a licensed contractor to get the work done to ensure that the electrical work is performed correctly.
6. Timeless Black and White
There's something musical about a black and white staircase. Wood stairs painted in black and white almost look like the keys of a piano. We recommend black and white stairs in older homes where previous wear and tear on the staircase may have created scratches and gouges in the wood. Remodeling staircases in this way can restore a look of uniformity and elegance to the entire structure. We recommend getting your staircase remodel done professionally to ensure the work will be durable and long-lasting.
Contact Hochuli Design and Remodeling Team
Just bought a house with staircase? Looking for some staircase remodeling ideas? Do your home improvement the right way! The team at Hochuli Design and Remodeling can help you get started with your home design and makeover. Call today to make an appointment for a consultation with a professional design and remodel team.
Interior Design, Trends