A Custom Design/Build Wine Cellar
The Phoenix, AZ homeowners highlighted here love wine so much so that they often travel to Napa Valley to tour some of their favorite vineyards. Over the years, they'd acquired quite a wine collection, but they didn't have an adequate space to store it. They'd always wanted a wine cellar and even had a spot in mind – under the staircase – but they were told by other remodeling firms that it couldn't be done.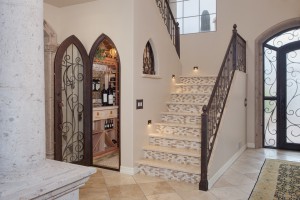 That's when they met us, and we developed a plan to fulfill their long-held dream of having a wine cellar inside their home.
The storage closet they had in mind had an awkward layout, primarily because it was located under the stairs. It was narrow, lacked headroom and the homeowners didn't use it for more than a place to hide the vacuum. Still, we found a way to use the space efficiently and create a wine cellar beyond what our homeowners envisioned.
To start, the homeowners wanted the space to have a Mediterranean feel to it, so our design began on the outside of the closet. The tired 1990s wooden staircase railing was changed to elegant wrought-iron, as was the closet door. A small wrought-iron window was added to allow natural light into the space, and travertine slabs replaced carpet on the stairs.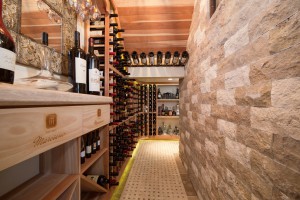 Inside the new climate-controlled wine cellar, stone veneer was used on one wall, and redwood was used for the shelving and on the ceiling. LED lights were installed for additional ambient light that gives the room a soft glow in the evening.
Next, a bar area was built inside the door, and the countertop is the perfect place to serve the evening's wine choice, whether it be Cabernet Sauvignon, Chardonnay or Merlot. Underneath the furthest reaches of the closet, shelving was added for storing other liquors, which keeps it all in one spot.
For a final touch (and our surprise gift to the homeowners),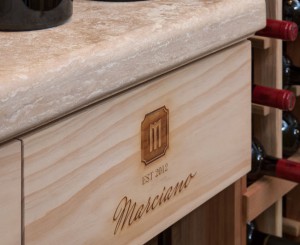 their last name was branded into the drawer fronts, which thrilled them to no end.
Are you ready to work with a Design Build Contractor and home remodeling experts to create a private wine cellar of your own? Contact us at (602) 451-0323 or
Contact us today to discuss your project
Check out our website for more information about how we make remodeling an enjoyable experience, and start daydreaming in our Galleries with pictures of Kitchens, Bathrooms, Room Additions, and Other Projects.
Interior Design, Design-Build Remodeling, About The Area