Bathroom lighting is one feature that doesn't seem to get enough consideration.While many homeowners give plenty of thought to lighting options for the kitchen or family room, bathroom lighting is frequently overlooked. Often, one central lighting fixture is installed in the ceiling and is expected to be sufficient.
When considering lighting for your Phoenix bathroom remodel, remember it is a crucial aspect of your day-to-day routine. You and your family spend a lot of time in this room. In the morning, you take a shower, brush your teeth, wash your face, do your hair and apply makeup to get ready and reverse the routine in the evening before going to bed.
In fact, improper lighting is often the reason of why so many women get frustrated with applying makeup. Women spend time and money trying to find the right shades of makeup, when really the culprit isn't their product – but the poor lighting.
Ask any bathroom designer, and they'll tell you the most common lighting mistake made is positioning recessed lighting directly over of the mirror. This lighting choice casts shadows over your face, which not only make it more difficult to see, but ladies, it also makes you look older. This could be the reason why your makeup doesn't look the same outside the house as it did when you applied it.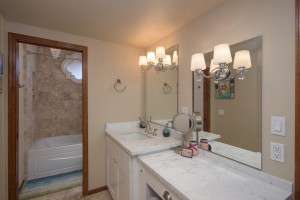 The optimum position for make-up lighting in the vanity area is from the side. If you've ever taken notice to a runway dressing room, make-up artists apply makeup to models with plenty of side lighting, not overhead lighting. Install sconces on either side of the mirror. When placed at eye level, it will cast even lighting across your face – giving you a true representation of what you look like so you can apply makeup accordingly.
If sidelights aren't a practical option because of space, an alternative is mounting the lights directly to the mirror (as pictured). Remember to use white light bulbs so that the light spreads more evenly across your hair and face and renders your skin tone the most accurately.
For more information about how we make remodeling an enjoyable experience, and start daydreaming in our Galleries with pictures of Kitchens, Bathrooms, Room Additions, and Other Projects.
Bathroom Remodeling, Kitchen Remodeling, Project Planning, Interior Design, Design-Build Remodeling, About The Area