The kitchen is undoubtedly one of the most important spaces in an home. An outdated and/or non-functional kitchen is not only an embarrassment to those currently living in the home, but can also detract from potential resale value and appeal down the road. Fortunately, there are a few telltale signs all homeowners can keep in mind to determine when they need a kitchen remodel in Phoenix, AZ.
Your Appliances Are Old or Mismatched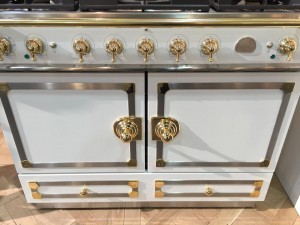 Take a look at the appliances in your kitchen. Are they anything but stainless steel or some other type of modern finish? If not, then it's probably time to at least replace those old appliances. Not only do older appliances detract from the appearance of your kitchen, but they're also not very energy efficient. Consider upgrading to all stainless steel appliances as part of your kitchen remodel to give a polished, cohesive look. There are some great new appliance products in the market place, such as the new line of La Cornue seen at KBIS 2016.
You Don't Have a Backsplash on Your Wall
A lot of older kitchens were built without backsplashes, but these days, any modern kitchen is expected to have some kind of backsplash in place. These serve a functional purpose of being easy to clean in the event of grease splatters or other common kitchen stains. Plus, when done correctly, they can also add a lot of aesthetic appeal to your kitchen.
If you don't have a backsplash along the wall behind your sink, it might be time to consider a kitchen remodel that involves adding one.
You Simply Don't Have Enough Storage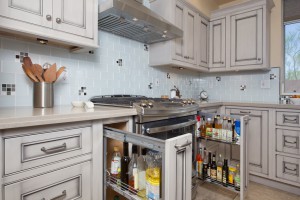 Perhaps the number one reason to take on a kitchen remodeling project is that of simply not having a functional enough kitchen. Most often, a lack of storage space is the number one complaint for homeowners with older kitchens. If you're constantly having tupperware rained down upon you when you open your cabinet doors or are tired of not having enough space for all your small kitchen appliances, now may be the right time to contact a kitchen remodeling contractor to explore the possibility of a kitchen remodel.
With a professional kitchen remodel, you can either make better use of the space you have in terms of storage, or you may even be able to increase the square footage of your kitchen by knocking down a wall, or adding on with a home addition.
Your Microwave Sits Atop a Counter
When microwaves were still a relatively new kitchen appliance, many homeowners who purchased them had no option but to keep them on the counter, taking up a great deal of counter space. If your kitchen still has this configuration, then it's definitely time for a remodel. These days, a microwave should ideally be mounted into the cabinets, usually above a stovetop so it can serve as an air circulation fan as well.
Your Flooring Has a Plastic Toe-Kick
Last but not least, take a look at the molding around your flooring and below your appliances, such as your dishwasher. Is it made of black plastic material? If so, then this is known as a plastic toe-kick, and it's a very outdated material that's since been replaced by higher quality materials that match your cabinets or flooring. For example, if you have oak wood flooring, then the black toe-kick should be replaced with an identical molding that provides a more seamless appearance. This is one of many details that can be upgraded and updated when you decide to take on a kitchen remodel.
These are just a few of the most common telltale signs that your kitchen is in need of a remodel. If you're interested in finding out more or getting help with your upcoming remodeling project, be sure to take a look at the pictures of kitchen remodel projects we've completed for inspiration. Our professional staff would be more than happy to assist you.
Kitchen Remodeling