It's a stressful thing to live through a kitchen remodeling project, consider these up-front tips to help stay focused on the end results.
#1 Getting Ready and Packing Up
Your kitchen cabinets and drawers are likely packed full - that stuff will need to go somewhere during the remodel. Is it all needed to go back in?
This is a great time to clear un-needed items that have been cluttering up the kitchen, and a good opportunity to make charitable donations of those items you no longer need.


Where are you going to store the packing boxes and furniture during the kitchen renovation? Could you use a portable storage pod?


Consider the kitchen items you may need to keep out; but be selective. Storing them in covered tupperware tubs help keep them clean.


Disposable plates and silverware are convenient (while not entirely environmentally friendly....)
#2 Communication is Vital

From the 1st time you meet your remodel contractor and interior designer, communication is essential. This should be a collaborative team effort, with the game plan focusing on the desired outcome; therefore creating predictable results and an enjoyable experience.
A pre-construction conference with the remodeling contractor team goes a long way to establishing the guidelines and expectations for what you will experience together during the kitchen renovation project.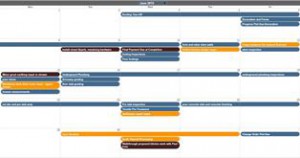 Discuss the construction schedule and the major milestones that will be realized as the design-build kitchen remodel evolves.


What will the daily work hours be?


Identify access to the home; who will be responsible for the house key, what about the alarm code? Can your alarm company establish a special code for the contractors' use?


Outline the primary contacts and the ideal way to reach them. Not only the contractors' main contact person, but yours as well.


Do you have pets? Decide where they will be safely confined from the daily disruption.


Understand what the remodeling contractor cleanup procedure includes; with the goal to keep dust contained to the work area.


Identify a location outside for cleaning of tools, washing hands, etc. if necessary.


Where will material be stored? Where do the construction crews park? Where will the dumpster be, and for how long?


Is there a porta-jon onsite, or are they using an indoor bathroom? How will that be kept clean?


The list goes on. An organized and professional design/build remodel contractor will schedule a pre-construction conference with you, and have a checklist that outlines these questions and more.


#3 Living through the Kitchen Remodel
In all likelihood, you'll be living in the home during the kitchen renovation; take some precautionary steps to make it as comfortable and bearable as possible.
Designate a "quiet space" to escape the disorder, and "get away", indoors or out, you'll appreciate some time away from the dust.


What effect will the project have on the kids' daily routines?


Setup a temporary "kitchen area" to include your refrigerator, microwave, toaster, and don't forget the coffee maker for your daily cup.


Utilize a guest bathroom or laundry sink to use an area to clean dishes.


Prepare yourself for the Emotional Roller Coaster you'll find yourself on, but keep your eye on the prize!



Or........




Project Planning