Designers know that the amount of enjoyment you get from your kitchen won't come from fixtures and finishes. While you'll appreciate the beauty of a newly remodeled kitchen, the most important aspect of any kitchen is functionality and workflow. This is why it is essential to begin any kitchen remodel project with a good design.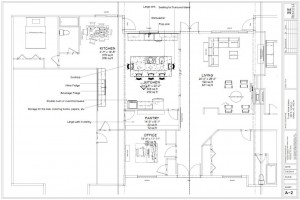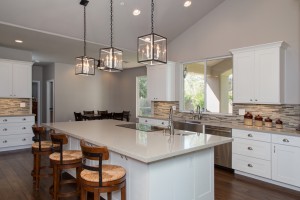 Often, by the time you are ready to remodel your kitchen, you've been in your home a number of years. During that time, you've also developed ways to maneuver around the kitchen. You've made the storage work, even when it isn't ideal, and you've developed workflow patterns for meal prep and cleanup based on the existing kitchen design. Simply put – you've adapted to the space you have.
Additionally, you may be surprised by the amount of wasted space. The good news is, as you begin planning your remodeling project with a design/build team, you will likely begin to see how much space you'll gain without adding a square inch.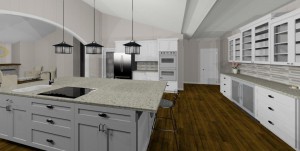 Because kitchen designers know that every family's needs are different, a good designer will ask many questions to better understand how you use the space.
Who feeds the kids breakfast in the morning?
If they are younger but want to serve themselves, a breakfast station that includes drawers for plates and bowls (instead of traditional cupboards that kids can't reach) can be designed into the kitchen.
Where do the kids do their homework?
Kitchens are often the place where kids do schoolwork while the adults prepare meals. If this is the case, the design can include ample study space.
Where do electronics, backpacks and keys go?
The island and/or kitchen table is often the "drop zone" for backpacks, shoes and electronics, and the clutter can drive parents nuts! Lockers and designated charging stations make sense as one aspect of a newly designed kitchen.
Who is the cook in the family and how do they like to prepare a meal?
The old kitchen "work triangle" is being tossed out the window because smart kitchen designers recognize that everyone works in the kitchen differently. For example, if you are a chef with a wide assortment of seasoned oils and spices, it makes sense to integrate a pull-out shelf to keep those at your fingertips.
What specific needs do you have?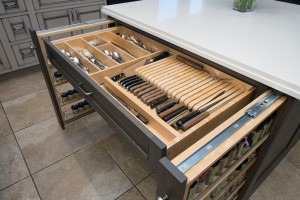 The market offers many cabinetry options today to eliminate clutter and fix frustrations. Coffee stations, microwave drawers and Bluetooth media centers are just some of the newer items being integrated into family kitchens. If your frustration point is large drawers full of cluttered utensils, there are now utensil hangers and drawers.
There are also pull-downs especially designed for storing your grandmother's cookbook collection and pull-ups for your KitchenAid® mixer. The options are nearly limitless.
Smart space planning in the kitchen is about discovering homeowners' needs and tailoring each design to make a kitchen beautiful, functional and enjoyable.

View our kitchen portfolio for ideas, and read more about maximizing storage space in the kitchen.
Project Planning