Is your kitchen feeling outdated and small? If so, then aside from tackling a major renovation or home addition, there probably isn't much you can do to increase the actual square footage of your kitchen. However, with working with a creative Scottsdale Kitchen Remodeling Contractor, you can update your kitchen while increasing functionality and perception of space--which is almost just as good! We've got some excellent tips for maximizing functionality in even the tiniest of kitchen spaces with a remodeling project.
Get Creative With Cabinet Space
One of the biggest complaints homeowners with small kitchens have is that there's an overwhelming lack of cabinet and storage space.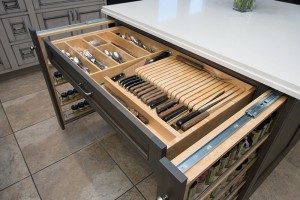 If this applies to your kitchen, then this is one of the most important problems you'll want to tackle with your remodeling project. This will mean getting creative with your cabinet and drawer space.
These days, cabinet manufacturers have some unique storage solutions, including cabinets with their own pull-out storage shelves and organizers. Furthermore, two-tiered drawers are also a great way to maximize your drawer space without taking up more physical space in your kitchen.
Opt for Ceiling-Height Cabinets
If you have an older kitchen, there's a good chance that your current cabinets stop a foot or more shy of your ceilings (assuming you have standard 8-9 foot ceilings). If this is the case, you might also want to consider replacing your existing cabinets with ones that reach all the way to your ceiling. This will provide you with additional storage space while also giving your kitchen a more finished look. You can use this extra cabinet space to store small kitchen appliances or china that you don't use very often.
Convert to an Open Floor Plan
These days, the open floor plan is very popular and is a great way to modernize not just your kitchen, but your entire main living space.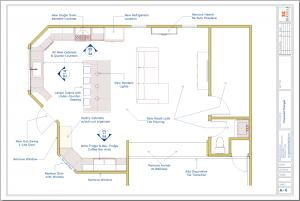 Considering space planning and layout changes while mapping out your kitchen remodel project can also add value to your home while opening up your kitchen and creating the illusion of more space. Keep in mind, however, that in order to knock down walls and create an open floor plan, you may need some re-engineering--especially if you're working with load-bearing walls. Therefore, you'll need to be sure to consult with a Professional Design/Build Home Remodeling Contractor with structural engineering knowledge before knocking down any walls.
Incorporate an Island or Peninsula
If space allows, adding a kitchen island or even a peninsula can be a great way to add storage and counter space for preparing meals and even gathering while entertaining. Even a small, portable island on wheels is a viable solution for smaller kitchen spaces; the island can simply be moved to the side and out of the way when additional space is needed. You may also consider having an island or peninsula built that will double as a breakfast bar for additional functionality.
Opt for Built-Ins Whenever Possible
Built-in appliances will cost more, but they can also be a great way to make the most of the limited space in your kitchen. For instance, a built-in refrigerator or even built-in ovens can free up floor space while also adding a modern touch that will increase the value of your home. When choosing built-in appliances, just be sure to select sizes that have wide availability. This way, if you need to replace your built-in appliances down the road, you won't have such a hard time finding ones that will fit the space.
These are just a few of the best ways to maximize functionality in your smaller kitchen space as part of your Scottsdale Remodeling & Design project. For more ideas or for assistance with your upcoming kitchen remodel, feel free to contact us today!
Kitchen Remodeling, Design-Build Remodeling