This Phoenix, AZ couple wanted to transform their master bathroom into a spa-like retreat where they could unwind and relax from their busy lives, and they are not alone in this growing trend of creating spa-like retreats at home.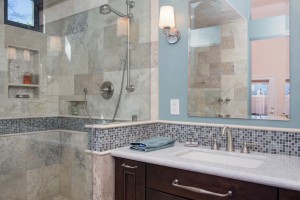 As homeowners seek more convenient ways to unwind from their daily lives, they are turning to their homes, particularly their private master suites, to do so. Our schedules are full these days, and our lives are often too busy to fit in an appointment at the spa across town. When you need to relax, you don't want to wait for a time that fits your schedule. You want – and deserve – instant comfort.
This Phoenix bathroom remodeling & spa-like renovation was just what this couple needed to find relaxation.
The transformation began by removing the old tub to make room for a larger, barrier-free walk-in tile shower. The primary shower head was placed on an adjustable-height slider bar,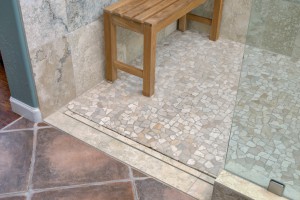 and a secondary rain head was installed from the ceiling to trickle soothing rain water. A few niches were constructed into the shower as well, to hold bath products, candles, plants or other spa-like touches.
Additionally, much thought went into the bathroom cabinetry. Pullouts on the side are equipped to hold taller products to keep the granite countertop clutter-free.
Because the existing floor tile was the same terra cotta tile used through out the house, one of the challenges was to find materials to complement the existing materials. A smooth river-rock tile used for the shower floor was chosen for two reasons.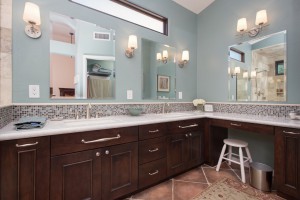 First, it adds to the spa-like feel, and second, it also has ripples of peach that pull the floor colors together nicely.
Natural elements and earth tones were used throughout the bathroom to create tranquility. The blue wall color and glass accent tiles mixed with the natural stone tiles convey a feeling of soothing relaxation the instant you walk into the room. In addition to ample lighting fixtures, natural light was also a thoughtful consideration during the design of this project. A transom window was added above the mirror, and three box windows were included in the shower.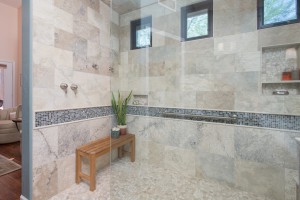 Finally, the homeowners knew they wanted to remain in their home as they age, so they took steps to design "aging in place" features into their space. The shower is a barrier-free shower, and a few grab bars were also installed. The primary shower head is adjustable and handheld, and perhaps the coolest feature is the shower can be turned on/off from the outside – allowing the water to heat up without the homeowner having to step into the shower to turn it on.
For more information about how we make remodeling an enjoyable experience, and start daydreaming in our Galleries with pictures of Kitchens, Bathrooms, Room Additions, and Other Projects.
Bathroom Remodeling, Interior Design, Design-Build Remodeling, About The Area