A big design idea for a small bathroom isn't impossible. Your small bathroom can be transformed to appear and feel larger than it really is. Work with your designer to incorporate the following tips into your bathroom remodel to maximize what little space you have.
Color scheme
Color can make a big difference when it comes to your perception. Light, airy colors make a room appear larger. Painting the ceiling the same color as the walls, or one shade lighter, will create the illusion of a larger room with a higher ceiling. Blending the shower tile with the color of the walls can make your bathroom look double in size.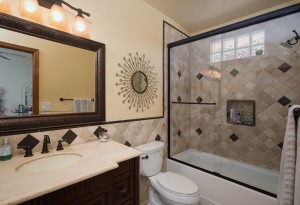 Recessed lighting
Wall fixtures or hanging lights take up a lot of space and can actually make a small bathroom appear even smaller. Recessed lighting is flush with the ceiling and the angle of the lighting will create warmth in the room, making it appear larger. The light reflecting off a bathroom mirror can create a feeling of depth.
Natural light
Windows or skylights do wonders for a small bathroom. Not only does a window make the room appear larger, but the natural light coming through makes the room appear "open". If you must cover up for privacy, use translucent blinds or sheer curtains.
Pedestal sink
A large vanity isn't intended for a small bathroom. A simple pedestal sink will take up less space while still looking sophisticated.
Recessed shelving and storage
Recessed shelving is set inside the wall. This makes the room appear larger with more depth. Covering open shelving with shutter doors or a swing mirror can hide toiletries making the room seem less cluttered while still being flush with the wall.
A small bathroom isn't a lost cause. Working with a Professional Design/Build Home Remodeling Contractor can help ensure the bathroom remodeling project is properly pulled together. Do you have a bathroom design build remodel project in mind?