So, you're tired of your outdated, tiny kitchen and are ready to take on a kitchen remodel in Scottsdale. You're looking to modernize your kitchen while also making it more functional in terms of space. The good news is that there are plenty of changes you can make to maximize your small kitchen space during a remodel.
Increase Cabinet Height
Do your current kitchen cabinets stop short of your ceiling, or have a soffit of wasted space above them? If so, then it might be time to replace those cabinets with new ones that will extend all the way to the ceiling (assuming your ceilings aren't vaulted). Making use of vertical space can help to expand your kitchen storage without taking up more floor space in the process.
Convert to an Open Floor Plan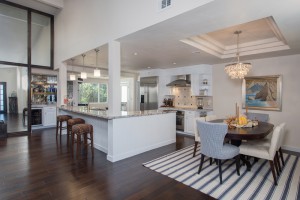 You'd be amazed at how much of a difference it makes to convert an existing kitchen into an open floor plan by knocking down a wall here or there. Specifically, with an open floor plan, your kitchen will open directly to your living room and/or dining room space. This creates the illusion of a larger kitchen while also potentially giving you the space you need to add an island, affording you more storage and prep space. Take a look at this completed Scottsdale Kitchen Remodel which shows how removing a wall can open up the space.
Make Use of Wall Space
Finally, be sure to make the most of unused wall space in your kitchen. Consider adding a wine rack to free up space elsewhere in your kitchen. You can even buy wall mounts for hanging your pots and pans as a means of saving cabinet space. You can even purchase magnetic spice racks these days that mount on your wall and save you space and clutter in your cabinets.
Looking for more advice on making the most of your kitchen remodel? Take a look at our Kitchen Remodeling Gallery for inspiring ideas for your project, then
More kitchen remodeling resources you may find helpful:
Kitchen Remodeling, Project Planning