Those who are planning to gut their kitchens and design a new space to call their own are in it for the big game. Kitchen space planning & design is no small feat; fortunately, home owners and kitchen lovers have a fairly easy task ahead of them. All that's required of you is to decide what you want to be able to do in your kitchen!
Remember Why You Started
Before demolition ever begins, make a list of why you want this to happen in the first place. Is your kitchen outdated? Are you lacking in counter space? Do you have anywhere near enough storage space? Would it be wonderful to have a pantry? Do you like to entertain, and want a showpiece kitchen? List out all the reasons that your kitchen just isn't working for you. When you get to the point where your kitchen is bare bones and construction has begun again, you'll want a reminder of why you got yourself into this, and a reminder from the past is exactly the way to do that. Renovations, especially a kitchen remodel, can be an overwhelming process - a list of reasons that you wrote yourself can be exactly the touchstone to pull you back on track with why you're doing this for yourself.
Focus on Your Needs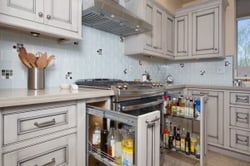 Ahead of thinking about tile, paint color, or granite versus quartz countertops, you want to think about functionality. What are the needs you have in your kitchen? More storage? More work space? Is there not enough room for when you have friends over for dinner? Are you finding that you are reaching into cabinets that are too deep, or too tall? Discuss these issues and your wants with your kitchen design team, and find what can be done about them. Perhaps sliding storage can be put into your cabinets, or you can go from ceiling-height cabinets to cabinets that you can actually reach into.
Whatever your needs are, think of your function before your form. You aren't deciding that the way your kitchen looks doesn't matter - you're just deciding that how you work in your kitchen, day after day, is the reason you're going into this remodel in the first place!
Find Your Style and Stay Focused

Once you have decided what the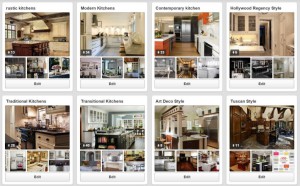 technical details of your kitchen remodeling project are, it's time to think about the looks. But even this should be taken slowly. Walk into any tile store or flooring department and prepare to be overwhelmed! From back splashes to faucet designs, sinks to cabinet pulls, there are an endless number of design choices that can be made in your kitchen. Where are you supposed to begin?
The best thing you can do is think of the overall style you want to emulate, and stick with that. Think of what your home's style and your personal style are like. Are you more of a comfy, cozy kind of person, or do you like things that are sleek and contemporary? Use home design websites like Houzz or Pinterest to look up styling options and different design options for homes. Your design team will also be able to help walk you into the world of design options with the confidence of knowing you're making the best choice for your home remodel.
Maintain an Inspiration Area
Whether you like the digital options of Pinterest or Evernote or want something more physical like a cork board or paper notebook, keep track of what you find and like. Take pictures of tile samples and hardware pieces that you like and save them in your phone. Find color palettes that you love, and hang on to them.
When your kitchen is a demolition zone,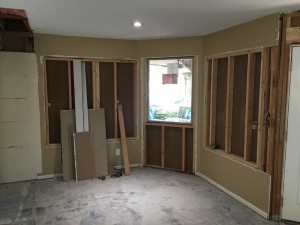 and then a construction zone, use your inspiration area as a place of focus and revitalization that keeps you centered and reminded of what your kitchen will be, and not what it currently is.
Be Consistent With Your Choice
Once you've picked out what you like and want to go with, stick with it! There will always be more tile and more hardware that's pretty and interesting, but the more you look at things and the more you fall in love with marble options and appliances, the more overwhelmed you'll get (and the more strained the relationship will go between you and your remodel contractor and interior design team).
Small changes are typically something that most home remodeling contractors can work with, but if they've ordered 15 gallons of one paint color and you decide you want another, or they've already laid 200 square feet of one tile and you really want another one, things are going to get hairy, not to mention more expensive.
Have Fun
Look at your inspiration board. Look at your list of why you're doing this. Remember the moments of frustration in your kitchen that led you up to this point, and then think of all the amazing times you'll have once the work is done. A kitchen renovation is a big step to something incredible - you're on your way to the kitchen of your dreams, a place where you can create beautiful family memories as well as bring friends to the table for endless dinner parties and cocktail hours.
At the end of the day, remember to stop and take a breather. Have fun with your renovation, and enjoy the process. It'll all be worth it in the end! Looking for more information on making your house the perfect home? Meet our Team, read contractor reviews and testimonials, and take a look at our completed kitchen remodel gallery, then Contact Us to Discuss Your Project
Kitchen Remodeling, Project Planning, Design-Build Remodeling