When people decide it's time to update or personalize their home with a remodel, it is not uncommon for them to begin in the kitchen. After all, for many families the kitchen is the centerpiece of their home, and is the spot where they spend the most time talking, eating, and entertaining. Being such a heavily used space, kitchen remodeling can also be an extremely practical place to start one's home renovations, as you can make the space more functional at the same time that you give it a face-lift.
A kitchen remodel will often have the greatest return on investment, further making them an attractive place to start you home improvement. However, once you decide to remodel your kitchen, you may soon find yourself overwhelmed by everything that must be taken care of, as there will be many things to consider, and many choices you will have to make during the process. To help get this process started, here are a few of the things you will want to consider before the remodel process starts.
Remodeling Budget
Before consulting a home remodeling contractor, interior designer, or space planning your new kitchen in any way, you will need to consider your how much you are willing to invest in your kitchen remodeling project. What is the ideal amount of money you would like to spend? What is the max you have to spend in case you encounter unexpected expenses along the way? Sitting down and considering the figures will help you to get a better idea of what you can do during your remodel, and will allow you to prioritize where you would like to spend your money.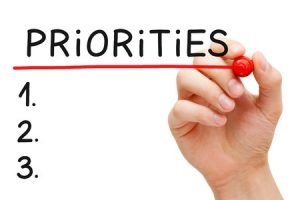 Wants Vs Needs
Also referred to as "Must-Have" vs. "Like-to-Have". Part of the prioritization process will require you to weigh your wants and needs. For most people, their budget is not infinite, which requires them to consider which upgrades are necessary, and which desires they can afford. This will likely require you to consider what is most important to you in a kitchen. Do you prefer high quality cabinets, or top-of-the-line appliances? Taking the time to plan how to allocate your money will help you to make decisions later on.
Layout
You will also want to take some time to consider the layout of your kitchen. A full design-build kitchen remodel allows you to really make the space your own, and make it work the way you need it to. Keeping this in mind, don't feel trapped by your kitchen's current layout, but rather take this opportunity to make your kitchen space work for you by rearranging it in a way that you like and works the best for you. Any little issues you have ever had with your kitchen, such as the appliances being arranged in a way that doors bump into each other, this is your chance to fix these problems. Take a few days to really consider the way you are using your kitchen. Try to be aware of any problems you encounter, and make note of these issues so that you can address them as you consider your kitchen's new layout later on.
Perhaps the most important thing to consider during your kitchen remodel is that this is your chance to personalize your kitchen, and change the way you function within the room. Consider what design elements you have loved in other kitchens, and see if you can work them into your new kitchen, making it reflect your personality. Personalizing your remodel will help to ensure that you love the end product, and that your kitchen does not feel bland or cookie cutter. This is your chance to make your kitchen as unique as you are. However, these are just a few of the many considerations you will have to make during the remodel process, and if you attempt to remodel your kitchen alone, you may find yourself quickly in over your head. Contact us to learn about how we can help you with your upcoming kitchen remodel.
Our experience team of designers, employees, trade partners, and suppliers have likely encountered every possible situation with kitchen remodeling projects. We specialize in design/build kitchen remodeling projects, with an emphasis on space planning and functionality. Our team believes a kitchen remodeling project should be an exciting and enjoyable experience, and are here to help navigate you through the process. Take a look at our gallery of completed kitchen remodels, and before/after remodeling pictures, for inspiration for your project.
Are you planning a kitchen remodel? Click the button below to get a copy of our:
[ARForms_popup id=108 desc='Kitchen Planning Guide' type='button' height='auto' width='800' overlay='0.6' is_close_link='yes' bgcolor='#ff6600' txtcolor='#ffffff' modal_bgcolor='#000000']
Kitchen Remodeling, Design-Build Remodeling