We've been working on a Kitchen Remodel in Arcadia!
This design/build kitchen remodel in the Arcadia Neighborhood is nearing completion. New Quartz countertops have been installed.

What are the countertop details?:
White Quartz countertops have a bluish-glass speckle in them.
The countertop selections were finalized during the design phase of our Design/Build Remodeling process.
Subway backsplash tile completes the look of the cooking wall where the appliances will be installed.
Could there possibly be any 'Challenges' during countertop installation?:
The only challenge with the counter install was the overall size of the island Quartz slab.
The one-piece island top finished out at 60" wide by 120" long, and very heavy.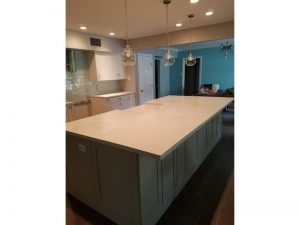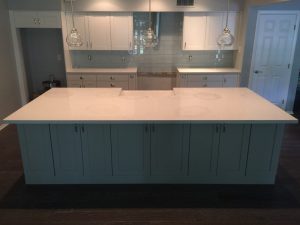 Keep an eye out for our yard signs and company trucks in your Arcadia neighborhood. This Arcadia Design Build Kitchen Remodeling project is nearing an end. If you live in the Arcadia area and looking for a Professional Design/Build Home Remodeling Contractor, find out more about our refined Process for design/build kitchen remodeling, and get to know the Hochuli's.
Take a look in our galleries of kitchen remodel pictures for inspiration for your home remodeling project.
Kitchen Remodeling, Design-Build Remodeling