Quick Tip:

C-O-O-L

Benefits of Nest
Have you heard of the Nest Thermostat?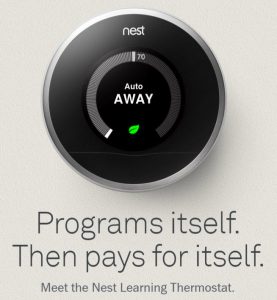 This "next-generation thermostat" learns your schedule and adjusts the temperature based on your living habits. Most people set the thermostat at one temperature and never adjust it when they leave the house for work or a long weekend. However, when you "set and forget," your heating and cooling system is still working hard to keep your home at a comfortable temperature – when you aren't even home.
The Nest Learning Thermostat learns your schedule, programs itself and can be controlled from your smartphone! According to the manufacturer's website, over time the Nest Thermostat can lower your heating and cooling bills by as much as 20% – a significant savings in Arizona.
Before you head to your summer destination vacation seeking cooler weather, investigate the possibilities with Nest. Make this the summer that you set your thermostat a bit higher (saving money) while you are away; and on your return trip to Arizona, you can adjust your thermostat from your phone – so your home is nice and cool when you arrive!
Image from Nest.com
Interior Design, Design-Build Remodeling