Remodeling your home can seem daunting, but it doesn't have to be. Sometimes just getting started is the hardest part. When you hire a contractor like Hochuli Design and Remodeling Team to do the job, we make it our mission to walk with you every step, so your renovation process is smooth and as stress-free as possible. Together, we'll make sure your Phoenix, AZ remodel looks exactly how you'd envisioned it, without any surprises. 
The biggest headache with any home renovation comes from surprises. Understanding your contractor's construction process makes it much easier to know what to expect every step of the way. Here is our step-by-step home renovation guide.
Step 1: Consultation and Property Visit
As a first step, getting to know your contractor is always best. Like the dating process, you'll want to find a company that feels like a good fit and understands your home improvement vision. Since building a relationship with our customers is so important, we offer a free 30-minute phone consultation with each new potential customer.
During this call, we listen to your ideas, and from there, we both can determine whether we are a good fit for each other. From our perspective, we want to be sure the project you have in mind is the type of home remodeling project we excel at in an area we serve (in the greater Phoenix area). From your standpoint, be sure our services are a good fit for you before hiring us - because everything beyond this call is a financial investment for you.
If everything goes well, we'll collect a design retainer and schedule a visit to your property to view your home and discuss your project in more detail.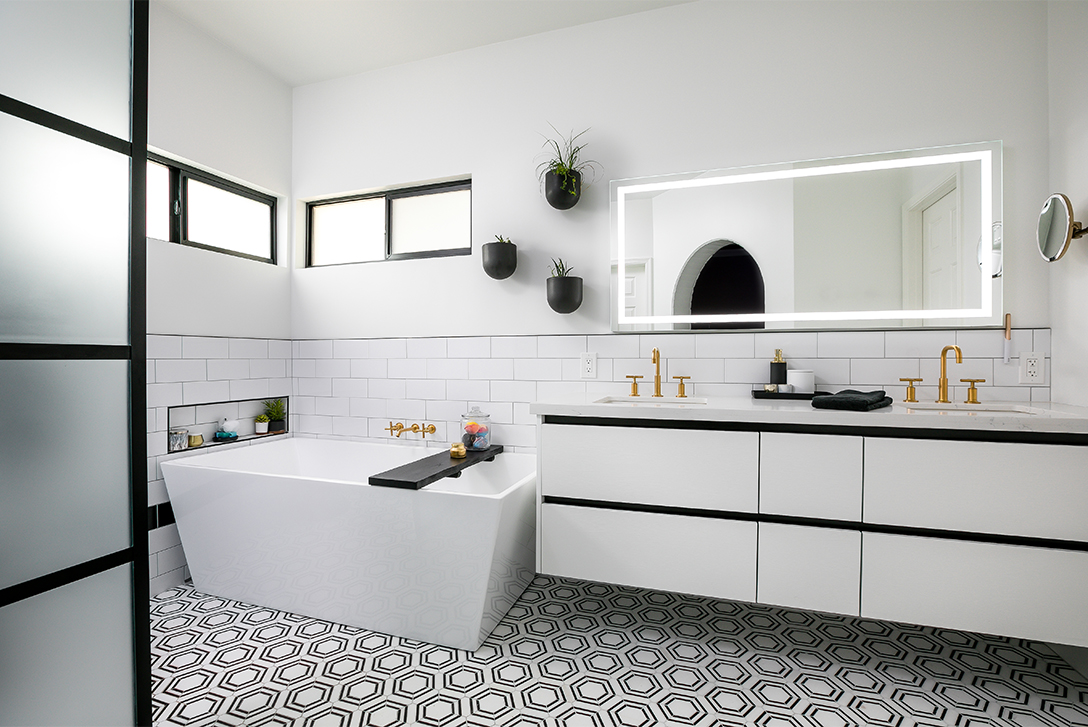 Step 2: Create Wishlists, Budgets, and Timelines
Careful planning is crucial to staying on track throughout the remodeling process. We take extra time to ensure that every step is clearly outlined, so you get what you want in a suitable timeframe at the price point you expect.
The Home Renovation Wishlist
Major home renovations have a lot of considerations. For example, whether you want to add a room that requires removing a few walls or you want a kitchen remodel or whole house addition, there are many components to each renovation we do.
Each client has different life needs and a unique style; therefore, we will ask you to separate your remodel project into two lists: "must-haves" and "like-to-haves." That way, when we develop a renovation budget, we can include your "must-haves," and we'll try to incorporate as many of your "like-to-haves" as possible. Sometimes, the budget doesn't allow for all of a client's "nice-to-haves," so when tough choices must be made, we can remove a few of them or make suggestions for alternative options to meet the budget.
The Remodeling Budget
How much will my home renovation cost? We always receive this question, and the answer is, "We don't know." Let us explain.
While we can have a general budget discussion in the beginning, we must go through the design phase to give you an accurate cost. Too many contractors make assumptions and provide free estimates without much information. On so many levels, we find this wrong. Our remodeling philosophy is this: The only way we can get an actual cost of your renovation is to start building out the project scope. This is why we don't give free estimates and require a design retainer. Once we've created a preliminary design, you'll get a more accurate cost estimate.
The Construction Timeline
As contractors, we know it's important to plan each step well in advance. For example, if your home is located in the city of Phoenix, the permit costs and requirements may differ from those in Scottsdale or Paradise Valley.
Additionally, nearly all components that go into your remodeling project have lead times. Lead times are the time it takes from order to arrival, and these can be anywhere from a week to several months. Materials, such as kitchen cabinets, flooring, windows, doors and light fixtures, must be ordered ahead of schedule so they arrive in time for installation. Your selections will affect your project timeline, but that's why you've hired us. We understand this process and have our pulse on any current material shortages or delays.
Step 3: The Preliminary Design Phase
This is when we begin building out the scope of the project. We do this by measuring and taking pictures of your interior space, making a note of necessary structural improvements (walls to be removed or improved), systems that are needed (HVAC, electrical, plumbing) or upgrades/changes to the roof structure. This is a fun stage for both you and our team because as we get to know you and your home and understand how you want your home to function, we can take your remodeling ideas and make suggestions for improvements. Often, it's easier (and more cost-effective) to include other renovations (or at least the infrastructure) into one complete project instead of holding off for a later date.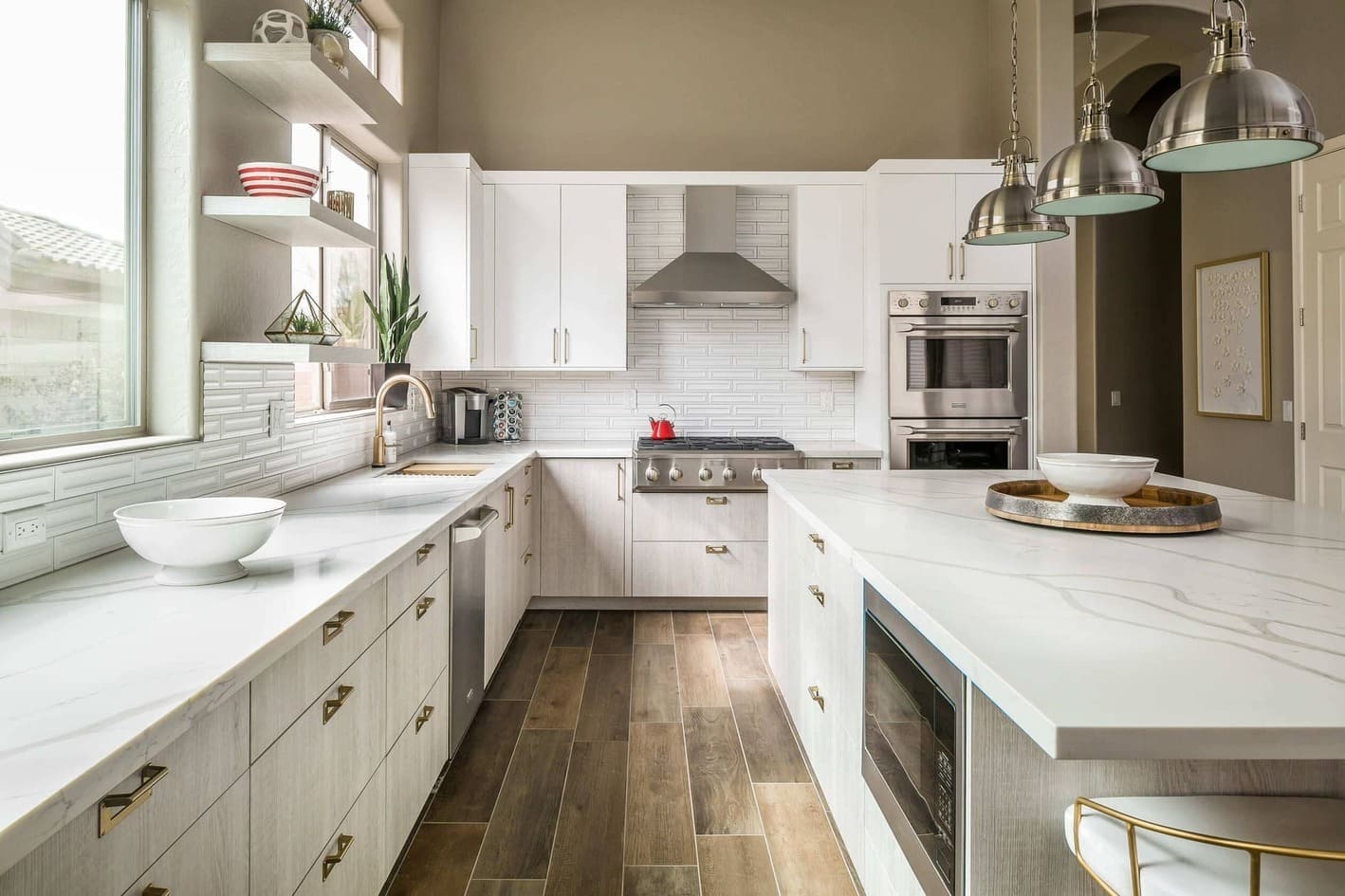 Step 4: Home Specifications and Selections
Once you've finalized the perfect floor plan, it's time to consider the details. Together, we'll help you pick the cabinetry, flooring materials, tile for your backsplash, color schemes, hardware, and other options that make your space uniquely yours. With each decision, your digital rendering will look more like your soon-to-be remodeled space, and you'll be able to see whether it's how you'd imagined the finished product to look. 
After carefully reviewing the finished design and selections, we'll create your own homeowner portal, which is where you'll approve the selections that will then be specified in the contract. Once you've reviewed your build manual and are satisfied with every detail, it's time to sign a contract to begin your home renovation project.
Step 5: Pre-Construction
During pre-construction, you'll get to meet your project manager. Together, you'll walk through your house and begin making plans for the construction process. Your project manager will discuss the following topics with you:
Communication methods

Health and safety

Dust protection

How to access your home and lock it up

The construction schedule

Where to locate dumpsters, if needed

Review the expectations of how the remodeling process will go
During this meeting, you'll also discuss your temporary living situation. Are you planning to move during construction, or will you live in your house throughout the remodeling process? If you plan to stay, we get creative with approaching your project, such as working on the place one section at a time.
Step 6: Finalize the Home Remodeling Documents
At this point, as your contractor, we will finalize all the documents needed to move forward to renovate your home. Together, you'll review your plans, along with your designer and any other necessary consultants. Your build manual will be finalized with the exact architectural details and products you've selected, along with drawings of the final remodel. At this point, we will also submit permits to the city for approval.
Step 7: Order Materials, Finalizing the Timeframe, and Get Ready to Begin
Permits take a while to process, so at this point, we will order materials that have especially long lead times. That way, when it's time to install your windows, doors or cabinets, there won't be any delay. This is also when we will finalize a timeline that works for your family —especially if you'll be living at home during the remodeling process.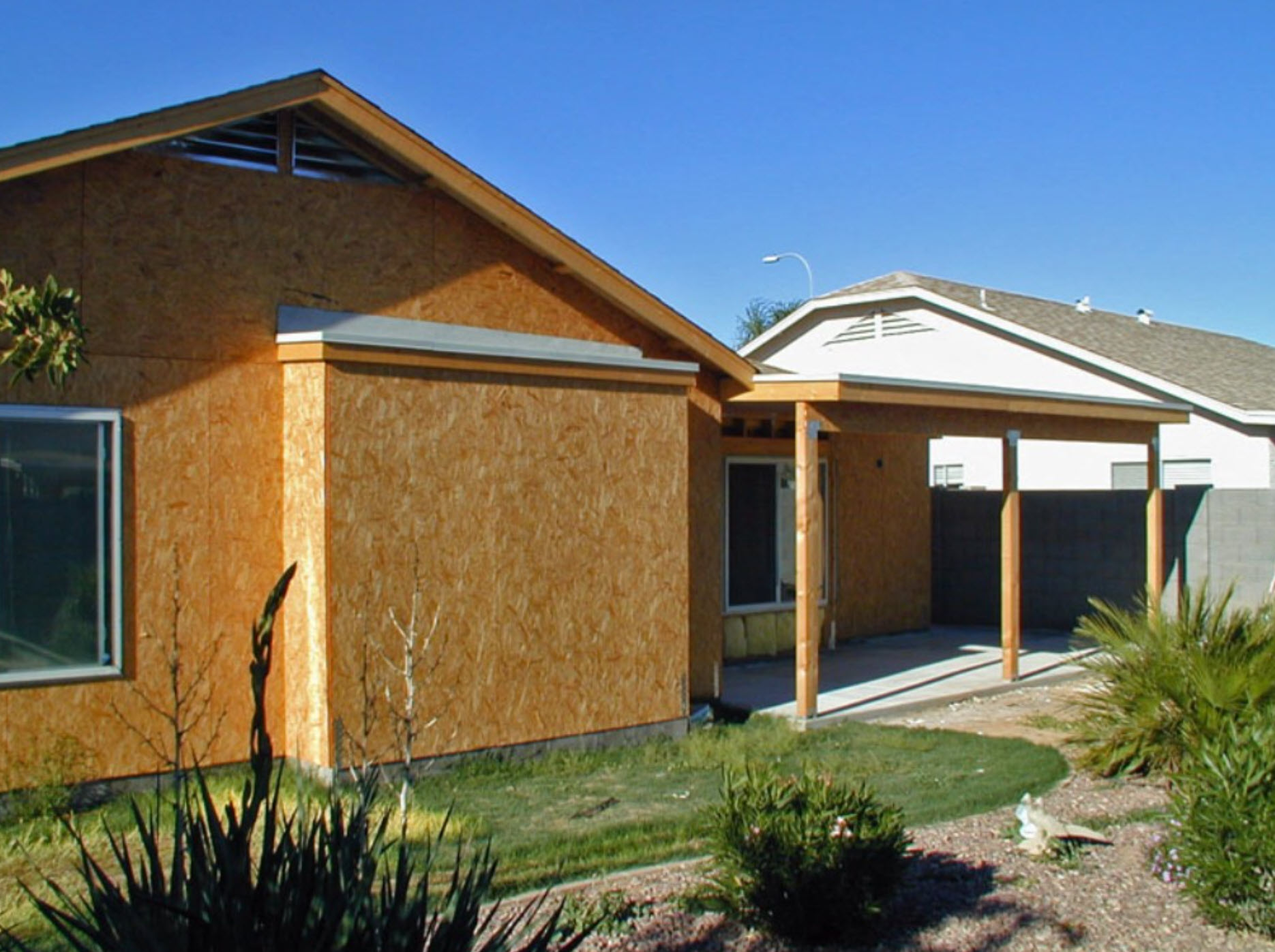 Step 8: Construction Phase 1: The Infrastructure
Your project manager will begin by verifying the schedule one last time and selecting a start date. Then, on day one, the team will begin with demolition. They'll continue with:
Building the foundation

Framing

Installing windows

Plumbing

Electrical

HVAC

Drywall & Sanding

Stucco
Once these elements are in place, your project manager and designer will do a quick walk-through to ensure everything's in place. And throughout the project, we'll arrange for the city inspection to take place at the appropriate times.
Remodeling is an incredibly emotional experience! Phase 1 of construction usually starts with excitement, but as we continue to pull the house apart, which is a messy process, we sometimes find homeowners become a little troubled. That's a natural response and part of the Remodeling Rollercoaster.
Step 9: Construction Phase 2: The Finishes
Phase 2 is when everything comes together, and your remodeling project begins to take shape. During this phase, the team will install the trim, cabinetry, tiles, paint walls, install countertops (if your project calls for them) and complete other finishing touches that make your space begin to resemble the renderings that were created months ago. As your remodeled rooms start to take shape, you'll shed the feeling of "when will this renovation ever be done?" and replace it with anticipation as you make plans to enjoy your newly renovated space.
Step 10: Your Space is Move-in Ready and Create a Final Punch List
Finally, your space is move-in ready! There may be a few loose ends at this point, especially if an item was damaged during shipment or back-ordered. Together, you and your project manager will create a final punch list, and you'll review the entire remodeling project and schedule a completion date.
Step 11: The Final Walk-Through
The final walk-through is the most anticipated and most exciting step of the entire process. During this event, you, your project manager, and the designer will walk through the finished space and discuss the final product. If new mechanical systems, appliances or features (like a rain shower) were installed, we will walk you through how to use them. You're encouraged to give feedback and ask questions to ensure you're delighted with your newly remodeled space. 
You'll also receive a binder full of warranty information and paperwork explaining the maintenance instructions for your new appliances and products. At this point, the process is complete, and you are free to enjoy your newly remodeled space.
Learn more about the Hochuli Design-Build Remodeling Process, or if you're ready to begin, contact us. Our friendly experts at Hochuli Design and Remodeling Team would be honored to help design and construct the remodeling project of your dreams.
Design-Build Remodeling