Picture It: Multiple generations living nearby. Grandparents get to spend time with the grandchildren, and mom and dad can be there to support their parents as they get older. If you're worried that it could get very crowded, you should know it doesn't have to be. In this vision, everyone has their own space. With an Accessory Dwelling Unit (ADU), you can have a smaller but functional home on your property. This allows for family members to remain close yet still retain privacy. If this sounds like the perfect solution, here are a few things about ADUs you need to know.
What Is an Accessory Dwelling Unit?
An ADU is a secondary housing unit on your property, and it is called many names, such as mother-in-law suite, granny flat, guest house and backyard cottage. Here in Arizona, ADUs are commonly referred to as casitas.
An ADU provides a different living arrangement. Some homeowners convert a basement into a separate apartment that a family member can use, or it can be rented to generate additional income.
An accessory dwelling unit is a separate living space on the same property. Generally, it has all the things that a regular house has:
Sleeping areas, usually 1-2 bedrooms
Full bathroom
Kitchen or kitchenette
Plumbing and heating
Separate entrance
It can also be attached to an outbuilding, like a garage. The rules for an ADU depend on the ADU ordinances in your area. Some regions do not allow ADUs, while Phoenix does in most cases, referring to them a "guest house." If your property is large enough to support an ADU, there's a good chance that you can build one.
What Are the Benefits of Having an ADU on My Property?
There are many benefits to building an ADU, including:
Complete living spaces for family and friends who visit
Affordable housing for aging parents or adult children
Extra privacy while maintaining multi-generational living
A place to live while you remodel or add on to your primary home
Increase in property resale value
In some areas, the ability to rent it out and collect income
Keep in mind that once the guest house is built, you have a lot of flexibility in determining how best to use it.
What Counts as an ADU in Phoenix?
If you are thinking about building an ADU, you need to know what counts. This requires an understanding of the difference between ADUs, manufactured homes and a tiny homes.
Manufactured homes, sometimes called mobile homes, are prefabricated housing units that are shipped to the site and often placed on a temporary foundation. Generally speaking, in Phoenix, these units must be kept in a mobile home park. Homeowners can request to have them placed on a regular lot, but they must get approval. Tiny homes, which are also often built to be easily relocated, tend to have the same limitations.
By comparison, an ADU must have a permanent foundation. Whether you are adding it as a second-story addition on top of your garage or building it as its own dwelling, like a casita or backyard cottage, and ADU cannot be something that you can move somewhere else. This is why most ADUs are stick-built, and also why most tiny houses or manufactured homes wouldn't qualify.
What's the Difference Between an ADU and Mother-in-Law Suite?
If ADUs and mother-in-law suites seem very similar, it is because they are. Unlike ADUs, which have a clearly defined set of rules to follow in their construction and use, there isn't a lot of definition for mother-in-law suites. In essence, in-law suites are housing units that are designed to provide a layer of separation, but its own entrance isn't necessary. Both remodeling projects provide a viable opportunity for homeowners because they create additional living space and are often an affordable housing option for a family member.
How Does an ADU Affect the Home Value?
From an investment perspective, the cost of building an ADU and the potential increase in resale value is worth considering. Building an addition to your home of any significant size can cost $150,000 or more, and if your project includes a bathroom, the cost of a home addition begins at $200,000. Once you factor in the need to construct a kitchen and bathroom, which an ADU must have, you should expect to spend at least $250,000. However, because ADUs are one of the latest trends in building, you can usually expect a reasonable increase in resale value.
Additionally, ADUs or guest houses in Arizona, are highly desirable when it comes to property resale value. A 2021 Porch study notes that in Phoenix, listed homes that also include an ADU are priced at least twice as high as regularly listed homes for sale.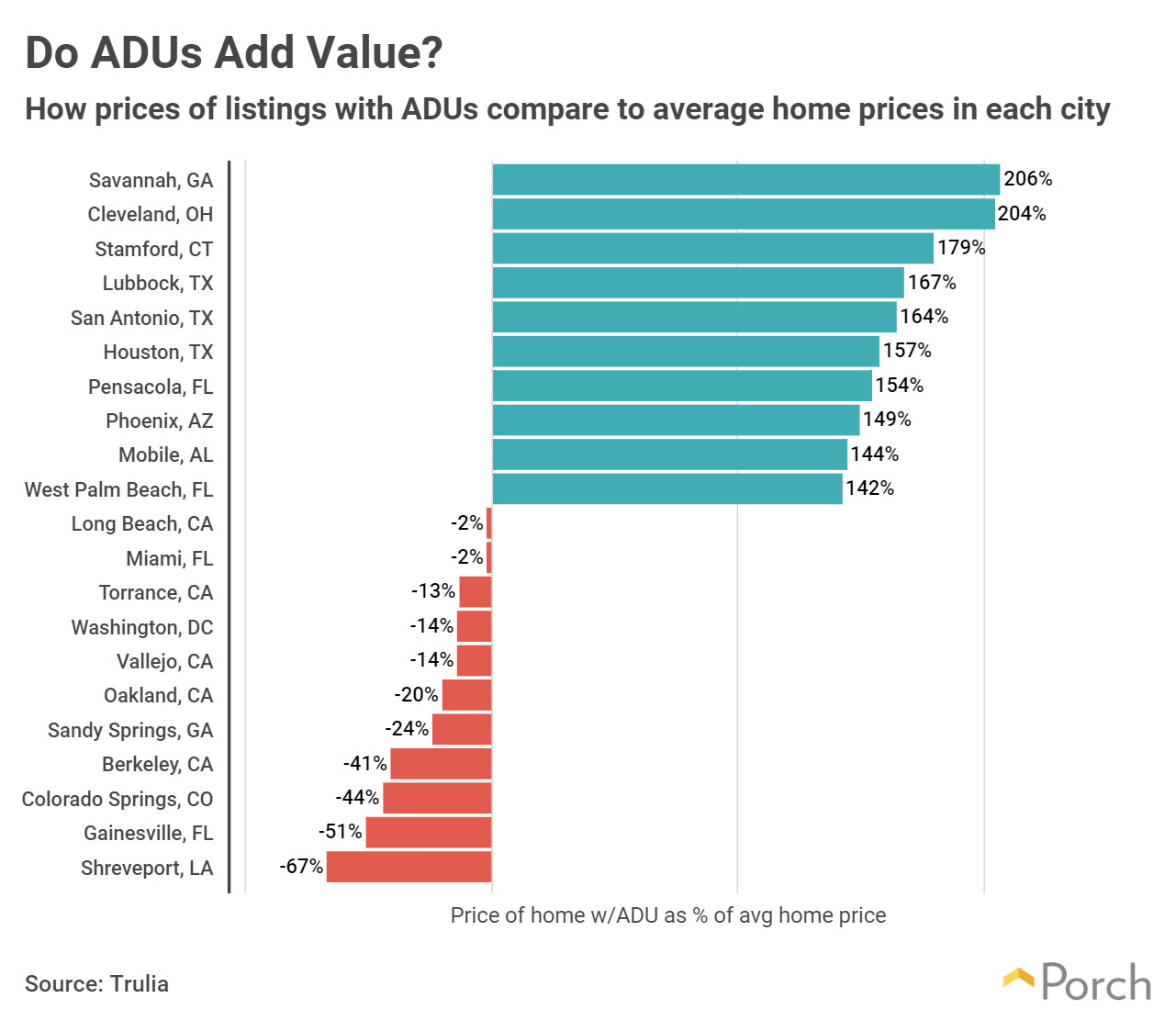 When Should You Consider Building an ADU?
Almost any property could benefit from adding an ADU. The extra space gives you so much versatility that you can do virtually anything with it. Here are a few reasons to consider building an ADU on your property:
You have aging parents who need to live close to you
You have adult children or grandchildren who live with you and need their own space
You are planning to age in place
You want to downsize as you get older without having to move
You need additional living space for work or hobbies
You're considering various options for rental spaces
Even if you decide to sell your home in a few years, a thought-out ADU design may dramatically expand the pool of interested homebuyers. The additional living space on your property and the potential for rental income can significantly increase your home's sale price.
To get the best investment for your money, start with the experts at Hochuli Design and Remodeling Team. Our experience with custom building and remodeling can help you get an ADU that complements your property and provides the extra space you need.
Learn more about our ADU Design and Engineering Package.
Design-Build Remodeling, ADU