Your kitchen is the heart of your home, but it's also the busiest room in the house. When it's time for a kitchen remodel, it's important to remember that a fresh, new look is great, but it needs to be functional too. A kitchen designer will help you with space planning to create the perfect kitchen and avoid the following mistakes:
Mistake #1: The Work Triangle
Don't get trapped in to old-fashioned thinking that the kitchen must have the tradition "work triangle". Every kitchen needs to be functional and efficient, however, a Professional Interior Design Team will ask you an abundance of questions to learn more about how you use the kitchen. Then they'll work on space planning the layout of the area to best meet your needs.
Mistake #2: Lack of Counter Space
When considering counter space, the more the better. The counter is your work-space and you should have plenty of room to spread out. There are many counter-top appliances that take up room, so take that into consideration in your design.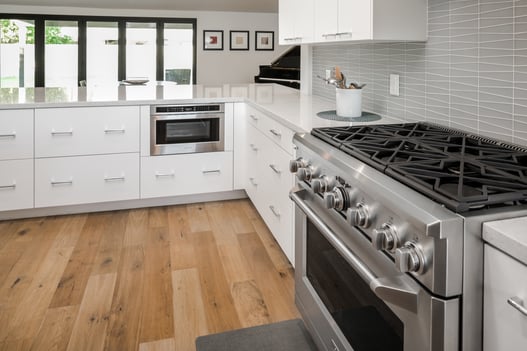 Mistake #3: Lack of Storage
Adding a lot of appliances or an island to your kitchen is nice, but don't let it take away from storage space. If anything, increase your storage so that every accessory or smaller appliance can have it's place to reduce the risk of having a cluttered kitchen. An interior designer can suggest many space saving accessories that will allow you to store some appliances inside base or upper cabinets to provide more counter space.
Mistake #4: Islands
Kitchen islands are a bit tricky. If your kitchen is large enough and it benefits your functionality, an island is a great design idea. Some islands can serve as additional dining space or provide additional storage space. If your kitchen is small, adding an island is going to make it smaller and may interfere with the functionality and flow. To judge whether you have room for an island, there should be at least 36 to 48 inches of space on all sides once installed.
When remodeling your kitchen, it's important to avoid any design mistakes that you may regret later on. Working with a Design/Build Kitchen Remodeling Contractor will help make you aware of the thought, "I don't know what I don't know".
For more information about how we can make your kitchen beautiful and functional to fit your needs Contact Us to Discuss Your Project!
Kitchen Remodeling, Project Planning, Interior Design, Design-Build Remodeling