Laundry rooms are no longer the forgotten space of a home –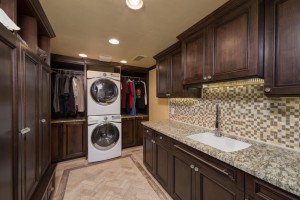 nor should they be. In today's homes, laundry areas are multi-functional and organized to keep households running smoothly and efficiently.
When thinking about the design of your laundry room, it is important to consider the tasks involved: sorting, cleaning, drying, folding and ironing. A well-designed laundry room can accomplish these chores and more.
Here we offer some ideas for your well-designed laundry room.
One of the biggest causes of clutter in the home are shoes, jackets and bags. If your laundry room is near an entrance, one of best design ideas is to dedicate a small portion of the laundry room for these items – with storage lockers. These provide a dedicated space for jackets, hats and backpacks that are off the floor yet near the door. Lockers can include bench seating and cubbies to store shoes, too.
Another must-have in any well-designed laundry room is counter space for folding laundry.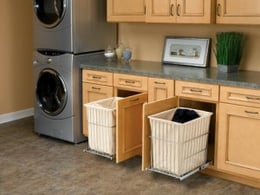 If you have a front-load washer and dryer, a countertop can go above the units so clothes can be taken directly from the dryer to fold. Additionally, you'll want cabinets with organizing systems that can store laundry products and other items for easy access.
Also worth consideration are these laundry room features designed with functionality in mind:
• Pull-out hamper cabinets make for easy laundry sorting.
• Utility sinks provide a dedicated spot to hand-wash delicate items.
• Flat-drying and hanging racks offer a convenient place to air-dry clothes.
• In-wall ironing boards keep the "ironing center" organized and tucked away.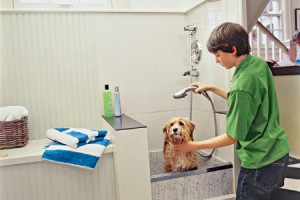 Some laundry rooms are also being designed with pet-washing stations. These showers are equipped with hand-held showerheads so you can get your dog's entire body clean, or simply hose off their dirty paws. If you have larger dogs, a no- or low-threshold shower is recommended, but if you have smaller dogs, consider elevating the dog bath to make it easier on your back.
The space you can dedicate for your laundry area will dictate what is possible, but working closely with a good design build contractor and their design team, even the smallest laundry rooms can achieve new measures of efficiency.



To find more remodeling project pictures and ideas, check out our Galleries of completed projects. Find contractor testimonials, reviews, and surveys to hear what our past clients in the greater Phoenix, AZ area are saying about the process of working with our Team.
Project Planning, Design-Build Remodeling, About The Area