You'll need to make dozens of decisions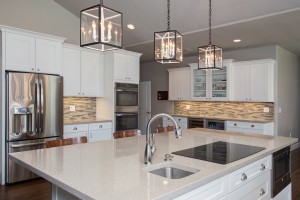 when planning a home remodeling project, and one of the most difficult decisions you'll be faced with is choosing a contractor you can trust. If you hire someone that you simply can't see eye-to-eye with, it can make the project difficult from start to finish.
One approach is to work with a design-build contractor – which simply means that you'll be working with the same firm throughout the planning and construction of your project. Here are some benefits of working with a professional team.
Creativity included: Not every remodeling project requires the same level of skills as others. If all you are looking for is to pull out old bathroom fixtures and replace them with new ones, you don't really need a lot of creativity. However, if what you desire is a total transformation, an interior designer can offer you creative ideas and space planning options. Not only will you maximize space, but you most likely will get some ideas you've never thought of before.
Problem solvers: You may want an updated kitchen with the latest appliances, but often at the heart of why you want to remodel is something more – a deeper problem you'd like solved. Perhaps there is not enough storage space or the issue is a poorly functioning work area. A design/build team will ask the questions that get to the heart of the real issues – even the problems that you've learned to live with for years – and create a space that is much more enjoyable and functional.
Trend watchers: Design/build remodelers also know about the newest products on the market. They attend trade shows and seminars and read publications so they can assist their customers in making selections that are good investments.
Budget stretchers: A design/build remodeling firm can suggest alternatives that allow you to stretch your budget a bit further. This way, you can get more of the features you want without blowing the budget.
Trusted advisors: A Professional home remodeler will know what will be trending in the coming year, and what will stay timeless. They will be able to advise you on picking out a material that will last for years to come. For example, faux wood tile is popular right now, but with so many of these types of materials on the market, it is really easy to pick the wrong one. Your remodel contractor will know which brands hold up and won't look worn out in a few years.
Refer to these 18 key questions to ask every contractor to help you find the right contractor for you.
Contact us today to discuss your project
Check out our website for more information about how we make remodeling an enjoyable experience, and start daydreaming for remodel ideas in our Galleries with pictures of Kitchens, Bathrooms, Room Additions, and Other Projects.
Project Planning, Interior Design, Design-Build Remodeling