KBIS 2015: Customizable Products to Make Your Home Your Own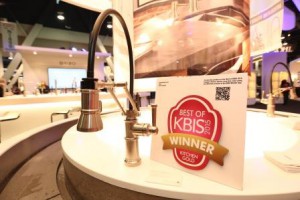 Recently, we attended the Kitchen & Bath Industry Show (KBIS) in Las Vegas. It is "the Show" to see the latest industry products, trends and technologies. KBIS co-located with the NAHB International Builders' Show (IBS) to form Design & Construction Week – and with over 125,000 residential design and construction professionals in attendance, it was the place to be.
We saw countless new products and innovative ideas, but over and over again, the big "theme" we noticed was offering "customizable" products. It seems that manufacturers have caught on to the idea that people want to be able to customize anything within their home. Everyone has their own tastes and styles, and you want to be able to make your home your own.
Here are a few products and designs that caught our attention:
The trend of transforming an ordinary bathroom into a relaxing spa-like space is still strong, and products are getting more sophisticated to elevate that spa experience. Kohler® introduced a new product called the DTV+ shower that brings your showering experience to a whole new level of luxury. With a touch of a screen, you can make your shower emulate nature with the multi-sensory fusion of water, music, steam and light. Whether you want a loud, awakening car-wash experience to start your day, or to feel soft blue rain to end it, you are in complete control.
Another product that is growing in popularity is porcelain tile flooring that looks like wood, and we think that it is going to be around for a while. What we find people enjoy about this product is its low maintenance, and because you don't have to worry about it getting wet (like you do hardwood), you can use it in any part of the home. The o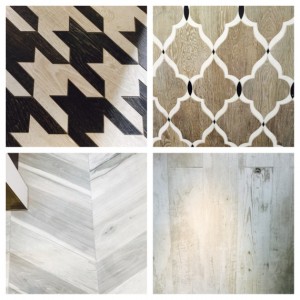 ther cool thing is that many of these porcelain tile products are made from recycled material, making them environmentally friendly as well.
Brass is back, but not the cheap-looking brassy fixtures that we remember from the 1980s. These champagne-colored fixtures and hardware are emerging in bathrooms and kitchens. Sometimes called brushed bronze, the rich-looking fixtures will add glamor to your home yet are affordable.
Black and white is going to be big in home décor this year. We saw so many vendors featuring black and white – from floor coverings to tile to full-kitchen displays. Neutral, of-the-earth- colors were also big: Walker Zanger displayed a beautiful faux wood herringbone tile that won a "Best of KBIS" award.
Matted finishes also seem to be popular for counter, wall and floor coverings. One of the advantages of installing a matte finish, especially in a kitchen or bathroom where there is water, is that it will be less slippery. Additionally, it shows a lot less dirt and watermarks.
Many kitchens are getting away from stainless steel and are being designed with customized color appliances. It seems as though kitchen appliance manufacturers are picking up on the trend that people want to be able to have their house completely customizable.
Further, cabinetry is becoming decorative with a lot more detail. We spoke to one vendor who makes customizable cabinetry inserts that can be designed specifically to your tastes.
Do you have a kitchen or bathroom that needs remodeled? Contact us at (602) 451-0323 or Contact us today to discuss your project
Check out our website for more information about how we make remodeling an enjoyable experience, and start daydreaming in our Galleries with pictures of Kitchens, Bathrooms, Room Additions, and Other Projects.
Interior Design