Hochuli Design & Remodeling Team wins
2017 NARI Contractor Of The Year Award
Category: Residential Bath $50,001 to $75,000
Homeowner Wishes:
The main goal for the bathroom remodel was to create a larger walk-in shower, and also take advantage of some wasted space.
The existing shower was small, lacked space for storage of shower products, and had a water-stained shower glass door that the homeowners chose to cover up with an additional shower curtain.
There was a desire for a more organized closet.
The existing bathtub was small and uncomfortable, and therefore went un-used.
The vanity lacked organization.
There was not a door at the entrance to the bathroom so if one homeowner was up early to get ready, the light and noise would wake the other. Not to mention, the homeowners could not sleep in on the weekends because of the natural light coming in the bathroom window.
Tempe Bathroom Remodeling "Before" Pictures
Tempe Bathroom Remodel "Before" Layout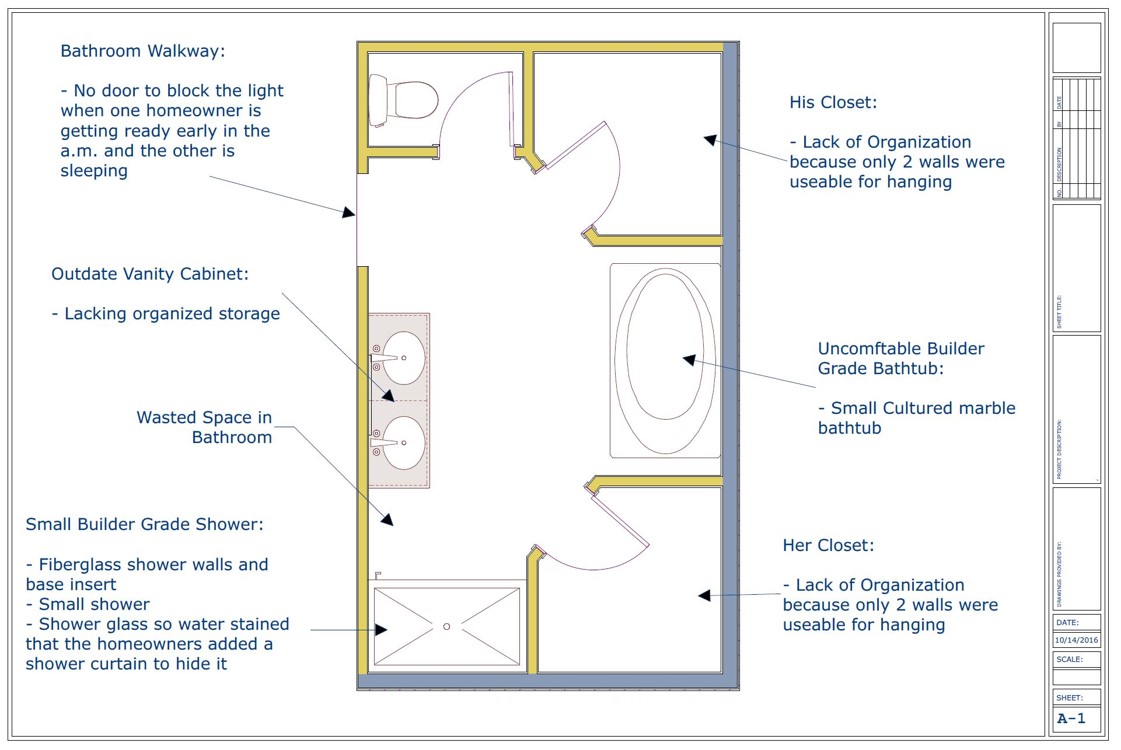 Our Solution:
This bathroom required a complete re-do, everything in it had to be removed.
The main focus of the new design was to create a space planning layout that would allow for a larger walk-in shower.
The shower was completely relocated to the opposite side of the bathroom, and includes 2 separate showering zones.
The 2 separate closets were combined in to 1, to take advantage of unused space in the bathroom.
a new, custom, vanity cabinet with organized storage compartments, and a specialty pull-out for hair dryer and curling iron.
Addition of a larger drop-in bathtub, and tub fixtures.
For a spa-like feel, a new chandelier was added over the bathtub.
Construction included the addition of a pocket door at the bathroom entry to allow for privacy in the bedroom from light and noise from within the bathroom.
Several Niches in the bathtub and shower areas provide ample storage of bathing products and candles.
Tempe Bathroom Remodel Space Planning Layout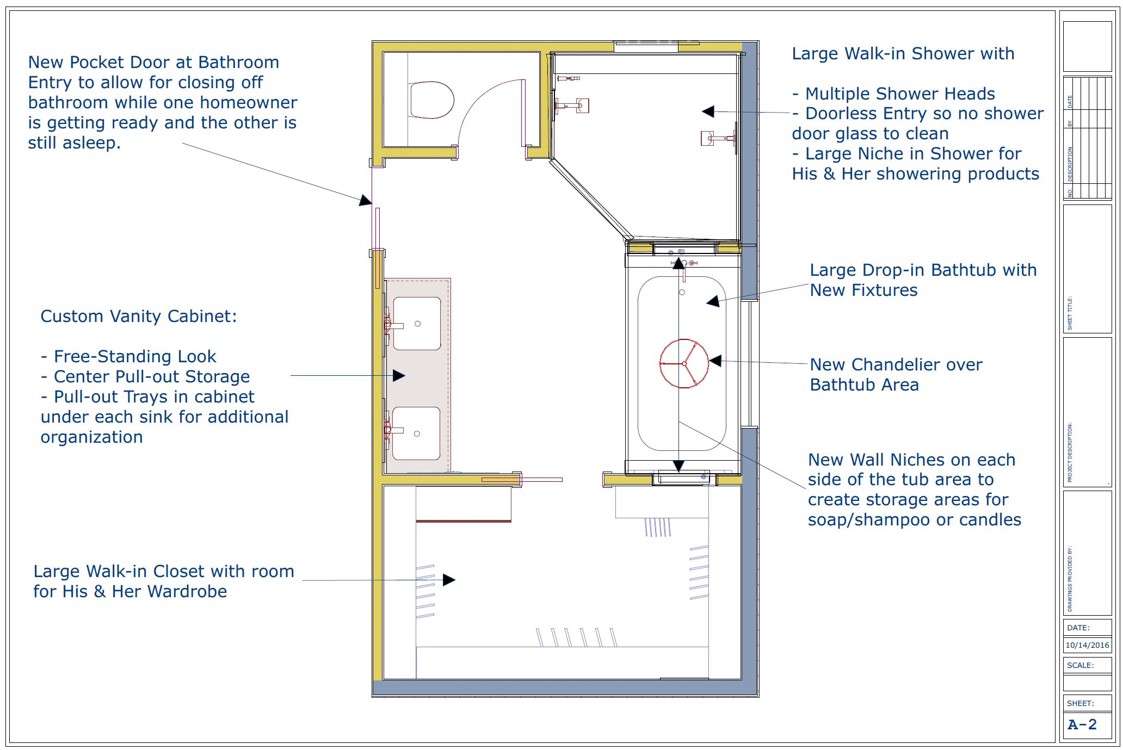 Tempe Bathroom Remodel Conceptual Designs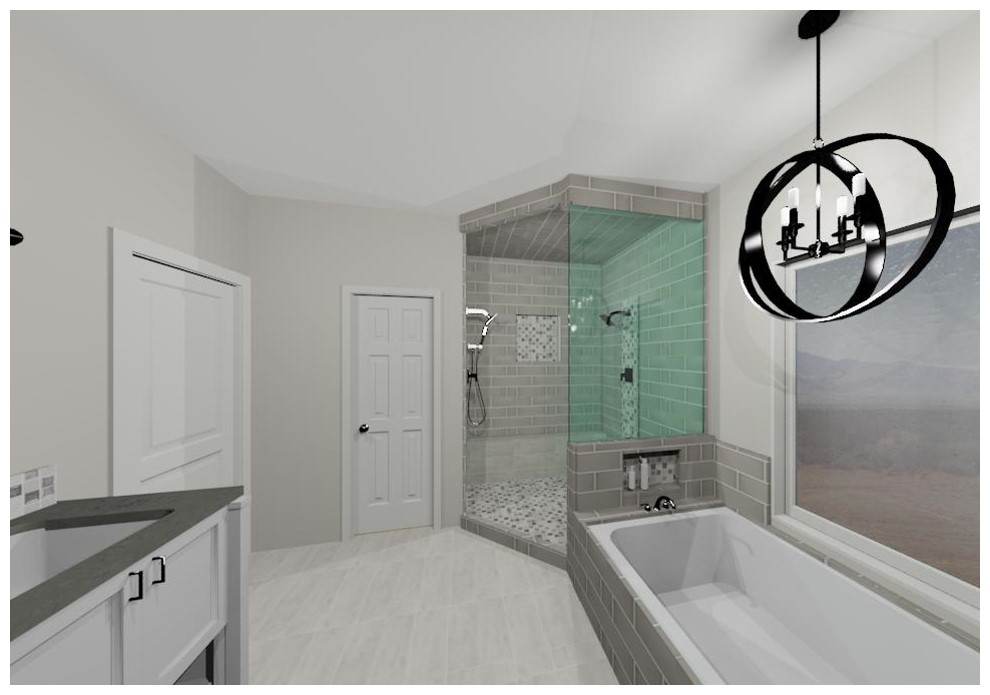 Construction Details for Bathroom Remodel in Tempe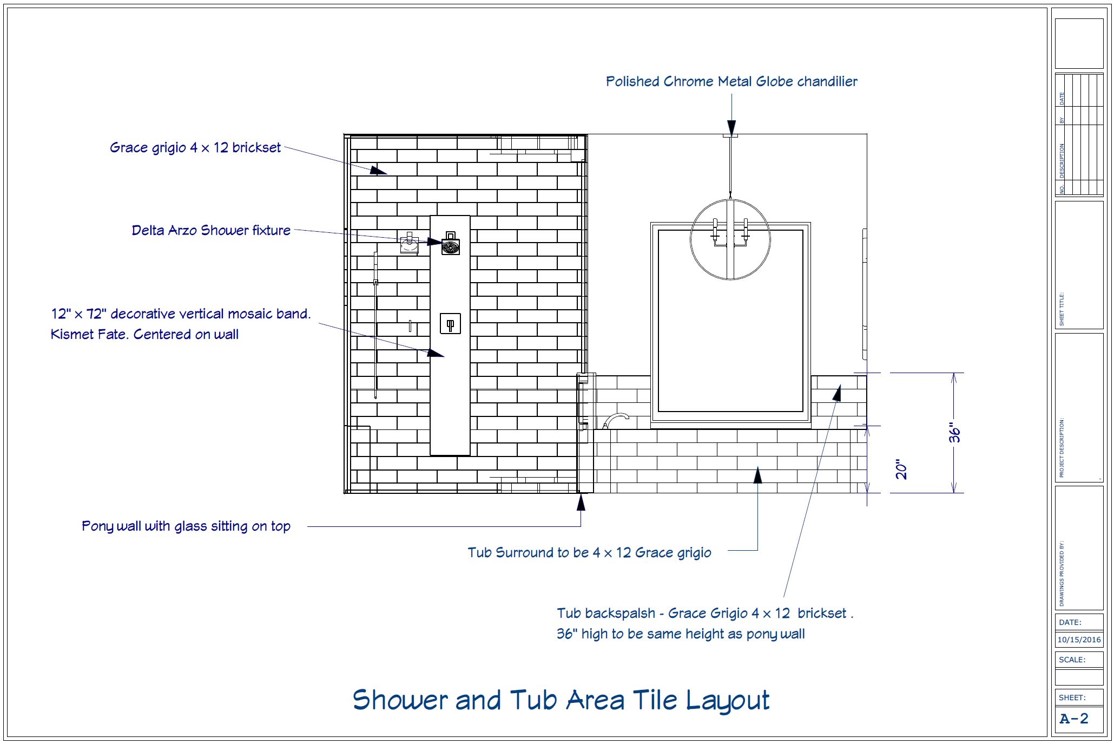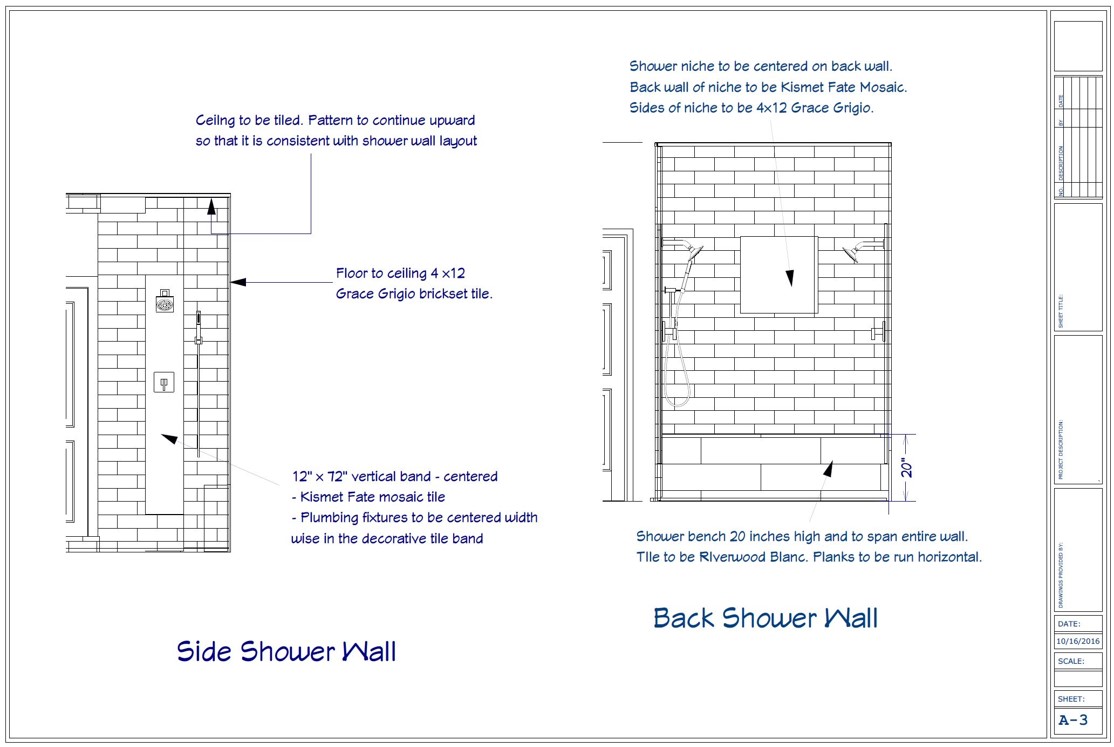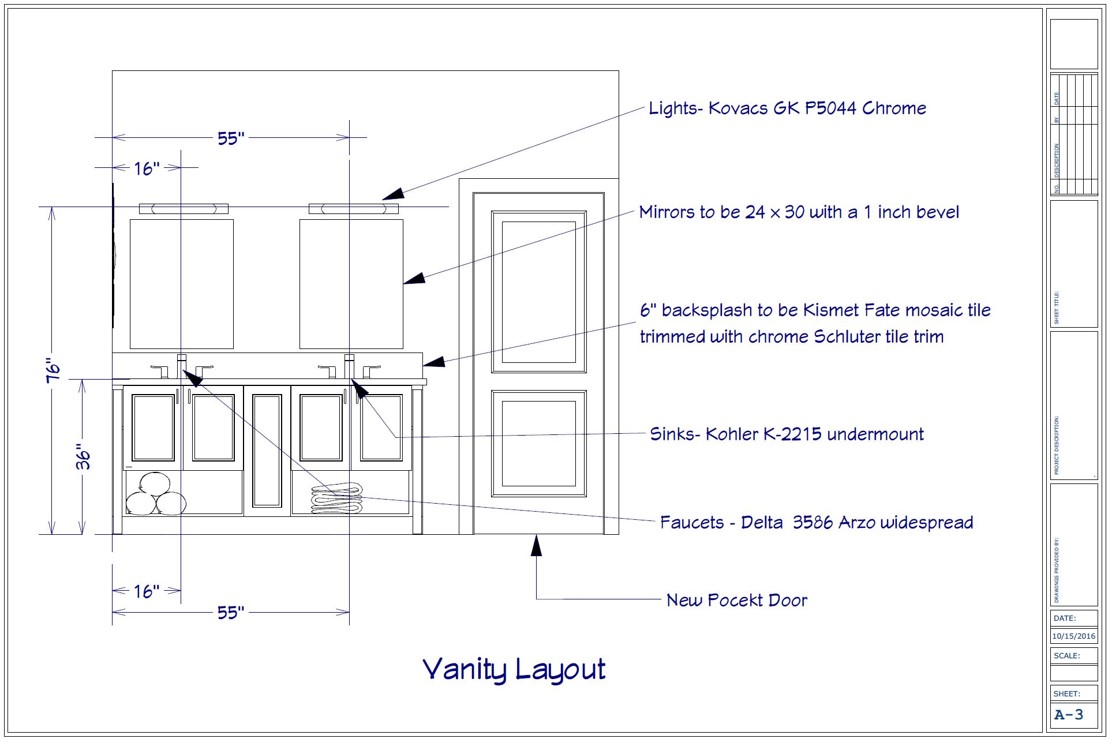 Design/Build Bathroom Remodel "Under Construction" Pictures
| | |
| --- | --- |
| Plumbing being relocated to the new shower location required cutting, and removing concrete to allow for the new drain location. | The vanity cabinet plumbing had to be relocated to allow for the installation of the new pocket door frame at the bathroom entry. |
| Drywall patching and repair completed. New bathroom paint colors selected, and ready for prime and painting. | Tile work coming along in the shower and bathtub areas. Accent tile in the shower niche matches the tile in the bathtub niches. |
New, custom, vanity cabinet being installed. New vanity includes pull-out shelves in each sink base to provide access to items stored in the back of the cabinet.
Tempe Bathroom Remodel Before/After Pictures
What was once a small and outdated shower becomes a spacious shower for 2, with multiple shower zones and plenty of niche space for his & her showering products. The shower is large enough to utilize as a doggy-wash for the 2 family labs.

Once a small closet area becomes a large and luxurious walk-in shower.

A small and uncomfortable builder grade bathtub because a spa-like oasis for relaxation.
Additional Bathroom Remodeling Pictures
Time to Enjoy Your Bathroom Again!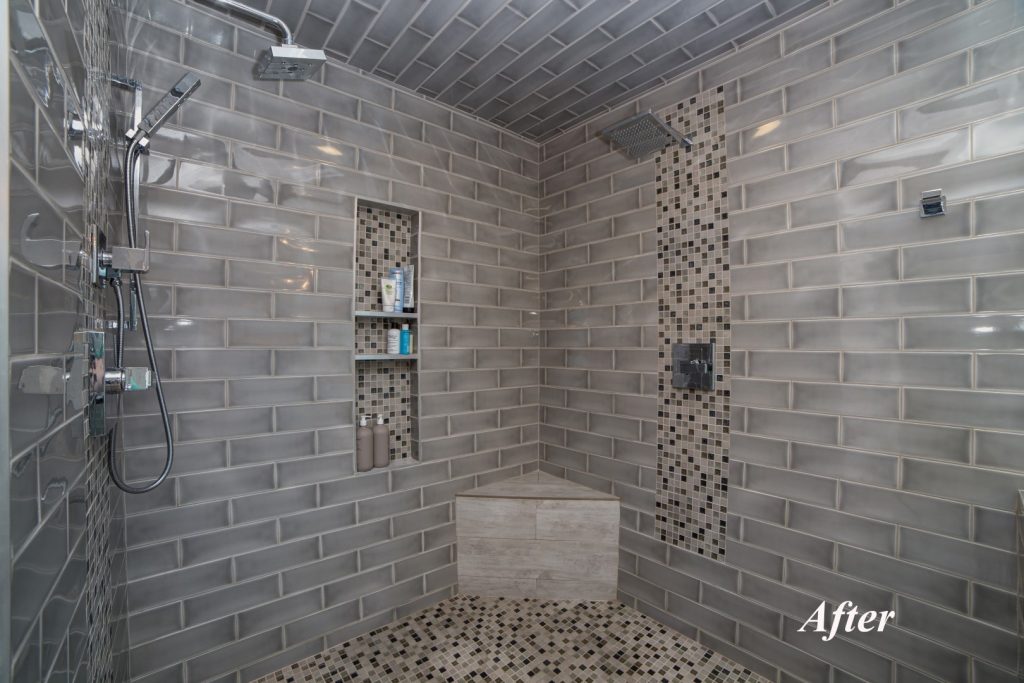 ---
If you're ready to enjoy the benefits for creating a spa-like bathroom retreat in your home, contact us today to get started with our Process for Enjoyable Remodeling. See our gallery of completed bathroom remodel pictures for more inspiration.
Bathroom Remodeling, Design-Build Remodeling