Do you have a bathroom that is outdated? Perhaps your guest bathroom is a source of embarrassment when guests visit. Although the thought may have crossed your mind, you don't have to move to a new home to have a new bathroom.
One of the main rooms that many homeowners choose to renovate is the bathroom. A bathroom remodel not only gives you a relaxing retreat, but it can also significantly increase the value of your home. If you're planning a bathroom remodeling project, here are some basic considerations to discuss with your bathroom remodel contractor.
Sink Considerations
Determine how many people will be using the space when deciding on one or two sinks. You don't have to necessarily have two sinks if you're sharing your bathroom. Perhaps you could have larger grooming stations with makeup vanities, while sharing a common sink for brushing your teeth and washing your hands.
Have your bathroom remodeling contractor review the basic materials and options for sinks. These include those such as:
Glass sinks, which are mainly constructed of tempered glass, are both crack and shatter resistant. Unfortunately, they're more likely to develop spots from hard water.
Porcelain, fireclay and vitreous china sinks look lustrous and can be cleaned easily. Another perk is that they can resist staining and corrosion.
Metal sinks, such as copper, stainless steel and brass, are ideal for surviving damage due to heavy impacts, although they're also more likely to show hard water spots.
Solid surface sinks are made to look like marble, granite and other materials, and many times offer easy maintenance.
Toilet Placement
Despite the fact that having a separate water closet for a toilet gives you the most privacy, it can have a few disadvantages. Consider that your overall room can feel and look smaller by having solid walls, as well as make some people feel claustrophobic.
One space saving idea is to ask your home remodeling contractor to include a pocket door for the water closet. The door will slide 'inside' the wall, and out of the way; instead of a hinged door that swings in or our of the room.
Countertops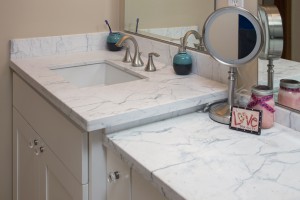 Just as granite and quartz are popular countertops for kitchens, today they're equally in demand for bathroom vanity counters as they're attractive and durable products. Granite or Quartz countertop surfaces are good options for master baths as they look sleek and stylish, attracting buyers when it's time to sell their homes. However, granite countertops require sealing for repelling grease. While granite and quartz are able to withstand most stains, marble is easy to stain and not recommended for use in a bathroom.
Besides being exceptionally durable, quartz countertops are also easy to clean. You can easily buff out scratches, using fine-grade sandpaper. What's more, you can use curling irons on them because they are able to endure high heat.
Small Bathroom Considerations
To visually enlarge a small bathroom, consider replacing standard shower doors or curtains with a wet area that has floor drains. This trend continues to be used more by bathroom designers as it ushers in more light, making a small room look larger.
Use repeating details in a design, such as matching wall tiles and flooring to make a small bathroom appear larger. Just be sure you use the same materials so that the pattern scheme is unified.
Add a recessed medicine cabinet or a linen cabinet above the toilet, rather than using a vanity cabinet.
Additional Considerations and Warnings
A contrast of both light and dark woods and finishes can create a dramatic effect.
Consider the type of colors, materials and textures that are in your other rooms. For instance, if you have arched doorways and other particular styles, include these features in your remodeled bathroom to create harmony. Don't make your new bathroom to be a showroom that doesn't reflect the rest of your house.
You don't have to use furniture intended just for bathrooms. You could use armories for storing toiletries and towels. Why not convert a chest into a bathroom vanity or include console tables in your new space?
To save money, try keeping your new bathroom near your existing plumbing because moving lines can be costly.
Think "timeless" when choosing designs and colors for fixtures, faucets and tiles. Instead of opting for the latest styles, choose elements with a more classic look, such as vintage nickel fixtures and subway tiles. You'll want your bathroom to not appear outdated as the years go by.
Hochuli Design & Remodeling Team is a Design/Build Home Remodeling Company. Our husband/wife team has been successfully remodeling homes in the greater Phoenix area since 2001. Visit our gallery of completed bathroom remodel projects for inspiration, then Contact Us to Discuss Your Project
Bathroom Remodeling, Project Planning, Design-Build Remodeling