A Classic Scottsdale Bathroom Remodel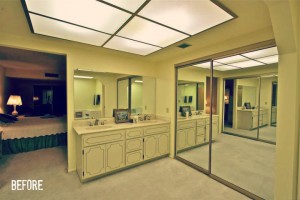 When Scottsdale homeowners Jenny and Ross bought their 1977-built home, they had to look past the dated materials and claustrophobic drop ceilings to see the home's true potential. It appeared as though the previous owners had not updated one aspect of the home since the day it was built.
Upon purchase, they planned to completely remodel their new-to-them home before they ever moved in. That's when they contacted us; a Scottsdale home remodeling company.
One area we remodeled was the master bathroom, and it definitely needed some love and attention. While the wall color and cabinetry, carpeting and drop ceiling were all typical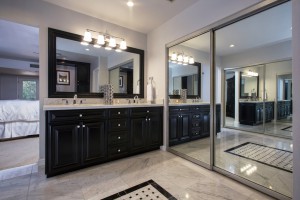 features for a 70s home, by today's standards it made the room feel dated and closed in. In addition to updating the room aesthetically, a bigger issue needed addressed: poor space management. The room had plenty of square footage, but the original layout just did not function well.
Before we began, we sat down with Jenny and Ross to get their input of what they wanted for their Scottsdale Design-Build Bathroom. Jenny shared her ideas with us, and after talking with her, it wasn't hard to see her vision for the space. Her goal was to have a classic bathroom – one that would stay relevant for years to come. She also had a clear picture of the type of materials she wanted to use, particularly marble. Once we knew Jenny and Ross' goals for the space, we got to work on the interior design, layout, space planning, and special features.
To create better flow and open up the room, we removed the arch that separated the tub area from the rest of the room and raised the ceilings. Above the drop ceilings we found electrical and plumbing that needed to be relocated.
During demolition we also found some rot in the shower stall, which is something we expected with a house that hadn't been renovated in nearly 40 years.
The previous shower was a small 2' by 2' box,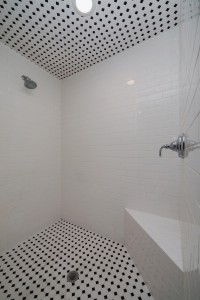 so we removed the tub and used that additional space for a much larger walk-in shower. Inside the shower, white porcelain subway tiles were used to give a clean, classic look Jenny wanted (and they aren't all that expensive, either). Little touches, including the addition of a corner seat and nooks, were framed into the shower.
To maintain a classic, timeless look, neutral-colored materials were incorporated throughout the room. Marble was used on the floor and countertop, accentuated by black cabinetry – and a basket-weave pattern was designed with tile into the floor to elongate the room and provide a focal point.
Jenny loves her new master bathroom, and with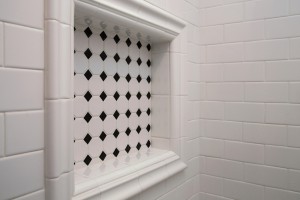 the addition of a few accessories,she was able to change the feel of the space without sacrificing the timeless, classic look she wanted from this space.
Are you ready to work with a Design Build Contractor and home remodeling experts to create a luxurious bathroom remodel in your Scottsdale home? Contact us at (602) 451-0323 or
Contact us today to discuss your project
Check out our website for more information about how we make remodeling an enjoyable experience, and start daydreaming in our Galleries with pictures of Kitchens, Bathrooms, Room Additions, and Other Projects.
Bathroom Remodeling, Design-Build Remodeling