Ideally, your bathroom space should function as an oasis in your home. Unfortunately, many homeowners are stuck with outdated and non-functional bathroom spaces. If this applies to you, then you may want to consider taking on a Phoenix Bathroom Remodeling project in your home. In fact, you might be surprised at what a difference just a little bit of remodeling work can make in your existing bathroom space, allowing you to finally enjoy that spa-like retreat in your own home.
Improve Ventilation
First of all, take a look at your existing bathroom ventilation; poor ventilation can leave your bathroom feeling humid and uncomfortable long after you've gotten out of the shower or bath. Not to mention, older ventilation fans can be quite loud, taking away from the peace and relaxation you should be feeling in your bathroom space.
Replacing your bathroom ventilation fan can not only modernize your space but can make it more comfortable. Just make sure to buy a fan that's rated for the square footage of your bathroom. These days, you can even find fan/light combos, so that's an upgrade to consider as well.
Update Your Vanity
Are you tired of the limited space you have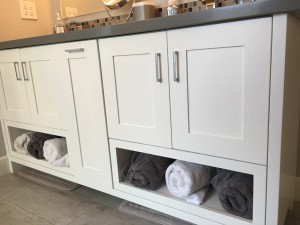 with your current bathroom vanity? Does it feel cluttered and outdated? If so, then installing a new vanity may be a great way to update your space. If you and a partner share your bathroom and you have the space, why not consider replacing a single vanity with one that has a double-sink? This is a great way to enjoy more counter space and avoid the stress of having to share the same sink and mirror each morning.
Opt for Water-Saving Fixtures
These days, modernizing your bathroom isn't just about making it look nice; it's also about taking steps to make it more environmentally friendly. Therefore, if you're considering the option of replacing your existing plumbing fixtures, such as your sink, toilet or shower valve, then you'll want to look for water-conserving options. Not only will these add value to your home (should you ever decide to sell) but they'll also help save you money on your water bills throughout the year.
Ensure Plenty of Storage
Not having enough storage is one of the most common complaints homeowners have about their existing bathroom spaces. If this issue applies to your bathroom, then it's definitely something you'll want to address in your remodel.
Make sure you have plenty of storage by investing in a vanity that has lots of cabinet and drawer space. Keep in mind that you can also add storage by installing shelving above your toilet, which can be a great place to store linens.
Make Your Shower an Oasis
If you have a walk-in shower, now is a great time to update it and make sure it's a welcome oasis in your bathroom. Consider having your existing walk-in shower re-tiled to give it a more modern look and feel. You may even want to replace an existing shower curtain with frameless glass doors for a more modern and luxurious feel. Top it off with a nice new shower head (or perhaps several shower heads) for an amazing shower experience!
Maximize a Small Space
If you're working with a smaller bathroom space, keep in mind that working with a design/build bathroom remodeling contractor will give you the opportunity to pull off a remodel that increases functionality and gives you that spa-like retreat. It just means you'll need to be a little more creative in using your space. Consider, for example, a corner vanity or even a floating vanity to save floor space. Utilize lots of built-in shelving and consider converting your tub/shower combo into a walk-in shower.
These are just a few ideas for modernizing your existing bathroom space. For more inspiration for your bathroom remodel project, take a look at our completed bathroom remodel pictures located in our project galleries.
Bathroom Remodeling, Project Planning