Don't make these mistakes during your design/build bathroom renovation:
Whether you're remodeling your current bathroom or adding on to your home, there are some common mistakes that are made that if avoided in the beginning, can minimize stress in the end. If you're designing, building, or doing a bathroom remodel, don't make these mistakes.It's important to remember that bathrooms are functional and have the users, and how many there are, in mind. Regardless of whether it's a personal or guest bathroom, functionality, accessibility, and design are not to be overlooked.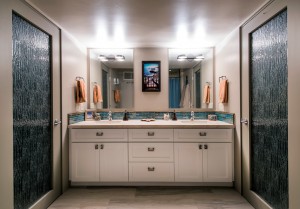 1. No one likes a dark, unlit bathroom. If you're creating a bathroom addition, pick a space that allows for sunlight to come in. You can add a window, or relocate it to a space that already has one. For those who already have a window, don't cover it with soaps and candles. Allow light to flow throughout the space, opening the area regardless of actual square footage.
2. You don't like talking about what you do in the bathroom at the dinner table, so avoid putting one there altogether. While your bathroom should be easily accessible, the separation will allow for privacy and keep guests comfortable. A view of the toilet from the living room isn't the most pleasant sight, but if this sounds like your home's layout, consider keeping the door closed at all times or adjust the position of your living room's furniture.
3. Avoid designing or decorating your bathroom with the toilet in the direct line of sight. Despite the bathroom being what it is, the toilet shouldn't be the first thing anyone sees. Going back to the homes with bathrooms near public spaces, seeing the toilet from another room is a major turn off. For instance, in a personal bathroom, sectioning off the toilet from the sink and putting it near the shower allows for two people to do completely different things at the same time without crossing paths.
Remember that a master bathroom's size doesn't have to compete with the actual room. A bathroom can be spacious without taking up a large part of the house. Bigger isn't always better. Adjusting to the size of your home and making it functional and efficient for you is what's important. Find inspiration in our Completed Bathroom Remodel Pictures for a bathroom that's just right for you,

Project Planning