Flooring has begun on the Arcadia Kitchen Remodeling Project
Major flooring installation has gotten underway on the Kitchen Remodel in Arcadia neighborhood of Phoenix. The new flooring is an engineered hardwood floor glued directly to the concrete.

What's included in the wood flooring scope?:
All new engineered hardwood flooring throughout the entire house, including bedrooms, with exception of the bathrooms which will remain tile flooring.
The new wood floor material was selected during the design phase of our Design/Build Remodeling process.
Because the existing baseboard is to remain, a shoe molding will be installed to cover the expansion gap between the wood floor and baseboard molding.
Were there any 'Surprises' during installation?:
No surprises during the installation of the new wood floor, however, quite a bit of prep work had to be done before the flooring was installed.
What's up with the cabinets?
Typically, in Arizona, cabinets are installed before flooring goes in.
We have a tight schedule/timeline on this project because the new homeowners would like to move in as soon as possible, and put their old house on the market. Traditionally, we would set our project start-date once we had a delivery schedule for cabinets. However, because the homeowners weren't living in the house, and because we had a tight schedule, we decided not to hold up the schedule; so we installed the toe-kicks for the cabinets in their location to allow for wood flooring installation.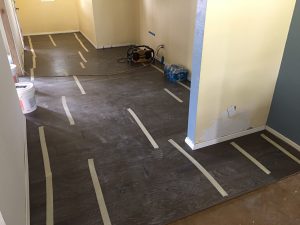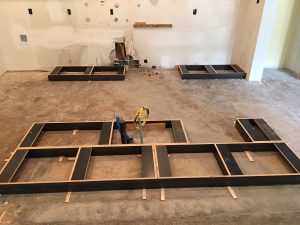 As this Arcadia Design Build Kitchen Remodeling project progresses, keep an eye our for our trucks in your Neighborhood. If you live in the Arcadia area and looking for a Professional Design/Build Home Remodeling Contractor, find out more about our refined Process for design/build kitchen remodeling, and get to know the Hochuli's.
Take a look in our galleries of kitchen remodel pictures for inspiration for your home remodeling project.
Kitchen Remodeling, Design-Build Remodeling