Demolition has been completed on an Arcadia Kitchen Remodel Project
Major demolition phase has been completed at this Arcadia Home Remodeling project. Demo is not limited to only the kitchen area, as other areas of the home are effected by the remodeling scope.

What's included in the demolition scope?:
A complete gut of the existing kitchen space to include all cabinets, countertops, fixtures, and tile work.
Flooring throughout the home. The existing flooring is a mix of saltillo tile and cheap laminate wood. All of it must go.
There's a pony wall in the kitchen that was removed to create a larger island space to enjoy time entertaining in the kitchen.
Were there any 'Surprises' during demolition?:
The biggest surprise was the discovery of a nearly completely clogged main drain line from the kitchen sink. The drain pipe is 2" in diameter, and the flow was reduced to about 1/2" in diameter due to the clog.
When flooring removal is involved, you never really know what the concrete under the existing floor will be like. In this case, a significant amount of floor patching was required to be ready for the new wood flooring.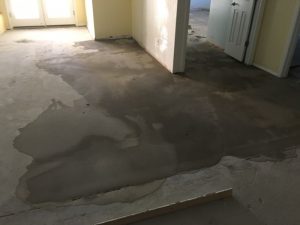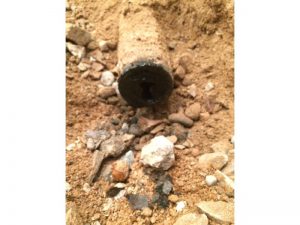 Keep an eye our for our trucks in your Arcadia Neighborhood, as we work on this Arcadia home remodeling project. If you live in the Arcadia area and looking for a Professional Design/Build Home Remodeling Contractor, find out more about the Hochuli's and our refined Process for design/build kitchen remodeling.
Take a look in our galleries of kitchen remodel pictures for inspiration for your home remodeling project.
Kitchen Remodeling, Design-Build Remodeling