Our Arcadia Design Build Kitchen Project Gets Cabinets!
The cabinets have been installed in the kitchen remodeling project in the Arcadia Neighborhood.

What are the cabinet details?:
The main cooking wall of cabinets are a white shaker kitchen cabinet, while the island is also a shaker cabinet detail with a grey finish.
The cabinets were selected during the design phase of our Design/Build Remodeling process.
Time to get the template done for the new countertop materials.
Were there any 'Challenges' during cabinet installation?:
No surprises or challenges during the installation phase of the cabinets. Extra care, and time, was taken to ensure everything lined-up correctly.
The wood flooring was installed prior to cabinets, so our Project Manager chose to add Ramboard protection over the new floor to help protect it from damage during installation of the new kitchen cabinets.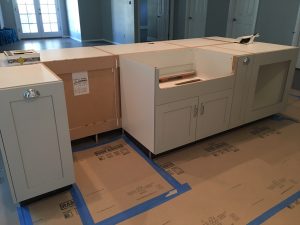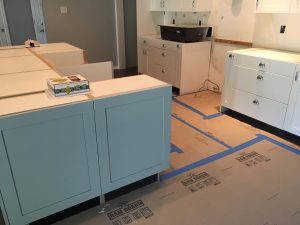 Look for our yard signs and company trucks in your neighborhood for this Arcadia Design Build Kitchen Remodeling project. If you live in the Arcadia area and looking for a Professional Design/Build Home Remodeling Contractor, find out more about our refined Process for design/build kitchen remodeling, and get to know the Hochuli's.
Take a look in our galleries of kitchen remodel pictures for inspiration for your home remodeling project.
Kitchen Remodeling, Design-Build Remodeling