For a while now, you've known your kitchen hasn't been up to the standard you want to entertain or even for cooking daily meals. You've already ruled out moving because you love your home and neighborhood. These are just a few reasons that you've decided on an Ahwatukee kitchen remodel. When you dream about your new kitchen and choose an interior designer and remodeling contractor team, there are so many cool things to add. Here are just a few of those extras to consider.
An Under-the-Counter Wine Refrigerator
As much as you entertain, you love treating your guests to a glass of good wine. However, when you have a large party, you have to make room in your regular refrigerator for numerous bottles of wine, and it takes up a lot of precious room. An under-counter wine fridge gives you an out of the way space to keep your wines at the perfect temperature all the time. As much as you'd enjoy a full-blown wine cellar, that just might not make sense, so the unercounter wine fridge is a lot more convenient than keeping a second refrigerator in the garage. It's one extra that you'll use often.
Second Sink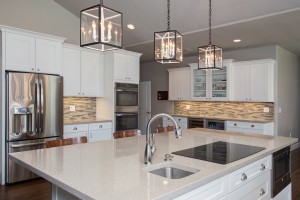 When you have a spacious kitchen, you can spend a lot of time walking back and forth to the sink to clean fruits and vegetables when cooking. Consider working a second sink into the space plan; a second, smaller prep sink will save you a lot of time when cooking or provide plenty of room when more than one person is cooking in your kitchen. Working with a certified space planning designer will help ensure the proper layout for your kitchen remodeling project.
French Door Refrigerator with Freezer Drawers
The days of a side-by-side fridge being the newest thing are long gone. Today, the most convenient fridge on the market features French doors for the refrigeration area and drawers underneath for freezer items. These refrigerators offer tons of space and ensure that the things you use most are most easily accessible. Some of the newer styles allow you to access your most used items with smaller access doors on the front without the need to open the entire fridge, keeping the temperature perfect inside.
Double Oven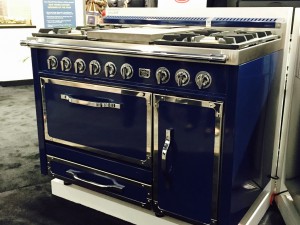 It never fails that the one thing that cooks the longest for your dinner party is an unusual temperature, causing you to make adjustments in cooking time for everything else or allowing things to get cold while other things cook. A double oven is a luxury that you'll never regret. With two separate ovens to bake in at once, your dinner parties will be easier to manage and all the food will come out hot and ready to serve. The latest and greatest is a 1.5 oven, which features one full oven combo'd with a second 1/2 oven. What a great concept for the Holiday dinners, that will allow you to roast the Turkey in the full oven and the rolls in the 1/2.
Beverage Refrigerator
If you have a large family or do a lot of entertaining, you are always restocking your fridge with cans of soda or beer. There never seems to be enough room, and you cringe each time the doors open, knowing it warms up your fridge. A separate beverage refrigerator, or refrigerator drawers, goes under one of your countertops and offers a space made specifically for your can drinks, juice boxes, or milk. Some models hold up to as many 100 cans at one time. Energy efficiency is key, as these under-counter refrigerator drawers don't take as long to cool back down, once someone opens the drawer, as a refrigerator.
Custom, or Semi-Custom, Cabinets and Drawers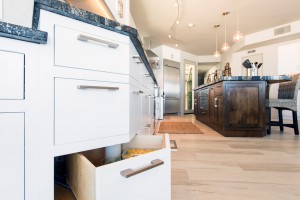 When you bought your house, it came with cabinets and drawers that were probably a standard size, of a builder grade, and lacked features like soft-close hardware. However, these are not always the best size to meet your needs. When you work with a professional design/build kitchen remodeling contractor team, they will help maximize the storage space in your kitchen remodel. You, not only have the option to have custom cabinets and drawers built, you can determine the right size to fit the items that you keep in the kitchen. You might even want some deep drawers added for easy access to pots and pans that you use all of the time.
At Hochuli Design & Remodeling Team, we are dedicated to helping you get the kitchen of your dreams. We love designing a kitchen that includes all of the extras that you want to make your daily life easier and entertaining more enjoyable.
Kitchen Remodeling, Project Planning, Interior Design, Design-Build Remodeling